3D Printers Revolutionizing Manufacturing Industries with Technological Advances, says Market.us
---
---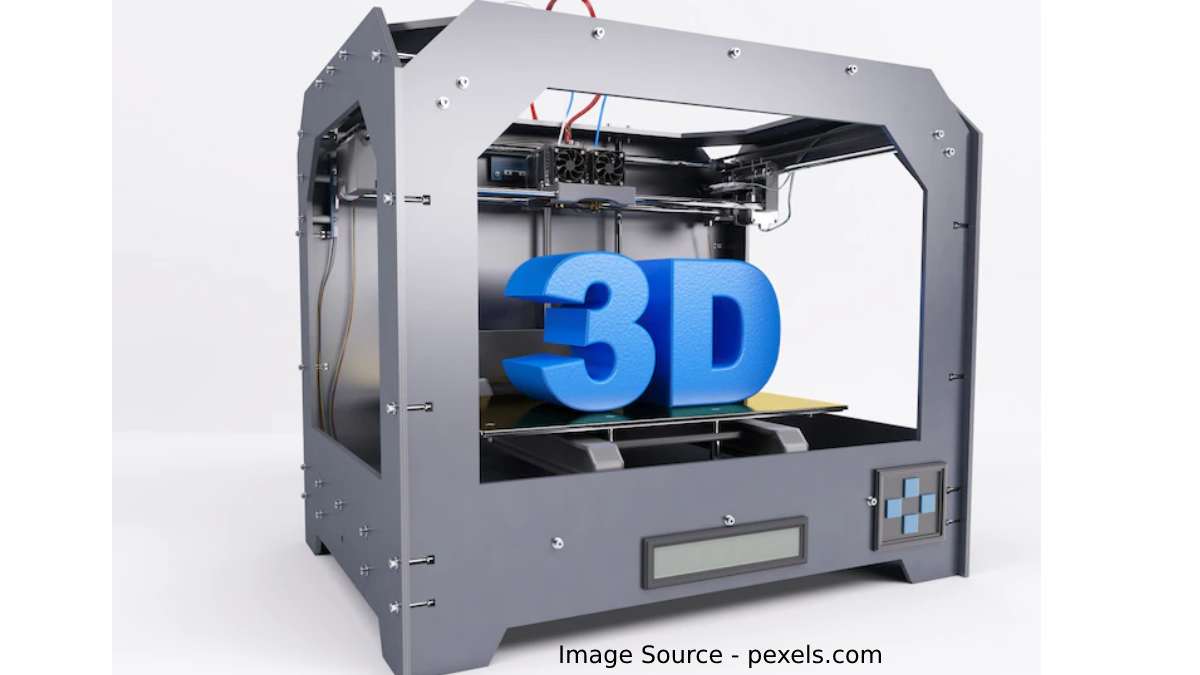 3D printers are revolutionizing the way we create products. They offer a level of customization and convenience that has never been seen before. With 3D printing technology, you can now produce objects with intricate details and complex shapes without needing costly molds or machinery.
This type of manufacturing is becoming increasingly popular as it eliminates many of the traditional barriers to creating custom items. This article will explore the benefits of 3D printing and how it is changing various industries.
According to the latest report by Market.us," The Global 3D Printers Market size is expected to be worth around USD 89.51 billion by 2032 from USD 12.98 billion in 2022, growing at a CAGR of 21.3% during the forecast period from 2022 to 2032."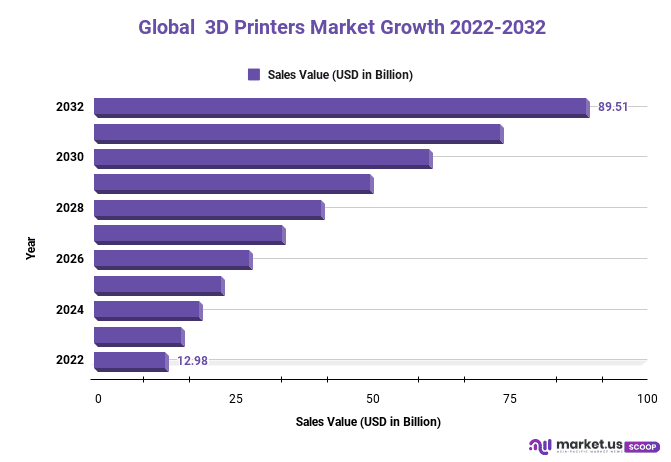 The 3d printer market is rapidly growing as technology advances, bringing a wide range of possibilities to the world. 3D printing is being adopted in many industries, from medical to automotive and aerospace. This article focuses on the 3D printer market and its potential for growth in the coming years. It will look at various aspects of the market, such as current trends, sales figures, and key players, in addition to future projections of how this market might develop.
Gaurav Yadav, a senior research analyst at Market.us, said," 3D Printing technology has revolutionized the manufacturing industry in recent years. It has allowed businesses to produce complex designs quickly and cost-effectively, creating opportunities for greater efficiency and customer satisfaction. The 3D printer market size is expected to experience exponential growth over the coming years as more industries and individuals turn to this cutting-edge technology."
Click here to check 200+ pages of in-depth market analysis report on 3D Printers Market.
As technological advances allow for a greater range of materials and objects to be created using 3D printers, their popularity has surged among commercial businesses and individual consumers.
The rise of 3D printing technology has brought about a new wave of innovation in the manufacturing industry. From personal use of 3D printers to industrial-grade machines, there is no denying this technology's impact on the market. With its increasing popularity and adoption, an analysis of 3D Printers Market trends is needed to understand the trajectory of this technology.
For Instance, Because of their high production and volume manufacturing capabilities, fusion filament fabrication (FFF), as well as powder bed fusion technologies like Multi Jet Fusion from HP Inc., will be manufacturers' preferred industrial 3D technology. The demand for resin-based technologies, such as Stereolithography and Digital Light Processing (DLP), is expected to grow in the consumer and dental goods industries.
Software developments in the 3D industry are also increasing rapidly, driven by the need to streamline operations. This technology is used extensively in manufacturing, driving the demand for software that can aid manufacturers in increasing production volumes and optimizing their additive manufacturing processes.
Installation services are provided, along with consultation and support. All aspects of copyrights, licensing, and patenting are handled. Manufacturers are able to use 3D printing for prototyping, design of the structure, end products, modeling, time to market, and other aspects. Manufacturers are now able to offer higher-quality products at lower prices because their production costs have decreased significantly. These benefits will result in a greater demand for 3D printers over the next few years.
The 3D printing industry is an ever-evolving field that is growing rapidly and transforming the way products are created and manufactured. The advancement of 3D printing technology has revolutionized the manufacturing industry. 3D printers can now produce complex products quickly and accurately, enabling businesses to reduce their overhead costs. However, the expansion of the 3D printing market is hindered by certain factors, such as the high cost of purchasing a 3D printer and the lack of reliable materials.
The 3D printing market is an ever-evolving industry that continues to revolutionize the manufacturing process. Over the years, this technology has seen tremendous growth and acceptance, becoming a mainstream tool in many industries. While 3D printers offer numerous benefits, certain disadvantages can hold them back from further growth.
3D printing technology has revolutionized the way we produce everyday items, from medical supplies and automotive parts to chocolate snacks and even human organs. In recent years, this technology has rapidly been adopted by businesses, schools, and home users.
---
---
Media Enquires
If you require any further information about a related market, please get in touch with us. we're happy to help you
+91 7008 614 496
+91 7008 614 496