A Closer Look at the Mobile Crane Market Trending in the Construction Industry, via Market.us
---
---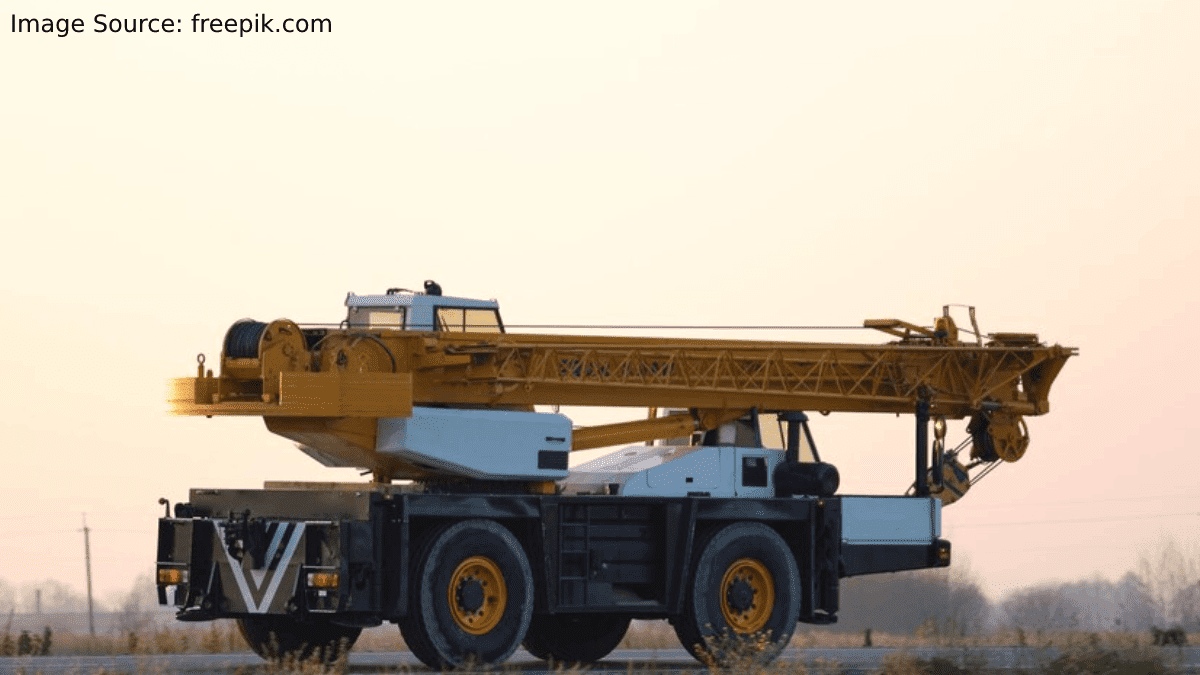 One of the most well-known types of construction equipment is the mobile crane. This is partly because cranes can be seen lifting materials high up or sitting on top of new structures being built. Many crane models can be used to accomplish different tasks at the job site.
Mobile cranes are gradually replacing most construction equipment. Mobile cranes are lightweight and easy to use. These cranes can be used to transport prefabricated blocks from offsite facilities to the construction site.
According to the latest report by Market.us, "The Global Mobile Crane Market size is expected to be worth around USD 28.02 billion by 2032 from USD 15.5 billion in 2022, growing at a CAGR of 6.1% during the forecast period from 2022 to 2032."
The report highlights the key trends shaping the Global Mobile Crane Market in the upcoming years. This report provides qualitative and quantitative analysis of market dynamics, competitive scenarios, opportunity analysis, recent developments, market growth, etc., for the forecast year up to 2032.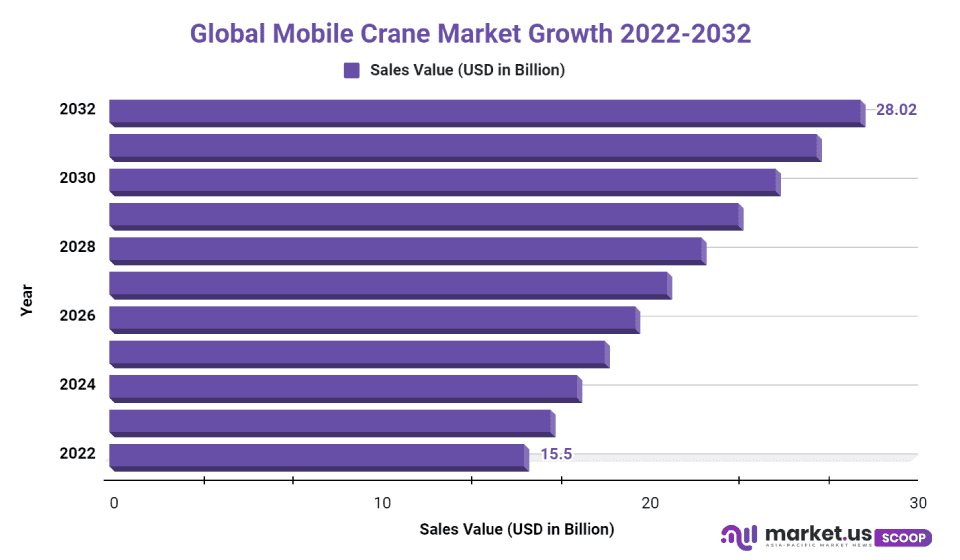 Gaurav Yadav, a senior research analyst at Market.us, said, "Recent innovations in manufacturing and design are driving new crane technology. New cranes can be modularized, adapted, and intelligent. The latest technology allows cranes to be smaller and more efficient, eventually making legacy systems obsolete."
Click here to check 200+ pages of in-depth market analysis reports on the Mobile Crane market.
Some latest cranes offer robust, intelligently-designed modules that can be easily configured to meet various needs. This mobile crane technology allows users to add or change features as needed. Remote diagnostics, maintenance monitoring, and automated positioning are just a few of the additional features that can be added to this type of crane technology. This crane technology is flexible and can be scaled to meet the needs of your business. It allows you to be more agile and achieve a higher return on your investment.
The Industrial Internet of Things (IIoT) combines existing technologies such as big data, artificial intelligence, and other advanced technologies to offer value-added services for their clients, is the industrial Internet of Things. Advanced cranes around the world are benefiting from SCADA-connected devices as well as industrial IoT. These cranes can be integrated with multiple sensors or probes. This assists the crane operator in gathering the appropriate data to understand better, control, and guide their machine.
Being complex in nature, the mobile crane market consists of huge technical subsystems, each having its own personalized functionality. The companies are manufacturing the latest cranes with more specific measurements considering the height, wind speed, etc.
Particular emphasis is to be given to the safety of the operators. The latest technology, like sensors, must be implemented to ensure accuracy and real-time information to mitigate accidents.
Infrastructural developments and high-level investment by construction companies will drive mobile crane demand in the medium term. Market growth will also be boosted by developing eco-friendly machinery and the increasing adoption of advanced technologies such as fleet management and GPS tracking.
The tower cranes can't be moved once they are installed. Mobile cranes can be used on many projects because they are portable. This technology can be used to reduce machine idle time and increase production.
Asia Pacific was the region with the highest revenue share in 2019. It is expected to continue leading during the forecast period. Foreign investors are attracted to developing roads, smart cities, and infrastructure. The region is undergoing massive industrialization. Better equipment is needed to lift large amounts of weight; here mobile cranes seem to be a perfect fit.
Additionally, infrastructure investments are being made in public and private domains. For Instance, the Indonesian National Medium-term Development Plan ($460 billion), Vietnam Socio-Economic Development Plan ($ 61.5 billion), and Philippine Development Plan "Build, Buy, and Build" USD 71.8 billion, are expected to increase construction machinery demand in these areas.
---
---
Media Enquires
If you require any further information about a related market, please get in touch with us. we're happy to help you
+91 7008 614 496
+91 7008 614 496