A Surge in Charging Infrastructure is Required as the Demand for Electric Scooters Ramp up, says Market.us
---
---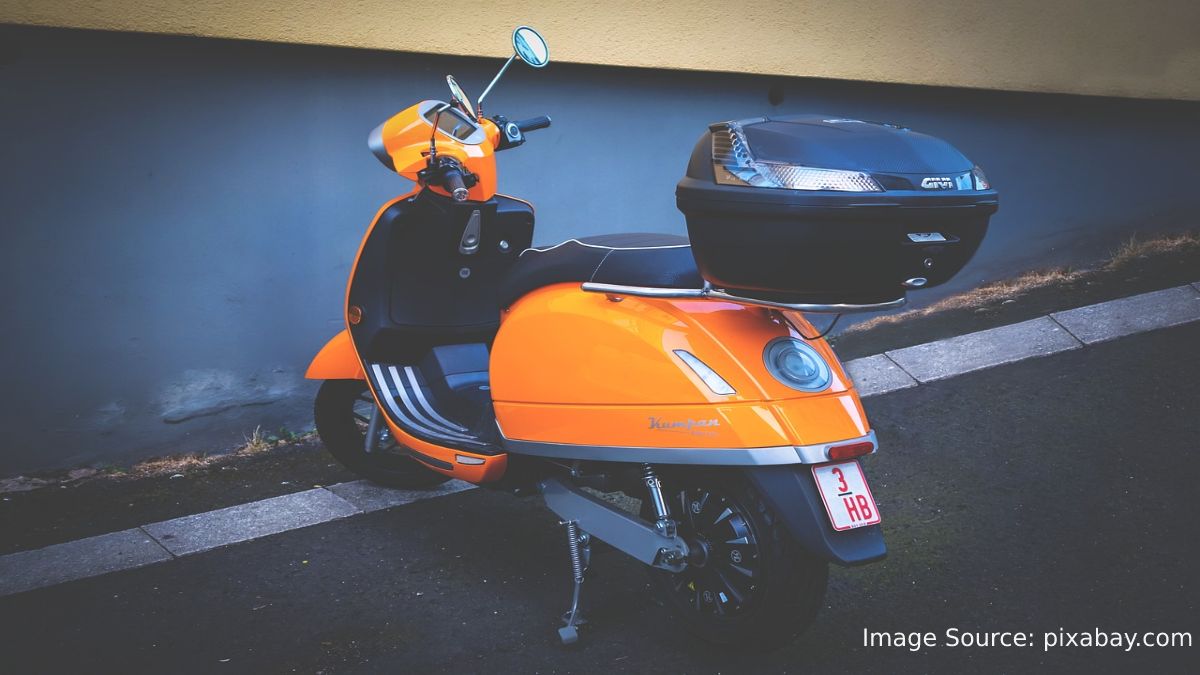 The rise in fuel prices over the last decade has increased the use of electric scooters as a mode of daily transportation. The rise in fuel prices results from a surge in crude oil prices, which are largely controlled by the Organization of Petroleum Exporting Countries (OPEC).
Furthermore, prices are expected to rise with limited sources of crude oil. Despite increasing gasoline prices, electricity costs have been low in many countries, including China, Germany, and Denmark.
According to research by Market.us, "The Global Electric Scooter Market was worth USD 37.8 billion in 2023 and is expected to be worth USD 94.9 billion by 2031, growing at a CAGR of 10.2% between 2023 and 2031."
The most significant impediment to the growth of the electric scooter sector will be a lack of charging infrastructure. The ease with which an electric scooter can be charged anywhere and at any time is the most important consideration for any user before purchasing one. Unlike developed countries, most emerging countries lack the necessary charging stations.
As a first step, manufacturers are expanding their charging infrastructure network, particularly in developing countries; however, participation from both government and private investors is also required to increase the global adoption of such vehicles.
To grow the electric scooter industry, users will require a large charging infrastructure network that allows them to travel long distances without worrying about finding a charging station.
For example, the United States Environmental Protection Agency (EPA) proposed a rule to revise existing national Greenhouse Gas (GHG) emission standards for light trucks and passenger cars.
Similarly, the European Commission has proposed stringent measures to reduce passenger vehicle emissions. This is primarily because the transportation sector accounts for 70% of total emissions, with passenger cars being the leading contributor among road transport to the rise in GHG gas emissions.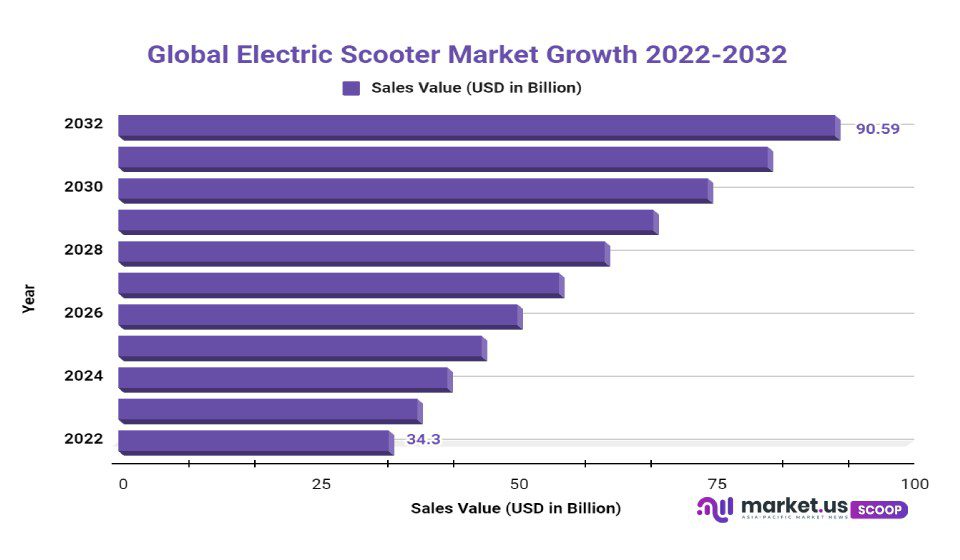 Furthermore, rapid urbanization and rising population density, particularly in developing countries, play a significant role in the significant increase in demand for electric scooters in these regions. Furthermore, it is a cost-effective and environmentally friendly mode of transportation, which will drive market growth during the forecast period.
Anurag Sharma, a senior research analyst at Market.us, said, "The growing global adoption of these scooters is driving market growth, owing to benefits such as low noise levels, low maintenance costs, and high mechanical efficiency. Governments are also providing monetary and non-monetary incentives, which has resulted in significant market growth. Consumers are becoming more conscious of the environmental impact of traditional modes of transportation, and they are shifting to EVs."
Urban mobility trends such as shared bikes, electric scooters, and dockless bikes have gained significant traction recently. Electric scooters reduce travel time and make short and long-distance commutations more convenient. As a result, the preference for electric scooters will be even greater in the coming years than for electric cars.
However, a sudden coronavirus outbreak in 2020 has negatively impacted automotive sales and several other industries due to disruption in the global supply chain structure. Nonetheless, the variety of electric scooter models and ongoing research on electric scooters to improve performance drive the market growth for electric scooters in the coming years.
The battery category dominated the global market for electric scooters in 2023, and this trend is anticipated to persist over the course of the forecast period. In comparison to plug-in technology, battery technology is more cost-effective. Due to this, it is now used more frequently in electric scooters.
Europe is a significant market for electric scooters. Sealed lead-acid batteries are this region's most commonly used type in electric scooters.
Large cities are densely packed with vehicles, resulting in constant congestion, heavy traffic, a lack of parking spaces, and obstacles for emergency vehicles. Countries are attempting to combat this issue in various ways, including raising the cost of vehicle ownership and investing in ride-hailing services and public transportation.
Scooter sharing reduces traffic and allows people to get around the city without relying on public transportation or taxis. This drastically reduces the number of cars on the road and replaces them with compact, highly mobile scooters that take up little space and are mostly used on bike paths.
Countries such as China and India are investing heavily in scooter-sharing businesses to reduce car emissions in their cities. Scooters are electric and thus emit no emissions, making them a green alternative for short-distance city travel.
To begin a scooter-sharing business, you must first acquire scooters, develop a mobile application, and adhere to all applicable regulations. This is a relatively inexpensive venture compared to ride-hailing businesses, such as car sharing.
---
---
Media Enquires
If you require any further information about a related market, please get in touch with us. we're happy to help you
+91 7008 614 496
+91 7008 614 496