Agriculture Equipment Market Soars as Farmers Seek to Boost Their Produce, says Market.us
---
---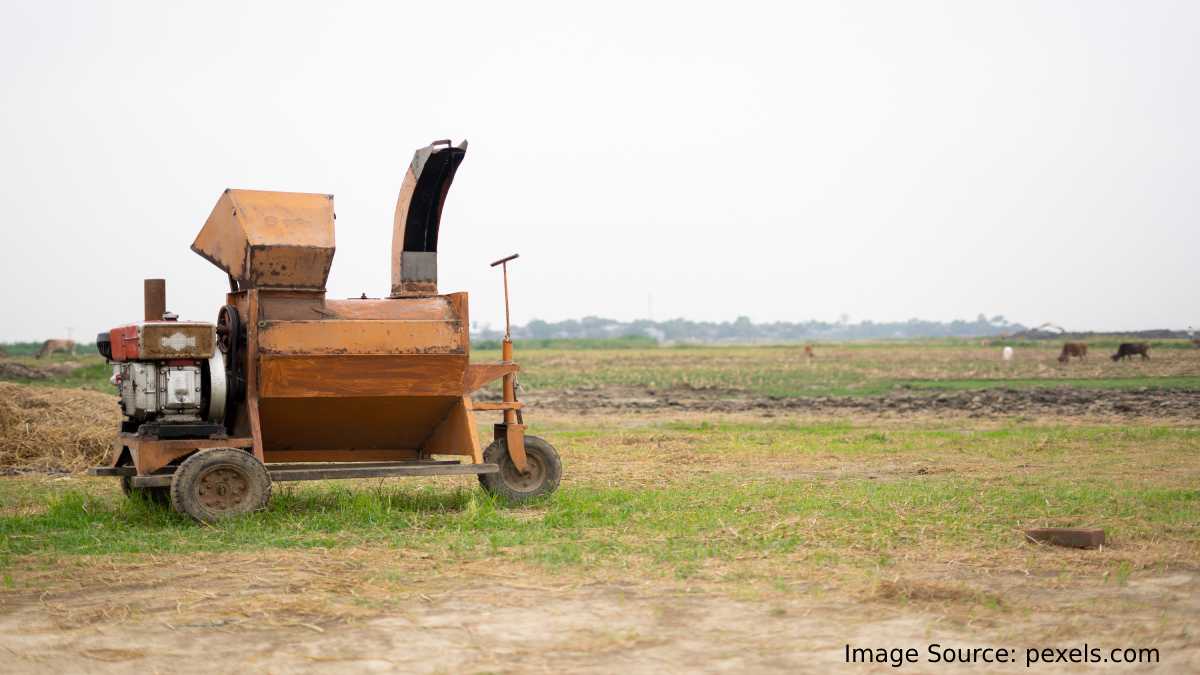 Agriculture equipment refers to the tools, machines, and devices used in farming and agriculture to perform a variety of tasks such as planting, harvesting, tilling, and irrigation. This equipment is used to improve farming operations' efficiency, productivity, and cost-effectiveness and is essential for modern farming practices.
According to the latest report by Market.us, "The Global Agriculture Equipment Market is expected to grow at a CAGR of roughly 7.3% over the next ten years and will reach USD 348.97 Bn in 2032, from USD 172.5 Bn in 2022."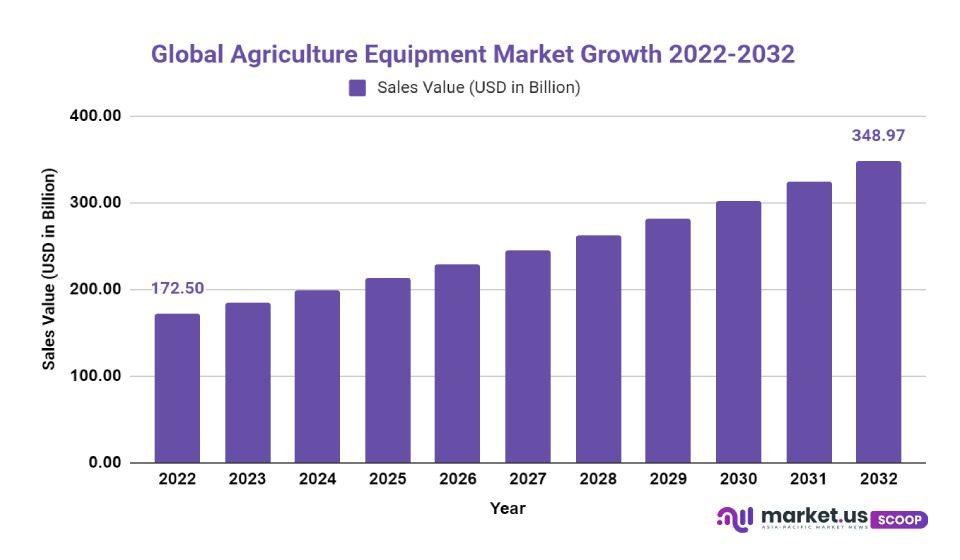 The fast-growing agriculture equipment market offers exciting growth opportunities for competitors. A recent report by Market.us highlights some key strategies companies can adopt to benefit from the latest industry trends.
The report highlights the key trends that will shape the agriculture equipment market going forward by giving information on the size of this fast-growing market development, drivers, trends, and which regions and segments are most important.
Anurag Sharma, a senior research analyst at Market.us, said, "The increasing global population and urbanization are putting pressure on food production systems to increase efficiency and output. This leads to a greater demand for agriculture equipment as farmers look to mechanize their operations and increase yields to meet this growing demand."
Additionally, as urbanization continues, more land is being converted for residential and commercial use, which further increases the pressure on farmers to produce more food on less land, leading to an increase in the adoption of precision agriculture and smart farming technologies.
With the evolution of the above-mentioned farming techniques, companies are developing new technologies such as precision planting, precision irrigation, and precision harvesting equipment. These new technologies allow farmers to optimize crop yields, reduce costs, and improve efficiency, which in turn, is increasing the demand for agriculture equipment.
Additionally, as the market becomes more versatile, companies are investing in R&D to improve their products' performance, efficiency, and cost-effectiveness to gain a competitive edge in the market.
Market.us has segmented the Agriculture Equipment Market based on the following parameters:
By type, the market is segmented into Agriculture Tractors, Harvesters, Soil Preparation & Cultivation Equipment, Irrigation & Crop Processing Equipment, Agriculture Spraying Equipment, Hay & Forage Equipment, and Other Agriculture Equipment.
Here the agriculture tractors segment is the largest segment in the agriculture equipment market. This segment accounts for over 35% of the total market share thanks to the technological advances made by key companies.
By application, the market is divided into Farming, Animal Husbandry, Forestry Industry, and Fishery Industry. Here the farming segment is predicted to dominate the market over the forecast period.
This is primarily due to the increasing global population and urbanization, which is putting pressure on food production systems to increase efficiency and output, driving the demand for agriculture equipment for field crop production. Additionally, the growing demand for biofuels is also driving the growth of the farming segment.
An enormous number of market players characterizes global markets. Major players in the report include John Deere, AGCO Corporation, CNH Industrial N.V., Kubota Corporation, Mahindra & Mahindra Limited, Deere & Company, New Holland Agriculture, CLAAS KGaA mbH, SDF Group, and Same Deutz-Fahr Group S.p.A, among others. These companies hold a significant market share due to their strong brand image, a wide range of product offerings, and strong distribution networks.
Following are a few recent developments in the industry:
In 2022, John Deer recently announced the launch of its autonomous tractors, which will be capable of planting, harvesting, and performing other tasks without human intervention. Farmers only need to transport an autonomous tractor to their field and set it up for autonomous operation.
CNH Industrial has recently announced the launch of a new line of tractors equipped with precision agriculture technology, allowing farmers to increase crop yields and reduce costs. The company was focused on the advancement of precision technology, as well as developments in electrification, automation, and alternative fuels.
---
---
Media Enquires
If you require any further information about a related market, please get in touch with us. we're happy to help you
+91 7008 614 496
+91 7008 614 496