AI and IoT set to Change the Future of Industrial Semiconductors, says Market.us
---
---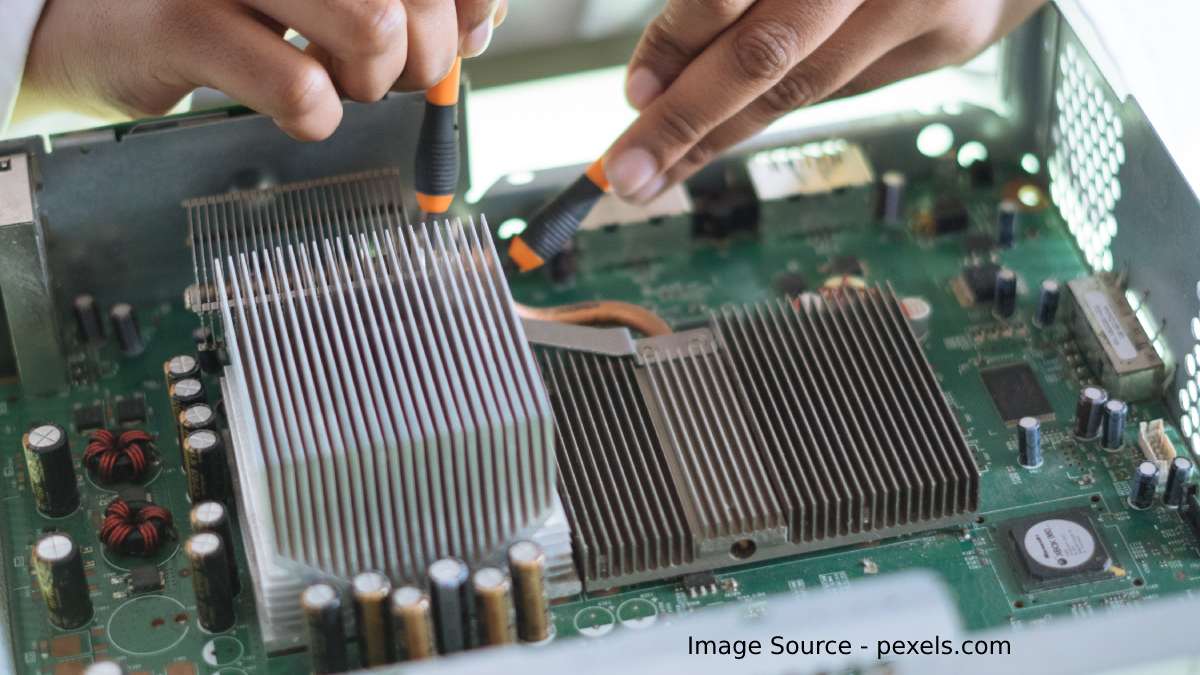 A material known as a semiconductor, which has specific electrical properties, can be used as a base for computers and other electronic devices. It is typically a solid chemical element or compound that transfers electricity under some conditions but not others. It is hence the ideal medium for regulating electrical current and typical electrical appliances. The basis and prerequisite for all efforts in new technologies are memory chips as well as other semiconductors.
Everything has been impacted by semiconductors, from artificial intelligence (AI), and smartphones, the adoption of the internet of things (IoT), and 5G. Technologies that improve consumer lives and enable smarter, quicker and more effective commercial operations are powered by semiconductors.
According to the latest report by Market.us," The Global Industrial Semiconductors Market is expected to grow at a CAGR of roughly 8.4% over the next ten years and will reach USD 1,232.80 Bn in 2032, from USD 550.30 Mn in 2022″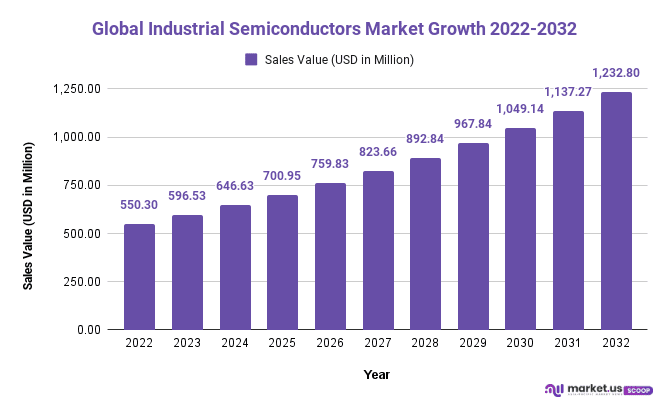 For the projected year up to 2029, the research on the industrial semiconductors market offers qualitative as well as quantitative data on market dynamics, competition scenarios, opportunity analysis, market growth, etc. Type, application, and geography are used to segment the worldwide industrial semiconductor market.
Anurag Sharma, a senior research analyst at Market.us, said, "The market for dynamic chips technology is being impacted by a stronger ideological slant as a result of the move toward economic liberalism. Additionally, new prospects for industrial growth are indeed being created by the development of AI, IoT, and ML technologies. During the projected time frame, the market will expand due to the increasing need for faster and more advanced memory chips in industrial applications."
2021 saw rapid expansion, but from 2021 to 2025, the pace of growth will slacken. Automotive, storage and industrial semiconductors are likely to experience rapid future growth. In an effort to outperform current computers, Intel created a "neural computing chip." The most cutting-edge "7nm EUV" technology from Intel has produced "neural computing chips."
Rapid population growth, rising household disposable income, and increased urbanization all contribute to the enormous demand for both basic and cutting-edge consumer electronics products. To ensure a consistent supply of chips and know-how to support growth across a wide range of increasingly data-centric industries, companies and nations are pouring enormous sums of money into semiconductor manufacturing, materials, and research — at least a half-trillion dollars over the next ten years, and possibly much more. The drive among major corporations to create custom microprocessors is one of the biggest phenomena that no one is discussing.
One of the largest producers and consumers of semiconductors, China is home to a wide range of businesses, from pure-play foundries to integrated device manufacturers to fabless semiconductor enterprises. China is anticipated to experience significant demand for mobile CPUs owing to the presence of manufacturing and assembly facilities for various well-known smartphone makers, including Apple and OnePlus.
Global demand for AI, IoT, and wirelessly connected devices is rising as a result of technological advancements. Micron Technology, Inc., for example, adds a different package with elevated memory and AI training that are used in mobile, cloud-based edge devices, and embedded devices. A large percentage of these new inventions come with a solitary system on a chip to provide high levels of integration. SoC enables devices to operate with high power efficiency and improved protection since it incorporates processors, RF transceivers, memory, power management, sensors, and networking in a single element.
---
---
Media Enquires
If you require any further information about a related market, please get in touch with us. we're happy to help you
+91 7008 614 496
+91 7008 614 496