Air pollution masks are accessories that are worn to combat the effects of polluted air. These may range from biological molecules, particulates or other harmful substances that may prove to be primary catalysts of allergies, harmful diseases, and in some cases the causality of deaths among humans, animals, as well as damage to food crops. Air pollution may be caused by a plethora of reasons ranging from improper disposal of waste, the burning of fossil fuels, rising global populations, or even natural calamities such as volcanic eruptions, etc. Reasons such as these have led to a spurt in the growth of the air pollution masks market, worldwide.
Market.us has recently published a market research report titled, "Global Air Pollution Masks Market by Type, and by Application – Forecast from 2019 to 2028". This report offers an extensive analysis of the air pollution masks market. It is through unabridged and systematic research efforts, both primary and secondary, that research results over the study period have been comprehensively examined. The global air pollution masks market is projected to have a valuation of over US$ 6.9 Billion, from its estimated revenue of US$ 2.4 billion generated in 2018.
Air pollution Masks Market: Dynamics
A steady increase in environmental pollution coupled with other forms of pollution has led to a rapid increase in concerns on a global scale relating to the ill-effects of air pollution. This comes despite various efforts made by world governments and other organizations to educate their fellowmen on the same. The global air pollution masks market has come a long way from the dawn of the industrial revolution. Despite the various leaps made in technological advancements, there has been a steep increase in health-related ailments that are caused by air pollution.
The increase in the use of automation by big businesses worldwide has accounted for a slow yet steady drop in the number of individuals that work in fields such as mining, factories, etc. These fields have had stringent government-imposed policies for workers to wear appropriate safety gear, and this was a primary reason the air pollution masks market saw prompt growth.
Global Air Pollution Masks Market: Segmental snapshot
Product type: the market is sectioned into reusable particulate respirators and disposable particulate respirators. The segment that is expected to register the highest rate of growth would be that of reusable particulate respirators – the expected increase would be 7% CAGR during the forecast period. By Application: segmentation occurs in the form of industrial use, general commercial use, laboratory use, among other applications. Wherein, general commercial applications account for a majority of this market (42.8%) and will prove to be the most lucrative of them all. It is expected to achieve a CAGR of 8% during the forecast term.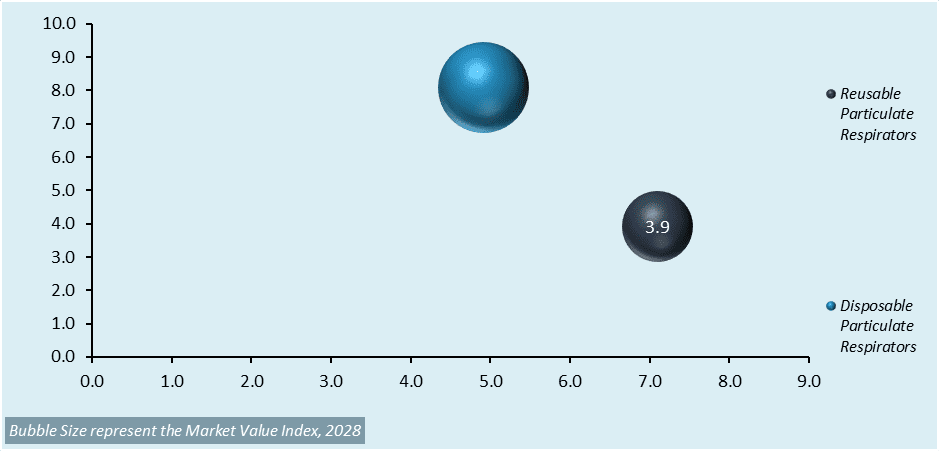 By Region: the market is segmented into North America, Europe, China, India, South America, Japan, the Middle East & Africa, followed by the rest of the world. A majority share of the global air pollution masks market belongs to China followed by the North American region. However, India is expected to be a frontrunner with the highest growth rate during the forecast tenure.
Global Air Pollution Masks Market: Competitive Analysis
The global air pollution masks market research report includes company profiles of major players such as 3M Company, Honeywell International Inc., Shangai Dasheng Health products manufacture Co. Ltd, Kowa Co. Ltd, Jiangsu Teyin Imp. & Exp. Co. Ltd, UVEX WINTER HOLDING GmbH & Co. KG, Respro. Inc., CM Industrial & Safety Supply Inc., Kimberly-Clark Corporation, Earth Corporation (Hakugen CO. Ltd.), Ohlone Press Llc, MSA safety Incorporated, etc.