An Evaluation of the Dog Grooming Industry in the New Era of Pet Humanization and Premiumization via Market.us
---
---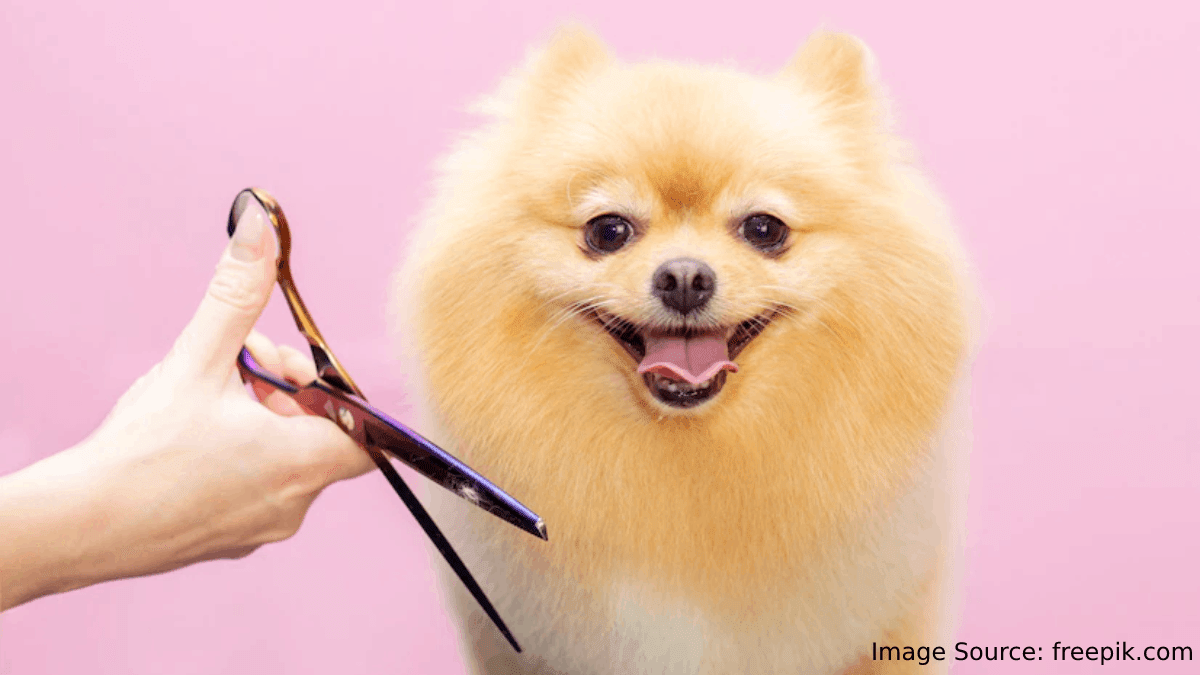 Dog grooming refers to improving a dog's physical appearance by giving it a bath or providing hygienic care. A certified Canine Stylist performs full-service grooming. It includes a bath, a forced air dryer, body cleaning, and hair cutting, depending on the owner's preference. The demand for dog grooming is expected to rise due to rising pet spending and increasing disposable income.
The global dog grooming market is expected to experience exponential growth in the upcoming years. Dog owners are increasingly turning to professional services when it comes to their pet's hygiene and appearance.
According to research by Market.us, " The Dog Grooming market is estimated to grow at a CAGR of 7.68% between 2022 to 2032. The market was valued at USD 3.4 Billion in 2022."
Dog grooming products are in high demand due to the increasing adoption of dogs around the globe as pets. This growing demand is being met by a wide range of products, services, and technology that make up the industry. From shampoos and conditioners to specialized tools for clipping hair or trimming nails, the variety of products available continues to expand as more brands enter the market.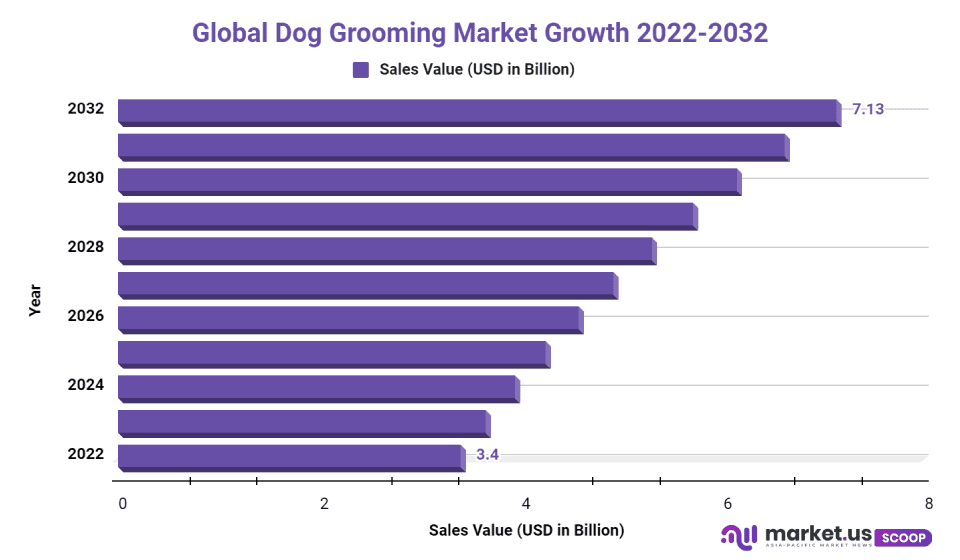 Anurag Sharma, a senior research analyst at Market.us, said, "The increasing trend towards pet humanization in the country and initiatives to promote animal health by animal rescue foundations are boosting the market. Along with that the premiumization and a wide range of products give the pet parents several options leading to market growth in various segments."
Click here to check – 200+ pages of in-depth market analysis reports on the dog grooming market.
Professional groomers also offer a range of personalized services, from basic haircuts and washes to more intensive treatments like fur dying or nail polishing. New technologies, such as automated grooming machines, push innovation further and make pet care easier.
Dog grooming is a popular service that people will pay more for because they consider their dog a part of their family. Dog shows that feature dogs competing against each other based on their beauty and skills also help to increase demand for these products. People who live alone, especially in cities, are more likely to choose dogs to provide companionship.
Hybrid Dogs are in High Demand. Luxury Services, Mobile Pet/Dog Groomers are growing, and Dog grooming shows are gaining popularity. Rising disposable income increases pet spending, which is an increasing factor in the Dog grooming market.
Children love playing with dogs, so most parents adopt them as pets. A grooming kit is a mandatory item that they purchase. The popularity of pet grooming shops where pets can be taken by their owners for grooming, washing, and decorating also increases the need.
Pet adoption is on the rise, especially for dogs.
Also, because of globalization, animals that were once only available in one part of the world are now available everywhere. For example, the Siberian Husky, a unique breed of dog that originated in Russia, is one of the main drivers for market growth. The popularity of specially trained dogs that can assist people with disabilities is also driving dog adoption. The American Pet Product Association National Pet Owners Survey estimates that 4 percent of dogs will attend training classes.
The increasing demand for the product is also due to the increased use of dogs by the military and police. Pet shelters worldwide are seeing an increase in demand for the product as they shelter stray or abandoned pets. The many health benefits of dog grooming products are a driver for increased consumption. They can prevent diseases, keep skin healthy, improve the smell, and other such benefits.
Due to the opening of mobile grooming salons, the U.K. will be a major European market. Over the forecast period, the Europe pet grooming market will account for 19.3%.
Many hotels offer in-house grooming services to tourists' pets in the U.K., in addition to mobile pet salons. This will increase demand for shampoos, brushes, and combs for cats and dogs, as well as sharing tools.
---
---
Media Enquires
If you require any further information about a related market, please get in touch with us. we're happy to help you
+91 7008 614 496
+91 7008 614 496