Automation be the Future of Farming, Impacting Agricultural Tractors Market Positively, says Market.us
---
---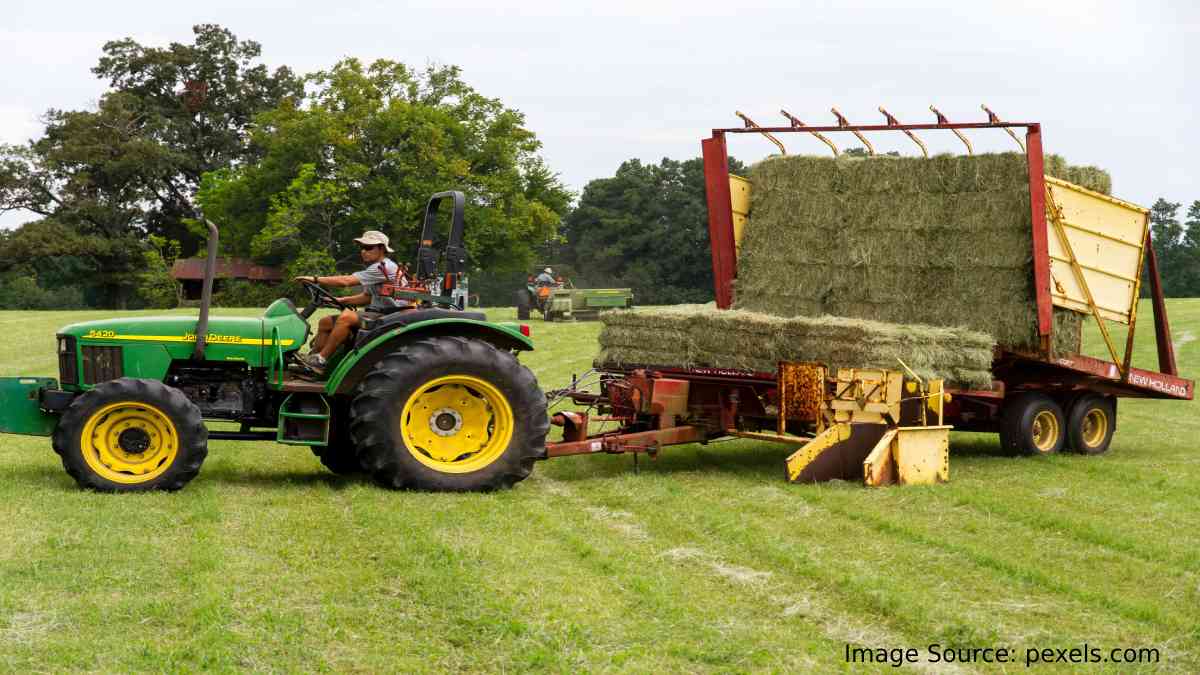 Some of the factors expected to promote the growth of the agriculture tractors market include the requirement for improved production to feed the growing population and government support programs for farmers.
Additionally, technological improvements like the integration of telematics with agricultural tractors and the spike in demand for smaller tractors on small farms are anticipated to fuel market expansion throughout the forecast period.
According to a report by Market.us, "The size of the agricultural tractor market, which was estimated to be worth USD 57.56 billion in 2022, is expected to increase to USD 104.25 billion by 2032, rising at a CAGR of 6.12% between 2023 and 2032."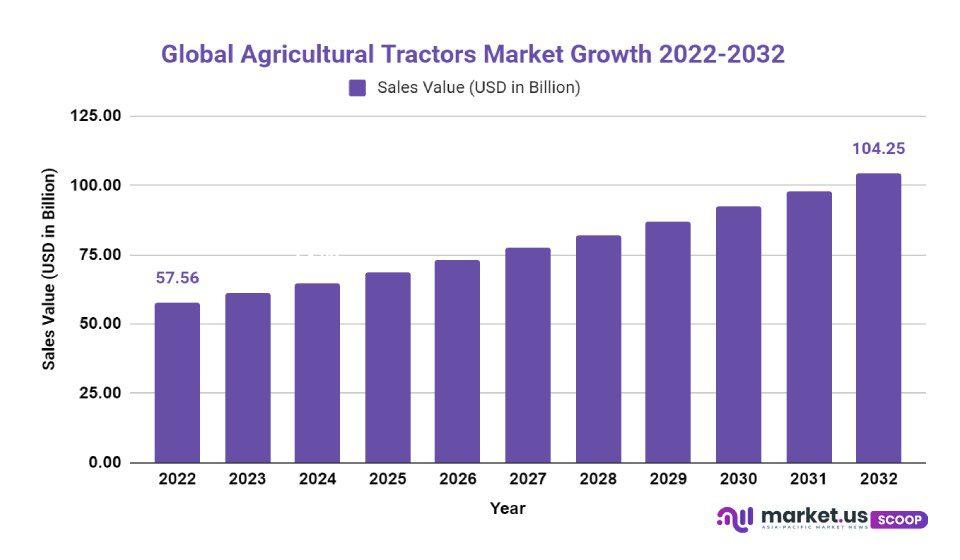 Anurag Sharma, a senior research analyst at Market.us, said, "The agriculture sector's quick embrace of mechanization is probably a good sign for the market's future growth. In addition, it is projected that the movement of farm workers to cities will lead to a labor shortage and fuel market expansion."
The need for tractors is rising as a result of precision farming and the growing use of farm technologies to increase production. High-precision positioning systems and integrated electronic communication are two examples of technology that can be used in agricultural equipment to improve machine performance.
The tractor business is also being driven by the rising number of farm training programs that encourage the widespread use of agricultural machinery.
Additionally, the key market participants are producing new goods in response to the rising demand from developing nations.
Due to the high cost of labor and low disposable income of farmers in developing nations, there is a considerable demand for tractors with lesser horsepower. Due to the limited size of farms, farmers prefer to use small, specialized tractors. Additionally, tiny tractors' reduced fuel usage supports the empowerment of small and marginal farmers.
The world's population has been growing at an exponential rate. More people need to be fed as a result of this. In order to provide enough food for all the population, it becomes necessary to improve the yield.
In addition, the government has implemented a number of programs to assist farmers, including loan forgiveness and the provision of free or heavily discounted inputs. Many farmers have purchased inputs and tractors thanks to these programs.
In addition, many farmers have seen their wages and earnings rise as a result of the green revolution and government initiatives. These elements are expected to propel the industry and serve as growth catalysts.
However, it is projected that the problems with landholding fragmentation and the high prices of agricultural tractors will limit market expansion.
Technological developments in farm tractors are anticipated to support market expansion over the forecast period.
On the basis of Operations, Driver Type, Application, Engine Type, and Geography, the Global Agricultural Tractor Market is segmented.
Deere & Company, Claas Group, CNH Industrial NV, Mahindra & Mahindra Ltd., Massey Ferguson Limited, Kubota Corporation, Iseki & Co. Ltd., TAFE Ltd., Yanmar Co., Tractors and Farm Equipment Limited, Joseph Cyril Bamford Excavators Ltd. are the key market participants.
Three new tractor models under 30 HP were introduced by the Solis Yanmar firm in June 2022 for Turkish farms that will be imported from India.
New Holland North America added the T7 Heavy-duty Tractor with PLM Intelligence to their lineup of agricultural tractors in July 2021. The new tractor allows for multi-tasking in a range of field and transportation tasks, which is intended to increase farmer productivity.
With a volume share of more than 75% in the global market in 2021, Asia Pacific was in the first place, and it is anticipated that it will maintain its dominant position by expanding at the quickest CAGR over the projected period. India leads the market, with China and the rest of Asia Pacific coming in second and third.
In terms of volume, Europe is anticipated to develop at a moderate rate. The surge in demand for large agricultural tractors, mainly from Greece, Italy, and Lithuania, is blamed for the expansion.
---
---
Media Enquires
If you require any further information about a related market, please get in touch with us. we're happy to help you
+91 7008 614 496
+91 7008 614 496