Bitcoin Market Gains a Foothold in Financial Sectors As Increased Data Transparency Reveals New Opportunities, says Market.us
---
---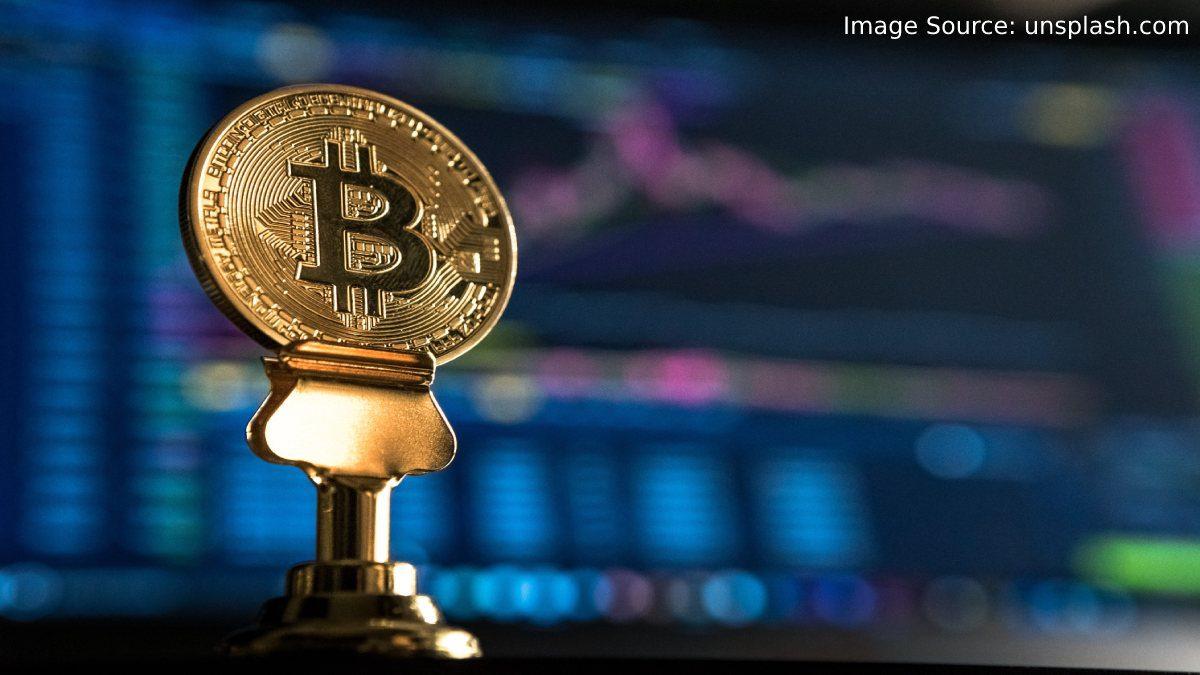 Bitcoin's many advantages, including its ability to make payments faster, more securely, and with lower volatility, are some of the reasons for bitcoin's growth. Bitcoin can be used to store value and exchange goods and services worldwide. With the advent of Bitcoin, financial transactions are instantaneous and no longer require central authorization. 
According to a report by Market.us, "The Global Bitcoin market size was valued at USD 20.05 Billion in 2022. It is estimated to reach an expected value of USD 331.48 Billion by 2032, growing at a CAGR of 8.2% during the forecast period (2022–2032)."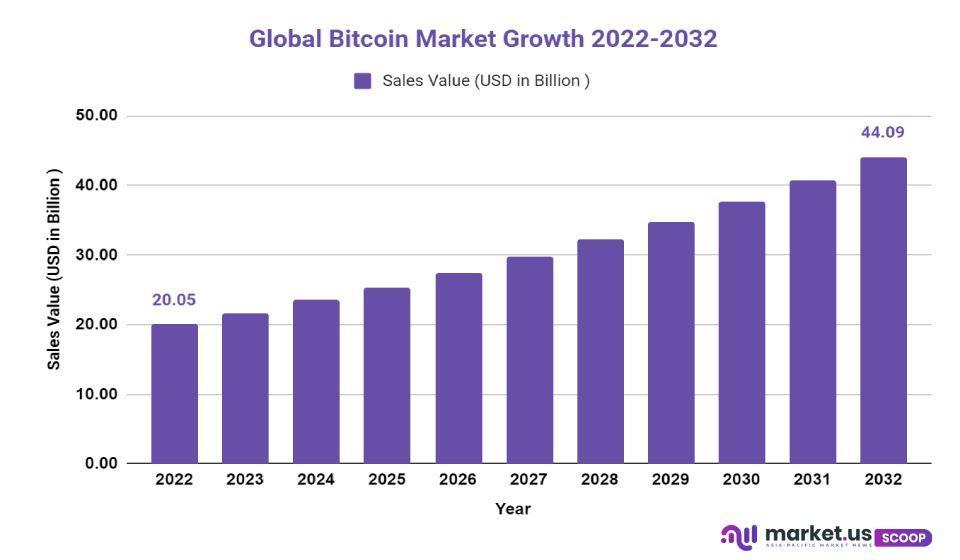 Gaurav Yadav, a senior research analyst at Market.us, said," The future growth of the Bitcoin market will be promising due to increased data transparency and independence across payments in financial services, banks, insurance, and other business sectors. There are many benefits to using cryptocurrency in banking, such as sending and receiving payments transparently and securely storing customer details for future purposes." 
Additionally, Bitcoin's growing popularity led to the proliferation of its clones. Litecoin is the mainstream altcoin. It runs on the same code as Bitcoin. Litecoin aimed for a lighter, faster version of Bitcoin. This has led to other clones like Bitcoin Cash or Bitcoin Diamond, which have also helped the market. Many altcoins have values that are compatible with Bitcoin's movement. This expands the market for Bitcoin.
The main factors driving the growth of the global Bitcoin marketplace are the need to improve operational efficiency and transparency in financial payment systems, the rise in demand for remittances from developing countries, the increase in data security, and a better market cap. The market will expand due to increased demand from banks and financial institutions for cryptocurrency and the untapped potential of emerging economies.
The proof-of-work algorithm is another factor that has contributed to the industry's success. This is confirmed by the participation of more than 18,000,000 miners in blockchain, the decentralized network underpinning Bitcoin. This large number of participants leads to a high level of network decentralization that provides the full security of Bitcoin's payment system. Because of the security and other benefits, El Salvador made Bitcoin a legal tender in September 2021.
Innovative blockchain-distributed technology protocols will replace certain organizational solutions. They allow different players to pay each other transparently throughout the company. These systems improve transparency in supply chains and help eliminate environmental crimes. This increases the potential adoption of cryptocurrency. 
The opportunities for cryptocurrency in developing countries are plentiful due to changing demographics, increased consumerism, and an openness toward new technologies like IoT and Blockchain. According to Oxford Business Group, Nigeria is the most popular country for cryptocurrency adoption and uses it to send remittances.
The central bank approved 16 cryptocurrency exchanges. This is why the Philippines has become a major cryptocurrency adopter. Furthermore, the rise in smartphone penetration in Latin America and Africa allows mobile payment service providers to offer advanced services to mobile phones. This is a significant opportunity for the market's growth.
Due to the increasing demand for software upgrades and the efficient use of financial payment instruments, the hardware segment has a significant share of the Bitcoin market. The software segment will grow faster over the Bitcoin market forecast period. This is because it allows for managing the large amount of data generated to provide meaningful insights and make better decisions.
One example is PayPal, an American company that operates online payment systems. It announced on October 21, 2020, that it had entered the Bitcoin market and that customers could buy and sell Bitcoins and other virtual currencies through their PayPal accounts. Mastercard and Island Pay partnered to launch the first CBDC-linked card worldwide on February 10, 2022. This is how the market grows: there are many such developments among the major players.
Many people remain skeptical about Bitcoin due to regulatory concerns, which is a significant market impediment. The inadequacy of information among developing countries like India, China, and remote regions will impede the market's growth. However, growth is expected to be aided by the increasing use of Bitcoin and development projects. The Human Rights Foundation (HRF), for instance, established the first Bitcoin development bank in June 2020 to allow Bitcoin users to contribute tax-efficiently to the development of the ecosystem.
---
---
Media Enquires
If you require any further information about a related market, please get in touch with us. we're happy to help you
+91 7008 614 496
+91 7008 614 496