Blockchain Technology Changing the Way We Carry Out Transactions, says Market.us
---
---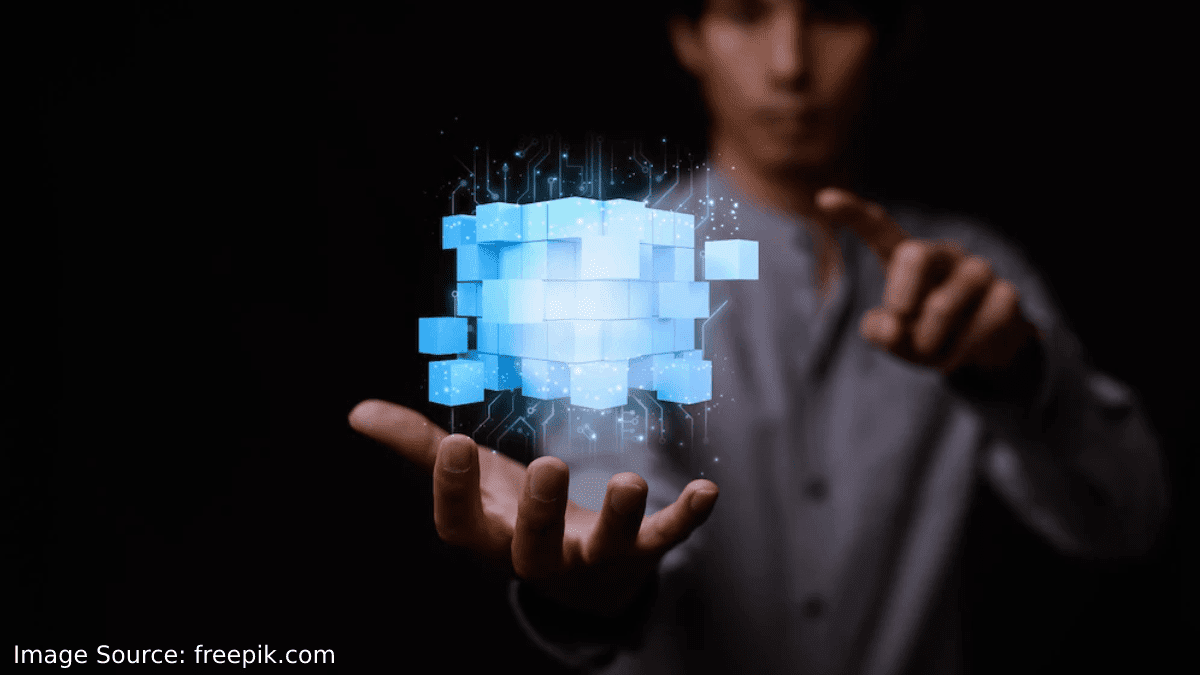 The development of blockchain technology has been nothing short of revolutionary. It has the potential to revolutionize how businesses manage and trade goods, services, and data. Since its inception, the market for blockchain technology has been rapidly growing, with more investors looking to capitalize on its potential. With numerous new startups entering the fray and established players investing heavily in research & development, the market is now becoming increasingly competitive.
According to the latest report by Market.us," The blockchain technology market size accounted for USD 5700 Million in 2022 and is expected to surpass around USD 15900 million by 2032 with a registered CAGR of 78.1% from 2022 to 2032."
Blockchain technology is rapidly changing the way businesses operate in the modern world. This article aims to explore the current market for blockchain technology and its potential future growth. The article will include an analysis of key players in the blockchain sector and a discussion of the advantages of using blockchain technology. It will also examine how new entrants can capitalize on this emerging trend and its challenges.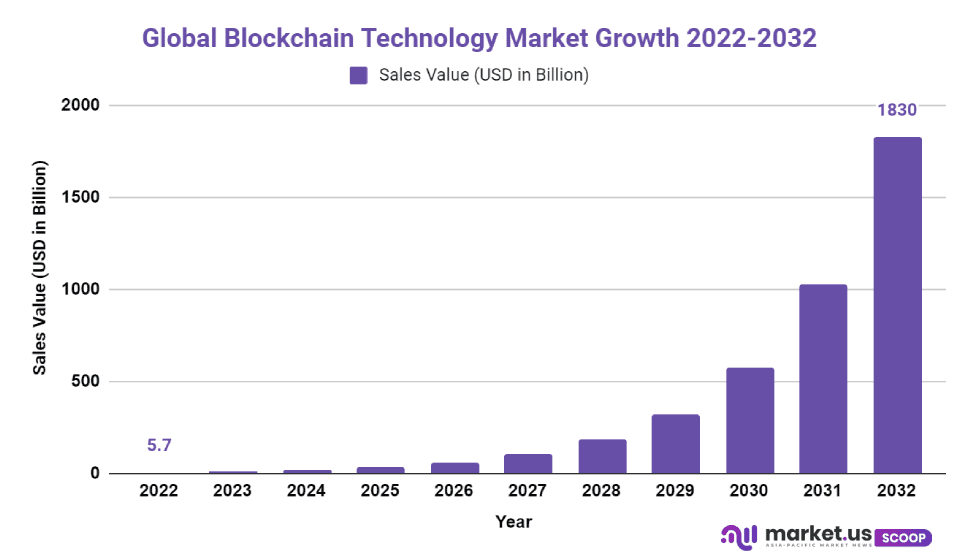 Gaurav Yadav, a senior research analyst at Market.us, said," Blockchain technology has revolutionized the way we conduct business online, with its implications reaching far beyond the financial sector. As a distributed ledger system, it enables secure digital transactions without needing third-party intermediaries."
He added, "Its decentralized nature and cryptographic security make the blockchain technology an attractive choice for businesses looking to streamline their operations, increase efficiency and reduce costs. Furthermore, the has potential applications in many industries, such as healthcare, transportation, and agriculture."
The blockchain technology market size is growing at an exponential rate as more organizations recognize the benefits this cutting-edge technology can bring. This article will comprehensively overview the global blockchain technology market, including current growth drivers and challenges, key industry opportunities, and a country-level analysis.
At present, some of the key drivers for Blockchain Technology include advancements in security protocols, cost savings from streamlining processes due to automation enabled by distributed ledgers, and greater transparency offered by public blockchains. Challenges faced by the industry include scalability issues resulting from limited bandwidth and storage capacity, regulatory uncertainty around cryptocurrencies, and lack of education or awareness among potential users.
Despite these challenges, there are abundant opportunities in this sector as organizations look to capitalize on new value propositions offered by decentralized services.
The advancement of technology has enabled revolutionary development in the field. Blockchain technology is an innovative digital infrastructure that enables the secure, fast, and reliable exchange of data and information. It is considered a breakthrough innovation as it offers unprecedented levels of security, privacy, transparency, and traceability. With its growing popularity, the market is experiencing significant growth.
This article will discuss the key drivers behind this market growth and its implications for businesses and consumers alike. As businesses across multiple industries continue to explore how blockchain technology can revolutionize the way they operate, a keen eye should be kept on the emerging trends in the market.
As the world continues to embrace technology, blockchain is one of the most innovative and revolutionary technologies of our time. The blockchain technology market is rapidly growing as more companies recognize its potential for secure data storage, automated business processes, and digital currency transactions. This article will dive into the driving factors behind this growth, exploring how increased investment in research and development, government support, and public awareness all contribute to the development of the blockchain technology market.
The pandemic has generated an occasion for pall-grounded services by creating an innovative strategy for enterprises to give work-from-home access. The demand for pall-grounded results to develop virtual work platforms has surged. As a result, there's an adding demand for software across diligence to ensure job durability. BaaS is an ideal result of the issues that small and medium-sized enterprises( SMEs) defy. SMEs employing pall-grounded results are enforcing distributed tally-grounded services to guard digital realities and authenticate mortal individualities, thereby adding demand for BaaS products.
Rising Identity and Data Theft Conditioning to Surge Demand for Cryptographic Ledger results in BFSI companies espousing digital tally technology to secure end-stoner fiscal data and identity. Technology operations, including cross-border deals, clearing and agreements, trade finance platforms, digital identity verification, and credit reporting, are gaining traction across the BFSI assiduity. This is anticipated to foster request growth.
For instance, In June 2021, India's major banks, similar to the State Bank of India( SBI), HDFC, ICICI Bank, and others, banded to establish Indian Bank's digital tally structure company private limited, Indian Banks' Blockchain structure Co( IBBIC), to secure deals, reduce sale processing time, and speed up the process of letters of credit.
---
---
Media Enquires
If you require any further information about a related market, please get in touch with us. we're happy to help you
+91 7008 614 496
+91 7008 614 496