Body Armor Market Poised for Growth Thanks to Rapid Technological Advancements, says Market.us
---
---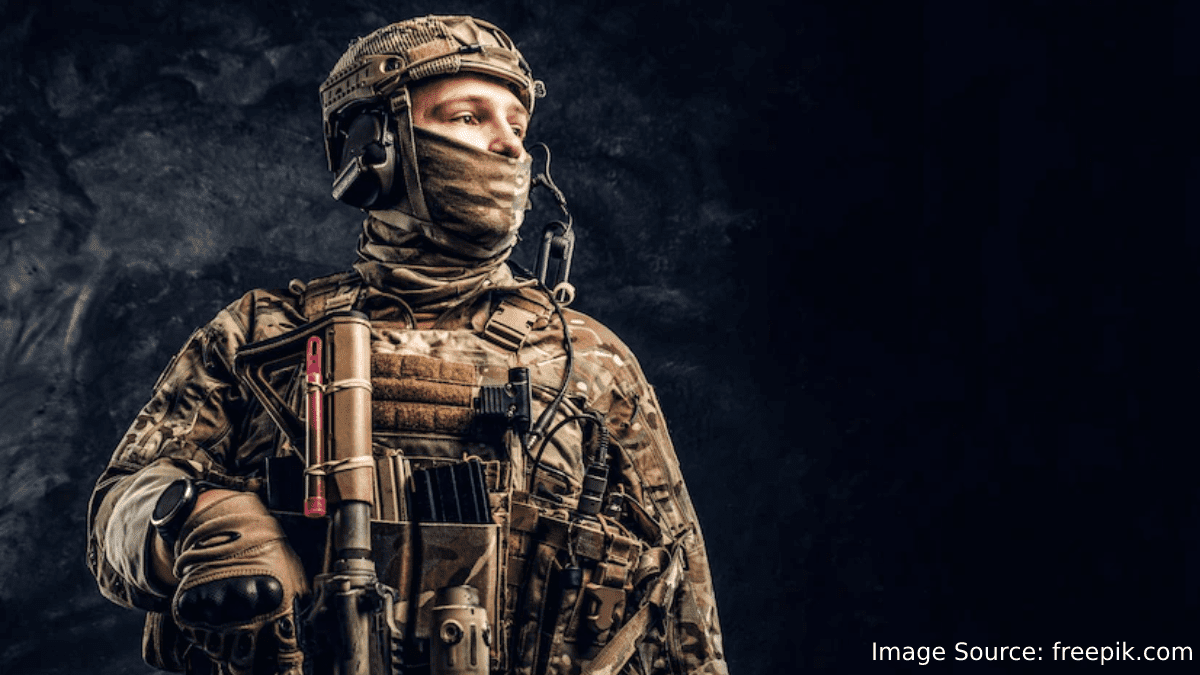 Body armor is becoming more popular due to increased awareness about security issues in America's commercial sector. Additionally, the increasing threat of terrorist attacks is driving increased concerns about security in commercial areas, such as healthcare security and transportation security. Accordingly, the demand for this product will rise in the future.
Modern warfare tactics include counterinsurgency, counter-terrorism, and guerrilla war operations. These can injure soldiers, causing serious injuries. Similar scenarios can be found in law enforcement, where criminals, felons, or law offenders can injure their corresponding officers, leading to the need for personal body armor and similar equipment.
Body armor was specifically designed to protect the wearer from firearm rounds hitting human organs. The protection provided by body armor can save many lives. It protects officers from being attacked and helps them avoid injuries in an accident. Most body armor and helmets for law enforcement officers are made to resist handgun firing.
According to Market.us, "The Body Armor Market size is expected to be worth around USD 4,009.76 million by 2032 from USD 2,438.32 million in 2022, growing at a CAGR of 5.10% during the forecast period from 2022 to 2032."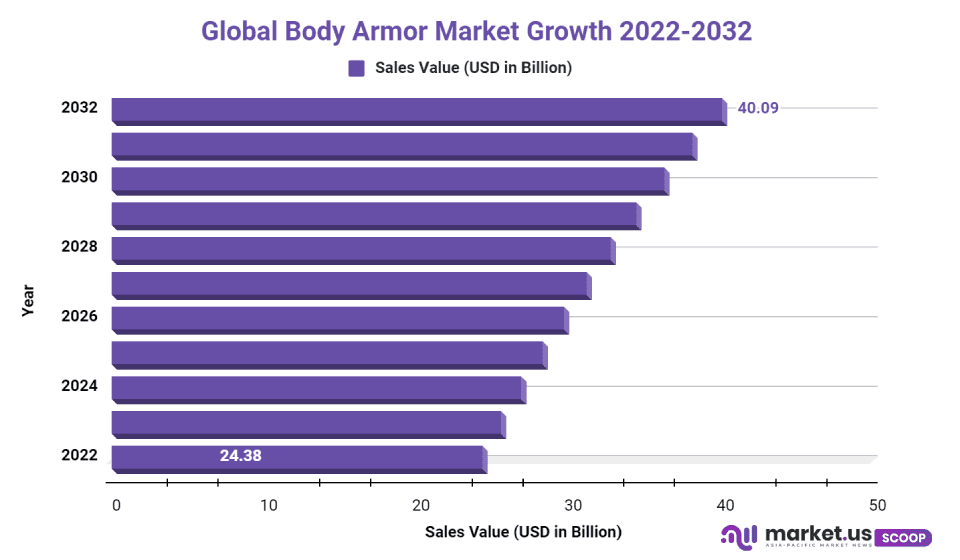 Anurag Sharma, a senior research analyst at Market.us, said," The main reasons for the increase in growth are the steady uptake in the market during half the forecast period. This is due in part to the growing emphasis on safety in military personnel during modern warfare tactics. In the future years, the market will be expected to grow. Furthermore, advancements in ceramic armor technology should boost body armor demand."
Level III vests can be concealed under clothing and are lighter than other types of protection. They offer greater blunt force protection than IIA. The most widely used protection armor is level III, which is appropriate for officers, council employees, and civilians.
Level II protection armor is light, concealable, and comfortable and protects common handgun rounds. Level IIA is less effective at protecting against blunt force trauma than level IIA. Level IIIA refers to soft armor. Level IIIA is made of different materials.
To provide maximum protection, the Level IIIA product can be combined with other protective products. This type of body armor can be worn either overtly or covertly. To protect against shotgun rounds such as 9mm civil defense rounds, some manufacturers offer IIIA+ products. Level IV armor offers protection against AP bullets in 30 calibers. This armor is intended for military applications and provides the greatest level of protection. This gear is expensive and bulkier than Level III and III+ products.
Body armor's ability to absorb bullets and shrapnel will drive up product demand. Industry statistics will show a growing demand for concealable armor by law enforcement officers. Guns are currently one of the most dangerous threats to law enforcement officers in the U.S. and Canada. Around 150 U.S. Capitol officers were hurt when rioters attacked it in January 2021. Ballistic-resistant armor can be used to protect against various types of handguns and rifle ammunition. Body armor will be more in demand due to the increasing number of assaults on police officers.
The market representation will be driven by increased government investment to support the defense sector and the adoption of advanced technologies for military personnel. The European Union Commission adopted several policy decisions in June 2021 to support innovation, bullet-proof capability, and the competitiveness of the EU's defense industry. These policies will ensure that defense personnel are protected during crisis situations and increase the market for bullet-proof vests, body armor, and other body armor.
The body armor industry's growth has been hampered by chronic back pain, injuries, and other issues. Soldiers and officers have suffered from chronic musculoskeletal pain due to the non-ergonomic and heavyweight design of some tactical and ballistic armor. Companies are creating lightweight body armor made of advanced materials such as Kevlar, woven synthetics, and other materials to ease back pain and increase mobility for military operations.
There have been some new innovations in the market. Manufacturers are investing in research to develop lighter materials for body armor manufacturing. This will be good news for the market.
Market sales will be driven by a growing focus on military personnel protective gear and the defense sector. This market is poised for growth thanks to rapid technological advancements and the wide availability of lightweight body armor around the globe.
Body armor sales will be boosted by the rising demand for dual-sided combat uniforms and modular tactical vests. Sales will be driven by U.S. Army Research Laboratory's Kevlar vests liquid-armor technology.
---
---
Media Enquires
If you require any further information about a related market, please get in touch with us. we're happy to help you
+91 7008 614 496
+91 7008 614 496