Businesses are Adopting Smart, Dynamic Infrastructures Fueling the Growth in Data Center Infrastructure Management, says Market.us
---
---
DCIM solutions allow users to monitor all aspects in real time, such as power consumption, temperature, and server utilization. This gives organizations a detailed view that allows them to better manage their infrastructure by identifying potential problems before they become serious. 
DCIM also improves business continuity as it provides visibility into potential issues so that they can quickly be addressed if necessary. Improved monitoring of data centers assets means better security. This helps to protect against outages and malicious attacks on sensitive data or equipment.
Data center infrastructure management software is offered to customers to manage and oversee the data center's operations. Data center managers are responsible for ensuring the growth of businesses and meeting customer demand. 
According to Market.us," The data center infrastructure management revenue reached US$2.1 billion in 2021. This market is forecast to grow at 9.2% CAGR from 2022 to 2030."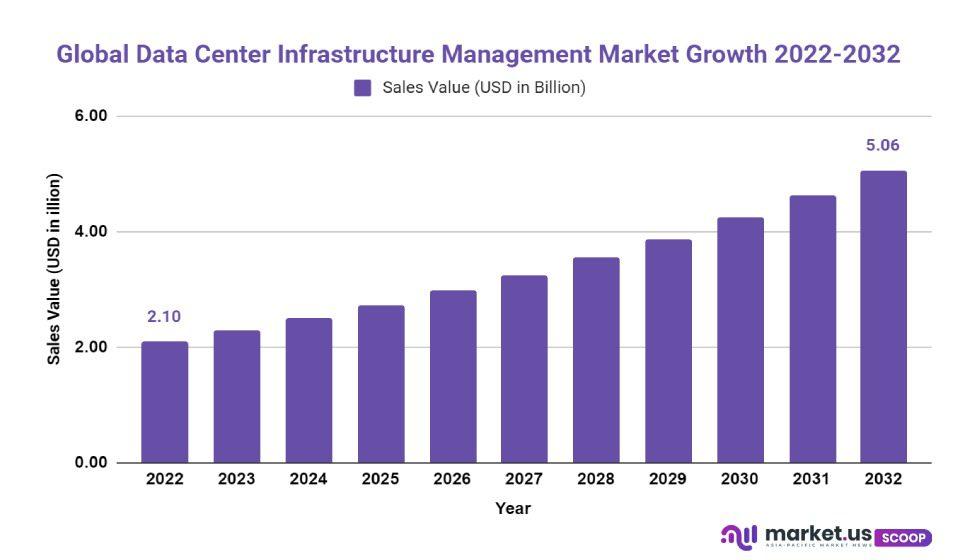 This requires a more efficient working strategy. This can be achieved by monitoring various parameters, such as the performance of data center servers and computers, security uptime, network operations, and resolution of network problems as they arise.
A data center is essential in the digital age as nearly every government agency, and business needs one. Every government agency and every corporation can choose to have its own data center, depending on their needs. 
Anurag Sharma, a senior research analyst at Market.us, stated, "Data centers are essential for all industries, including finance, education, telecommunications, retail, and social networking services, which process a lot of information daily. These industries need data centers to operate their businesses. Failure to properly deploy can result in clients losing their business and profit loss."
Click here to check 200+ pages of in-depth market analysis reports on the data center infrastructure management market.
IT infrastructure management is the administration of hardware, software, and other systems necessary to deliver IT services according to service-level agreements. This management system will include IT policies and processes, equipment, human resource, and external contacts (e.g., security organizations) that will ensure the smooth running of IT operations. smoothly and efficiently. 
Moreover, an IT infrastructure solution includes monitoring and management capabilities… These capabilities are visible layer by layer. As shown below, the IT infrastructure management solution consists of four layers. Multi-level visibility of IT operations allows IT admins to quickly identify and troubleshoot IT operational faults at different levels. This helps ensure greater SLA compliance, proactive IT fault management, and consistent IT infrastructure performance.
North America holds the largest Data Center Infrastructure Management market. Asia-Pacific is one of the fastest-growing areas due to the favorable government regulations allowing for digitalization.
Due to the risk posed by COVID-19, the construction of data centers has been hampered. Many vendors have canceled or delayed projects and activities that could increase the likelihood of infection. Market growth has been slowed by the possibility of business interruptions caused by software installation problems. 
A lack of qualified professionals and high initial costs can hamper the market's growth. The market is being held back by insufficient tools and methods to address the synchronization issues that affect virtualized automaton.
While the traditional data center network operation center will still be important, cloud adoption is expected to lead to a shift in the overall management structure. This will provide an end-to-end view of data center operations and cloud-based services in public and private clouds. 
It is expected that the software-defined cloud data center (SDDC) will become the standard for data center operations, regardless of how large the data center may be. Companies will place this importance on the ability of these data centers to provide services on demand.
---
---
Media Enquires
If you require any further information about a related market, please get in touch with us. we're happy to help you
+91 7008 614 496
+91 7008 614 496