Businesses Harnessing Latest Technologies to Tap Into High-Yield Helicopter Industry, says Market.us
---
---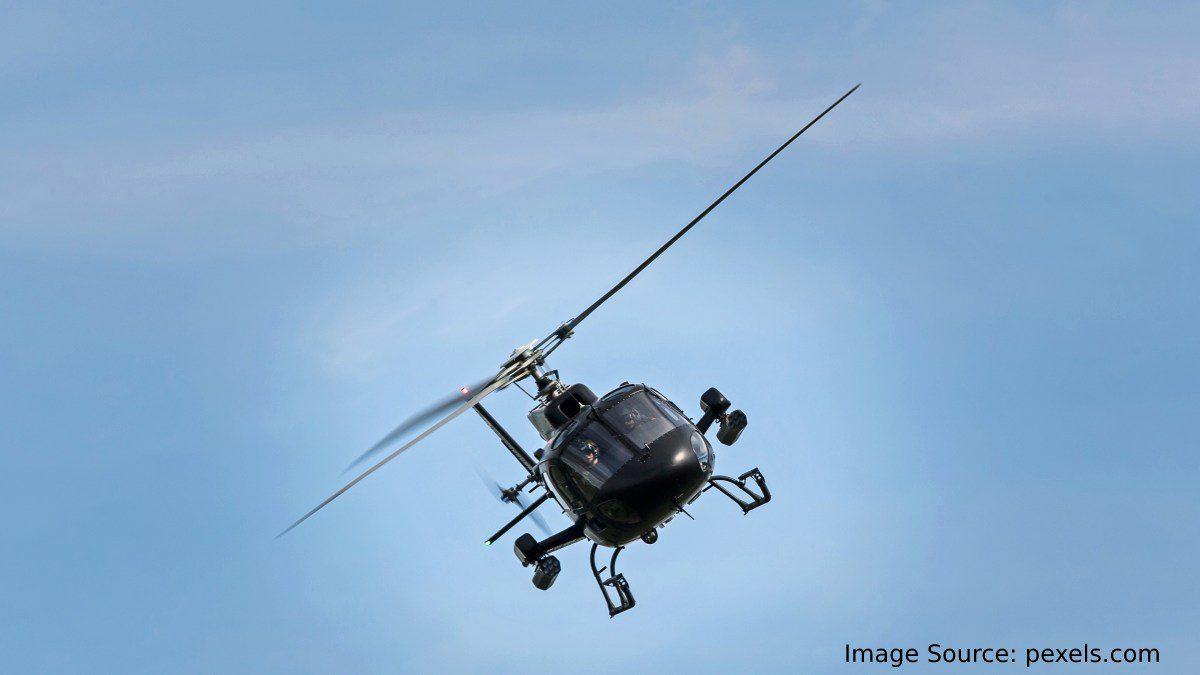 The helicopter market is undergoing rapid growth and development, with technological advances making aircraft more accessible. As companies look to capitalize on this new sector, it's important to understand the industry's current state. 
This article will explore key topics such as helicopter demand, production trends, and potential global market opportunities. It will also outline the various challenges that must be addressed to ensure the industry continues its dynamic expansion.
According to research by Market.us, "The helicopter market was valued at USD 30.60 billion in 2022 and is projected to reach USD 55.32 billion by 2032, growing at a CAGR of 6.10% from 2022 to 2032."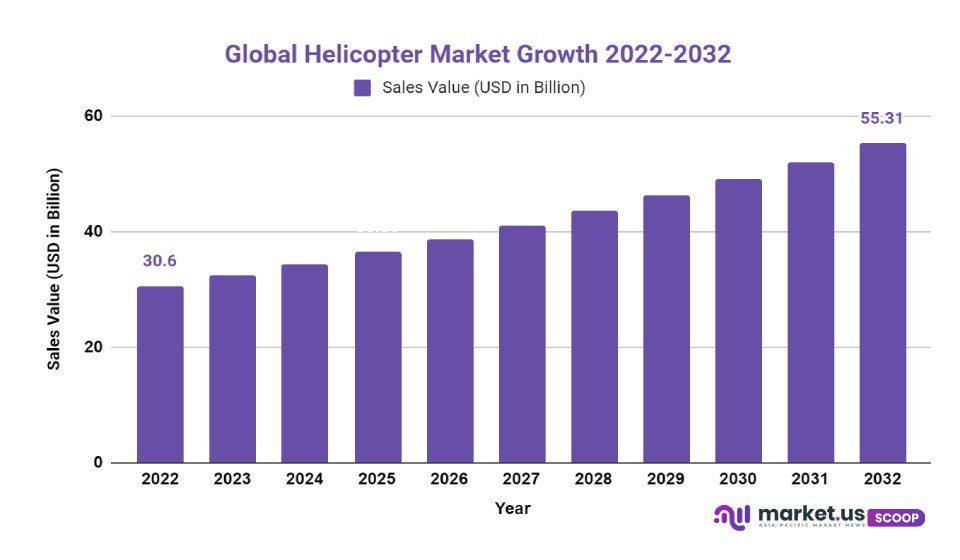 Anurag Sharma, a senior research analyst at Market.us, said, "Helicopters have been a staple of the aviation industry for over a century, and in recent years the global helicopter market has seen exponential growth. As technologies and capabilities continue to develop, more opportunities exist for those looking to break into this lucrative industry."
The helicopter market is booming, with various aircraft and services being offered. Innovations in technology have made helicopters more accessible, which has caused an influx of buyers. With more people utilizing this mode of transportation, the helicopter market offers many options and opportunities for those looking to invest in these air-borne machines.
Helicopters can be used for both commercial and private purposes. For those requiring longer flights or transport cargo, larger models with enhanced capabilities such as increased speed and range are available. On the other hand, smaller models are perfect for recreational use or for short-distance travel due to their compact size and maneuverability. In addition, there is an abundance of customization options that allow owners to make their machines tailored to their needs.
Transport helicopters are best known for their ability to travel anywhere without obstacles. Because helicopter transportation is a fast mode of transport, there has been a huge increase in demand in recent years for helicopters. Additionally, helicopters can take off and land faster than any other aircraft. 
Helicopter travel also remains unaffected due to geographical features. Air transportation by helicopter is an excellent choice for transport and short-distance travel. Market players are expected to develop luxurious helicopters for public transportation, boosting the market's growth.
The market for military helicopters is expected to increase due to the alternative and expansion of existing parts and systems and capacity development programs in emerging markets. Next-generation compound and tilt helicopters are expected to increase the market share for helicopters in the coming decade. This will result in significant helicopter replacements as well as capability expansions. 
Due to their capacity to spread signal emissions over a wide frequency range, active electronically-scanned arrays for war helicopters are replacing traditional surveillance systems. Emerging economies like South Africa and India are investing in electronic-scanned array radar systems to combat helicopters. These countries have allotted substantial parts of their defense budgets to increase their defense powers, including upgrading their helicopter fleet.
Airbus Helicopters SAS, Bell Helicopter (US), Lockheed Martin Corporation, and Lockheed Martin Corporation are the leading manufactories of helicopters. The market growth can be affected by the delivery backlogs of these top players. Helicopters are in high demand in both military and civil applications. OEMs have limited production capabilities and cannot deliver the required helicopters in the expected timeline. 
A rise in helicopter backlogs led to a backlog in 2020 for Bell Helicopter USD 5.4 Billion. The growing gap between the number and delivery of orders hampers global market growth. Airbus Helicopters received 370 and delivered 333 orders in 2019. This resulted in a backlog totaling 37 helicopters.
Recent development
Airbus Helicopters SAS France (France) joined forces with KLK Motorsport Germany (Germany), Modell- und Formenbau Blasius Gerg GmbH Germany (Germany) to design, build, and manufacture CityAirbus NextGen's rear structure. This ongoing multinational project of Airbus Helicopters was completed in June 2022. The companies will develop an ultra-lightweight rear fuselage for CityAirbus NextGen.
Leonardo S.p.A. of Italy presented the SHO9 single/engine helicopter as AWO9 in April 2021. It was created after the acquisition by Kopter Group AG, Switzerland. The AWO9 fits seamlessly into the helicopters division portfolio. Customers have many options due to its greater modularity.
Bell Helicopter, a subsidiary of Textron Inc. (USA), made an announcement in April 2022 regarding its purchase of two Bell 505s. Karen SA plans to use these helicopters in VIP and commercial flights and teach pilot skills.
Sikorsky was a Lockheed Martin firm (US) that signed a 5-year contract with the United States government in June 2022 for a baseline supply of 120 H- 60M Black Hawks helicopters for US Army (FMS) customers.
---
---
Media Enquires
If you require any further information about a related market, please get in touch with us. we're happy to help you
+91 7008 614 496
+91 7008 614 496