An energy management system (EMS) is an advanced technology that helps organizations save money by improving their overall energy efficiency. By automating many of the tasks involved in managing energy, EMSs can dramatically reduce the amount of electricity and gas used in a facility while ensuring compliance with environmental regulations. 
According to research by Market.us, "The Global Energy Management Systems Market was valued at USD 24.73 billion in 2021. Market size is expected to increase from USD 27.31 billion in 2022 to USD 86.02 billion by 2032. This represents a 12.0% CAGR over the forecast period."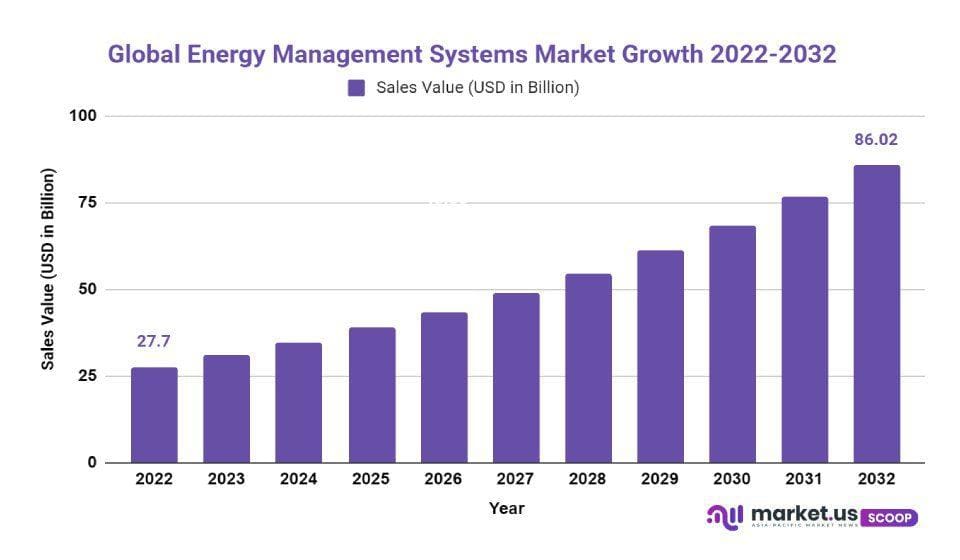 Gaurav Yadav, a senior research analyst at Market.us, said, "Many businesses are now recognizing the importance of investing in an EMS to improve their bottom line and protect the environment. By automating many of the tasks involved in managing energy, EMSs can save businesses up to 70% on their electricity bills and 30% on their gas bills. Furthermore, by helping to ensure compliance with environmental regulations, an EMS can help protect the company's reputation and increase employee morale." 
In short, there are several reasons why businesses should invest in EMS today. Energy management is the process of ensuring that the energy used in an organization is used efficiently and effectively. It can involve directing the use of energy resources, improving the efficiency of energy use, and reducing the amount of energy consumed. Energy management is essential for businesses and households, as it can help reduce costs and carbon emissions.
Types of EMS, centralized, distributed, and hybrid. Centralized EMS is a system in which all the medical equipment and personnel are located in one location. This type of EMS is typically used in larger hospitals or clinics. Distributed EMS is a system in which medical equipment and personnel are scattered throughout the facility. This type of EMS is typically used in smaller hospitals or clinics. Hybrid EMS combines aspects of both centralized and distributed systems. 
Various energy management systems (EMS) can be used to improve the efficiency and sustainability of an organization's energy use. Some examples of types of EMSs include demand response, time-of-use pricing, renewable energy procurement, and automated environmental management. 
Centralized EMS is the most common type of EMS, and it is a good choice if you want to save money on your energy bill. Centralized EMS systems can be more efficient because all the energy data is stored in one place. This means the system can track how much energy each room uses and ensure it stays below a certain limit. 
Demand response is a type of EMS that can reduce peak demand by using incentives or penalties to encourage consumers to reduce their energy use at certain times of the day or week. Time-of-use pricing is another type of EMS that sets prices for different periods of the day. This can help optimize an organization's usage by encouraging people to use electricity when it is cheaper.
Global concern has been the steady decrease in energy intensity from traditional resources like coal. All over the globe, governments have committed their resources to a sustainable, safe, and reasonable energy system. In addition, the rapid industrialization of energy has increased energy demand and encouraged governments to implement efficient energy management systems. Inflation in energy prices and growing competition among energy suppliers also drive governments to invest more in sustainable energy. 
Energy organizations are imposing strict regulations on energy efficiency due to rising environmental issues like climate change and global warming. For example, many states and local governments in the U.S. have increased their standards for renewable energy to increase their support for clean energy. This is driving growth in the energy management market through governmental initiatives to reduce energy consumption and improve management efficiency.
Nikhil Randhe
I am Nikhil, working as a Digital Marketing Associate at Prudour Pvt Ltd. I did a Master's in Digital Marketing and worked in a Core SEO team. I an passionate about Digital Marketing with skills such as Search Engine Optimisation, Search Engine Marketing, Google Analytics, etc.