By giving emphasis on a Healthy Lifestyle, the Fruit and Vegetable Juice Market is set to expand
---
---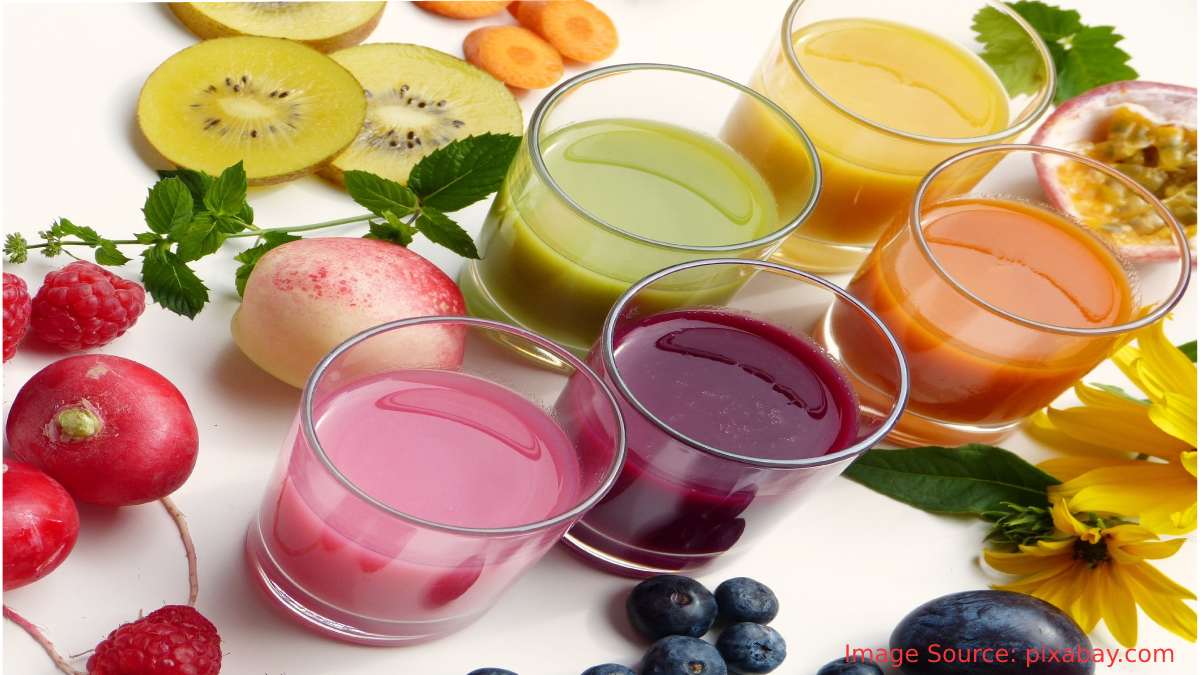 Functional beverages are becoming more popular as people seek healthier lifestyles. As consumers look for ways to improve their health, juices containing vitamins, minerals, or other nutrients are increasingly in demand. Companies have many options when it comes to marketing and developing these products. Companies must understand consumer preferences to create successful products. It is vital in today's market, where consumers are increasingly looking for products that cater to their needs. Companies can create more successful products by understanding their customers' needs. 
There is a lot of potential in the juice industry for functional ingredients like vitamins, omega-3, fiber, bioactive compounds, and probiotic bacteria. These ingredients can provide many health benefits that can increase the quality of life for consumers. These ingredients have numerous well-documented health benefits. It makes the juice industry a great candidate to provide functional components to consumers. 
Vitamins are used to increase the nutritional value of juice products. Numerous government initiatives have been launched to promote the consumption of functional juices, which are convenient sources of essential nutrients.
According to research by Market.us, "The Fruit and Vegetable Juice Market is expected to be worth USD 288.91 billion, By 2032, up from USD 165.2 billion in 2022. It is expected to grow at a CAGR of 5.75% between 2022-2032."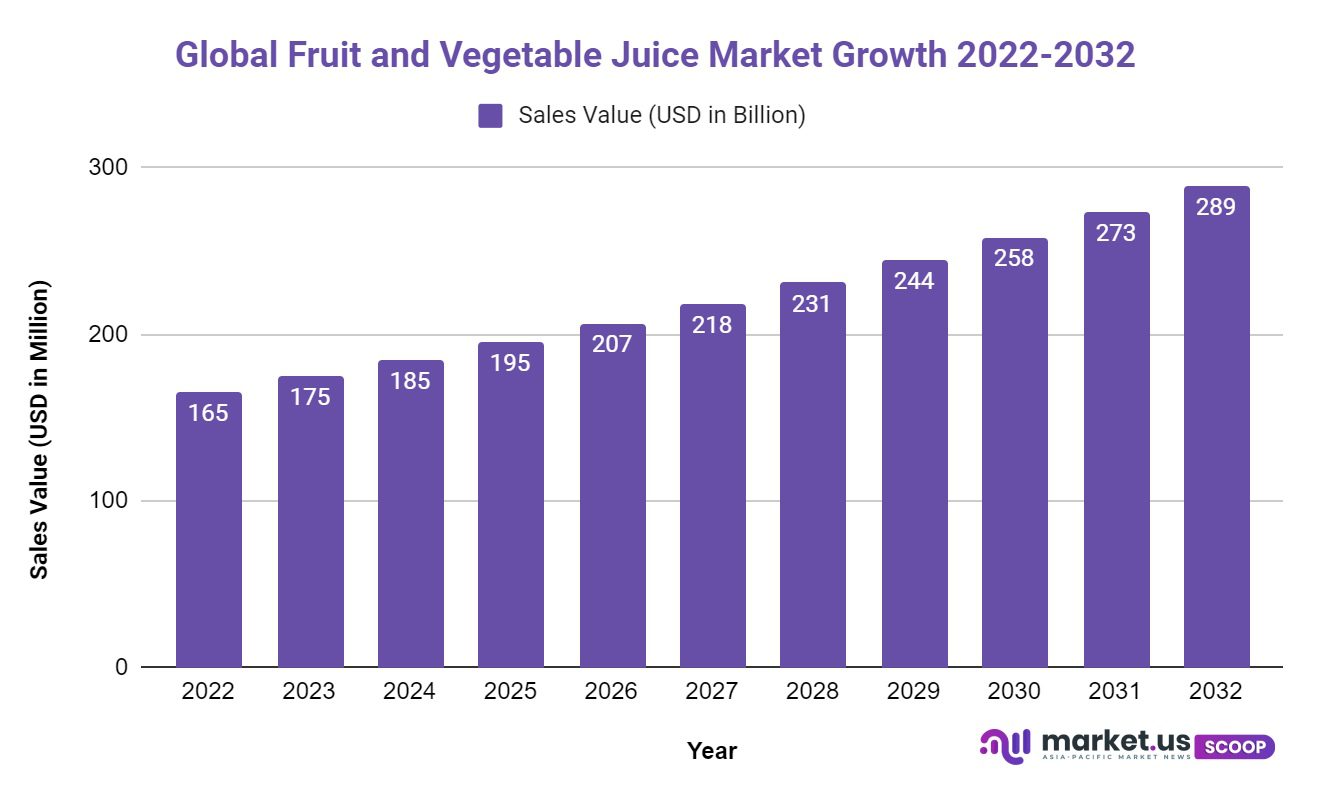 As people seek ways to improve their health, juices are increasingly in demand. These juices provide a convenient way to get your daily dose of vitamins and nutrients. There are many options for functional fluids on the market. These range from simple fruit juices to complex blends that contain herbs, spices, and botanicals. There are many options available so consumers can find the product that suits their needs and preferences. Because they contain less sugar than fruit juices and don't increase insulin as much, the global vegetable juice market thrives. 
Vegetable juices have a high nutritional value. They are rich in vitamins, minerals, antioxidants, and other nutrients. Vegetable juices are famous for their nutritional value, including carrots, celery, and beetroot. To make these vegetable juices more appealing, you can combine them with fruits like carrot-apple juice and celery-grapefruit liquid. Although most people drink vegetable juices for health benefits, some don't like the taste. Many people add vegetables to smoothies to get all the health benefits of vegetable juice without drinking them. They can get all the nutrients they need without having to taste them.
Fruit juices can be refreshing and healthy and come in many different flavors. There are many juices to choose from, including sweet and tart tropical. Orange juice is a trendy fruit juice. It is rich in vitamins A, and C. Fresh squeezed, some consumers prefer orange juice for its best taste and health benefits.
It can take time to choose the right fruit juice from so many options on the market. Orange juice is an excellent choice because it is rich in vitamins A and C and antioxidants that can help prevent aging. Orange juice can be bitter for some people, but a little sugar can make it more enjoyable.
Consumers have become more conscious about their health, so the demand for low-calorie foods has increased in recent years. The juice industry has responded by focusing its efforts on the soft drink market. This market offers many low-sugar juices. These products are attractive to pro-health customers as they provide a healthier option to sugary drinks. Manufacturers are also exploring incremental opportunities in vegetable juices mixed with other juices to reduce the sugar content.
As more people realize the importance of a healthy weight, this trend will likely continue.
German juice manufacturers have many opportunities to expand their sales and increase volume. Companies producing natural juices have a ready market because of their growing demand. Manufacturers can adapt their products to appeal to German consumers and maximize profitability by understanding their preferences and trends.
Many businesses have begun to implement traceability systems. Traceability is becoming more popular as consumers are more interested in knowing where their fruits are. Customers are often interested in learning the exact fruit content and whether there are any.
Companies can track the progress of their products, giving customers assurance that they are receiving what they have paid. Customers have the right to access consumer information. Future juice innovations will be more easily accessible through CBD (Cannabidiol) and coconut water.
Manufacturers want to capitalize on this market and create innovative products. Shanghai-based Jijuan Beverages discovered a rainforest that still needs to be developed. These products target high-profile clients seeking healthier alternatives to carbonated energy drinks. This juice range is 100% pure and contains no preservatives or added sugars.
We predict juice consumption will increase over the next few decades as consumers become more health-conscious. People are more conscious of the importance of including healthy foods and beverages. Juices are an easy way to achieve this. They are rich in nutrients and can enjoy anywhere you go. Juices come in various flavors, so there is sure to be something for everyone.
---
---
Media Enquires
If you require any further information about a related market, please get in touch with us. we're happy to help you
+91 7008 614 496
+91 7008 614 496