Ceramic Sanitary Ware Market Booms as Consumers Seek Durable Options, says Market.us
The market for ceramic sanitaryware is being driven by initiatives of governments in developing countries and the changing lifestyles and purchasing power of middle-class people around the world.
Ceramic sanitarywares include many components and fixtures. These products are easy to maintain, scratch and chemical resistant, and affordable. These properties make them more popular in residential and commercial applications. 
The demand for single-unit housing has increased due to rising population growth and urbanization. This further boosts the need for sanitary ware components in new buildings.
According to research by Market.us, "The Global Ceramic Sanitary Ware Market was valued at USD 51.1 billion in 2022. It is expected to grow at a 7.5% CAGR and expected to reach USD 105.3 billion in 2032 during the forecast period 2023 and 2032."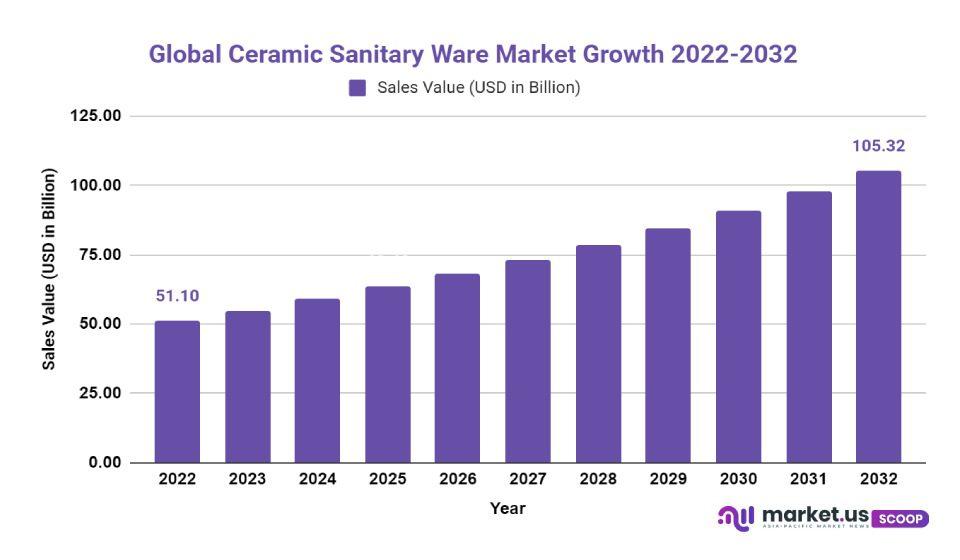 Gaurav Yadav, a senior research analyst at Market.us, said, "Ceramic sanitary ware products are growing in popularity among residential customers. Urban area consumes more ceramic sanitary ware products than rural areas. Due to the increase in residential construction, some of the emerging economies such as India and China are seeing substantial demand for ceramic products."
Water closets and toilet sinks are in high demand, both in urban and rural areas. There are many types of water closets available, including wall-hung, one-piece, two-piece, and European water closets. The reason closets are in high demand is the government's increasing focus on basic sanitation and hygiene in developing and underdeveloped countries.
The increasing demand for ceramic sanitaryware products in residential segments will also continue to rise due to technological advances; demographic shifts like rapid urbanization and the changing lifestyles of millennials.
Ceramic sanitary wares can be expensive, so they are not affordable for most people of lower income. Rural areas are more likely to look into alternatives such as steel wash basins or plastic cisterns, rather than purchasing ceramic sanitary wares. 
The overall demand is also affected by fluctuations in raw materials prices, strict government regulations, and volatility in the exchange rate. This is expected to limit the market growth.
The ceramic sanitary ware market is a rapidly growing industry with ample opportunities for businesses to capitalize on. The use of ceramic materials for sanitary ware products is gaining popularity due to its properties such as heat resistance, durability, and low porosity, making it easy to clean and maintain. 
The increasing demand for high-quality, durable, and aesthetically appealing bathroom fixtures is driving the growth of the market. Additionally, the growing demand for smart toilets equipped with advanced features such as automatic flushing, seat heating, and air-drying is also boosting the market growth. 
The adoption of sustainable and eco-friendly bathroom solutions and the growing construction industry, particularly in emerging economies, is creating significant opportunities for businesses in this market. 
The increasing urbanization and modernization of residential and commercial spaces are leading to a higher demand for quality bathroom fixtures, including ceramic sanitary ware. Also, the growing awareness about personal hygiene and the desire for aesthetically pleasing bathroom fixtures are contributing to the growth of the market. 
Furthermore, the rise in disposable income levels and the increasing purchasing power of consumers have made it possible for individuals to invest in higher-end bathroom fixtures, which is also fueling the demand for ceramic sanitary ware.
Nikhil Randhe
I am Nikhil, working as a Digital Marketing Associate at Prudour Pvt Ltd. I did a Master's in Digital Marketing and worked in a Core SEO team. I an passionate about Digital Marketing with skills such as Search Engine Optimisation, Search Engine Marketing, Google Analytics, etc.