Cinnamic Aldehyde Market to Witness Strong Growth due to Increasing Demand in Fragrance and Flavor Industry, says Market.us
---
---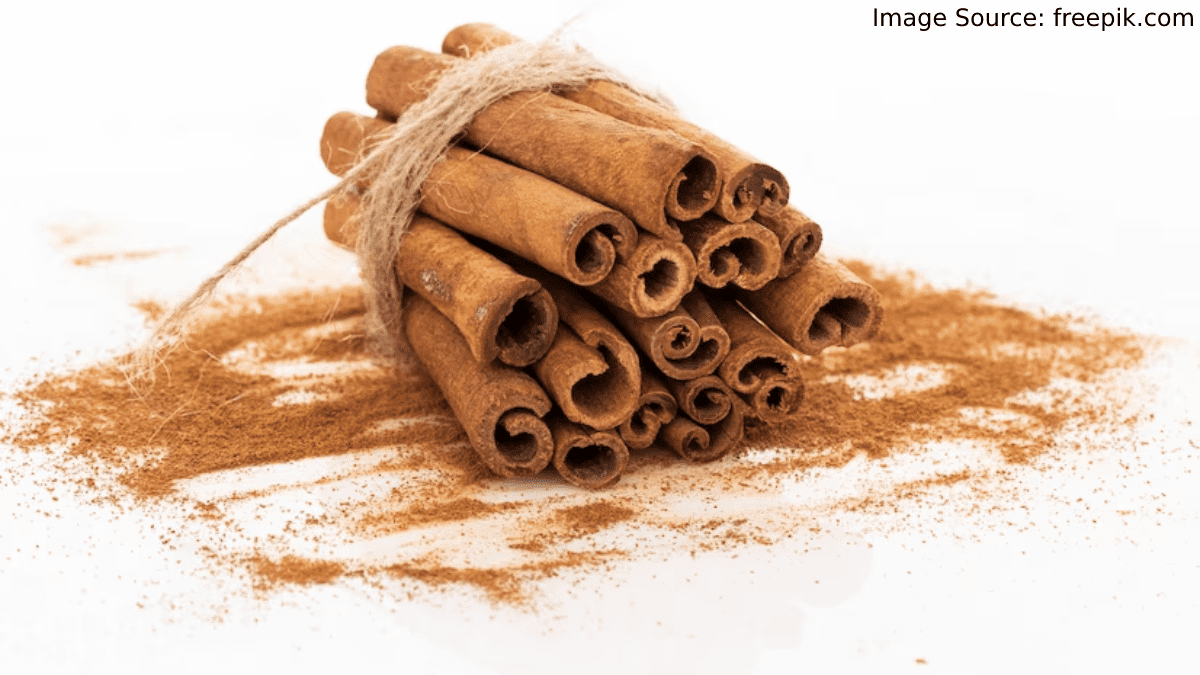 Cinnamic aldehyde is a fragrance ingredient used in various cosmetics, food and beverage, and household products. The demand for a cinnamic aldehyde is increasing due to its pleasant aroma and versatility in various applications.
Cinnamic aldehyde has a floral scent and is commonly used in perfumes. It is a yellow-coloured chemical with a strong jasmine scent and is widely used in the manufacture of personal care products such as perfume, creams and lotions, and talcum powder.
Cinnamic aldehyde is also known to increase blood circulation, stimulate the skin's temperature, and tighten the skin. It is used often in beauty products and massage fluids. Itcan be used to not only modulate flavour but also sterilise and deodorise your mouth. It's used in toothpaste, gum, and breath freshener.
Gum can be sterilised and deodorised with Cinnamic aldehyde. The increasing demand for personal hygiene, combined with a changing lifestyle, is driving Cinnamic aldehyde demand.
According to the latest report by Market.us," Cinnamic Aldehyde Market demand is anticipated to be valued at USD 5.3 Billion in 2023, forecast to grow at a CAGR of 5.3% to be valued at USD 8.88 Billion from 2023 to 2033."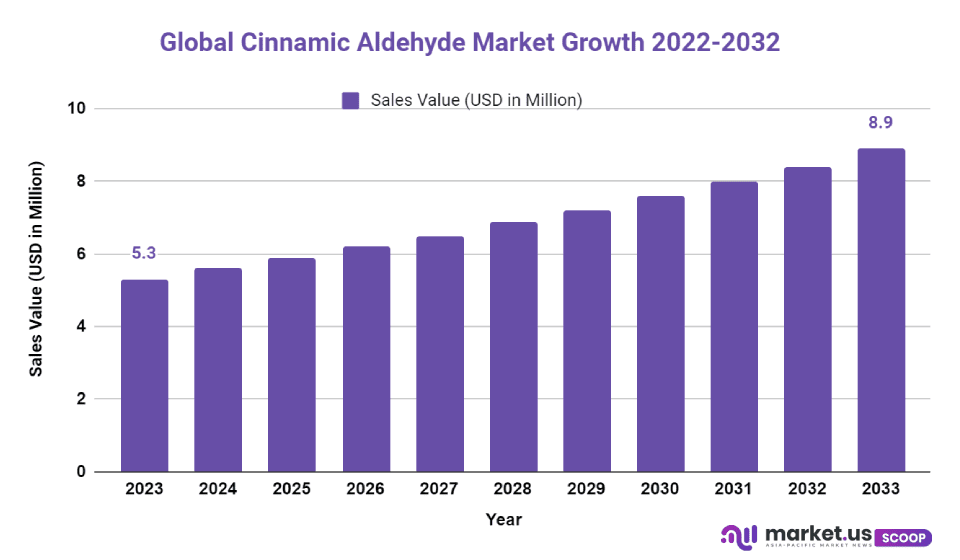 Anurag Sharma, a senior research analyst at Market.us, said, " The cinnamic aldehyde market is expected to grow significantly in the coming years, due to the increasing demand for natural and organic products and the increasing use of cinnamic aldehyde as a fragrance ingredient in the cosmetic and personal care industry. In addition, the growth of the food and beverage industry and the increasing demand for flavoured and fragrant food products are also driving the market for cinnamic aldehyde."
There are other factors that could impact the growth and success of the cinnamic acid market. These include strict regulations regarding the use of synthetic fragrances and increased awareness about the possible health and environmental impacts of fragrance ingredients.
Global markets have been severely affected by the rapid spread of coronavirus. Major economies around the globe are in lockdown due to this virus. The market is also facing the closure of all international transportation. On the other hand, is mostly used in items that fall under the essential goods section. Market growth is affected by the global lockdown and slowdowns in the transportation sector.
Cinnamic acid dehyde's flavour and aroma are well-known. Cinnamic aldehyde has low toxicity and is used widely in food, beverages, fragrances, agrochemicals, and surfactants. The potential toxicity for a 70-kg individual is between 0.5 and 5g/kg. Cinnamic aldehyde is a volatile compound that mixes well with other compounds, which aids in aroma fixing in perfumes. This scent is used in personal care and domestic care. Both in emerging and established countries, the global household care industry has seen rapid growth.
There are many strategies that household care industry leaders have in place to expand and develop new markets. Corporations are also increasing their expenses to reduce margin pressure and eventually lower the end-product prices. Current household and commercial expenses are currently decreasing.
Asia-Pacific was the dominant region in the market in 2023 and will continue to be the leader in the future. The region's cinnamon market is thriving because of its easy availability. The market's growth is also supported by an increase in food & beverage consumption, which will have positive effects on the product scope. Over the forecast period, lucrative growth opportunities are expected in Europe and North America.
Product scope will be affected by changing demographics and income trends, which may lead to a preference for extravagant consumer products in certain countries like India, China, and Indonesia. The growth of the personal and household care industries will also be a significant contributor to the growth in cinnamic aldehyde.
In conclusion, the cinnamic aldehyde market is expected to grow, driven by increasing demand from various industries, but growth may be impacted by regulations and increasing awareness of potential health and environmental effects.
---
---
Media Enquires
If you require any further information about a related market, please get in touch with us. we're happy to help you
+91 7008 614 496
+91 7008 614 496