Cloud Ran Market Takes the Tech Industry by Storm, says Market.us
---
---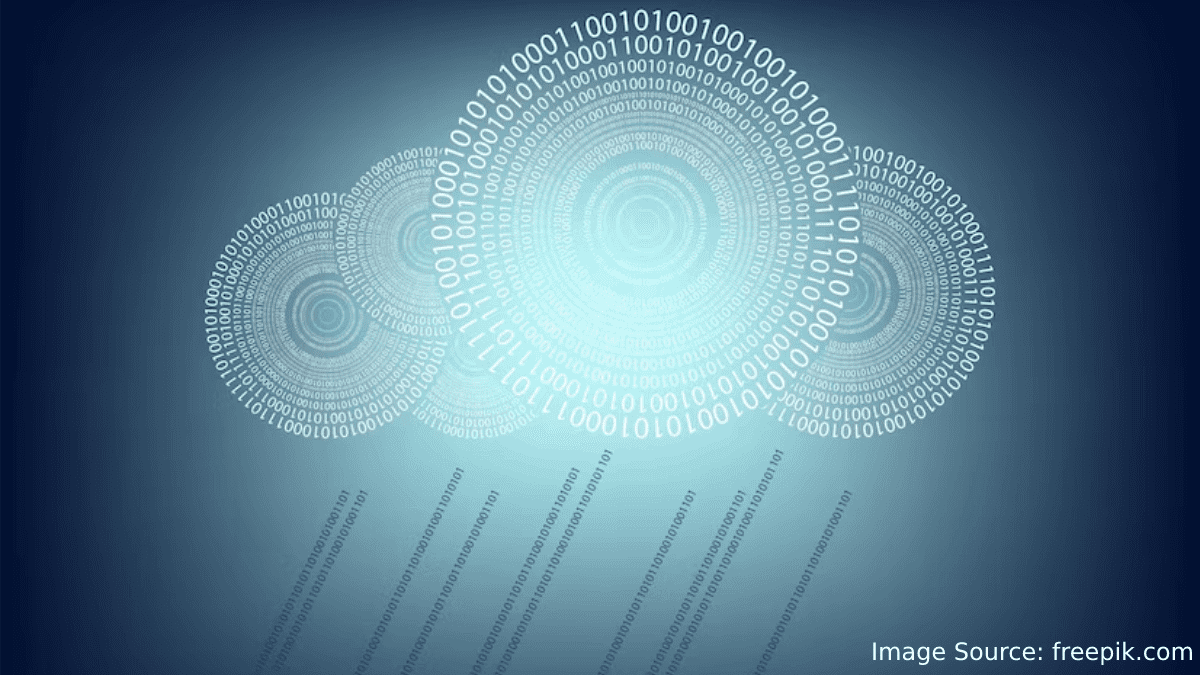 New technological advances and improvements in the delivery of cutting-edge apps and services over existing mobile networks are required to meet the 5G goal. The cloud ran concept was chosen as the best design to meet the 5G vision. Cloud ran is a mobile network design that takes advantage of complex characteristics like network resource slicing and statistical multiplexing. It also offers high capacity and energy efficiency. 
Cloud ran is possible thanks to innovative technologies like software-defined networking (SDN) and network function virtualization, (NFV). SDN technology supports advanced traffic engineering strategies such as load balancing, by separating the control and data planes within the network. However, the NFV idea allows for high flexibility by allowing network resources to be shared in a dynamic manner.
The cloud ran is an innovative mobile network design that can assist operators in a number of problems as they try to support growing end-user needs. The primary goal of cloud ran is to combine several base stations' baseband devices (BBUs), into one baseband unit.
According to Market.us' research, Cloud ran Market is expected to grow at a CAGR of 38.2% over the forecast period, reaching nearly USD 53.21 Bn in 2033.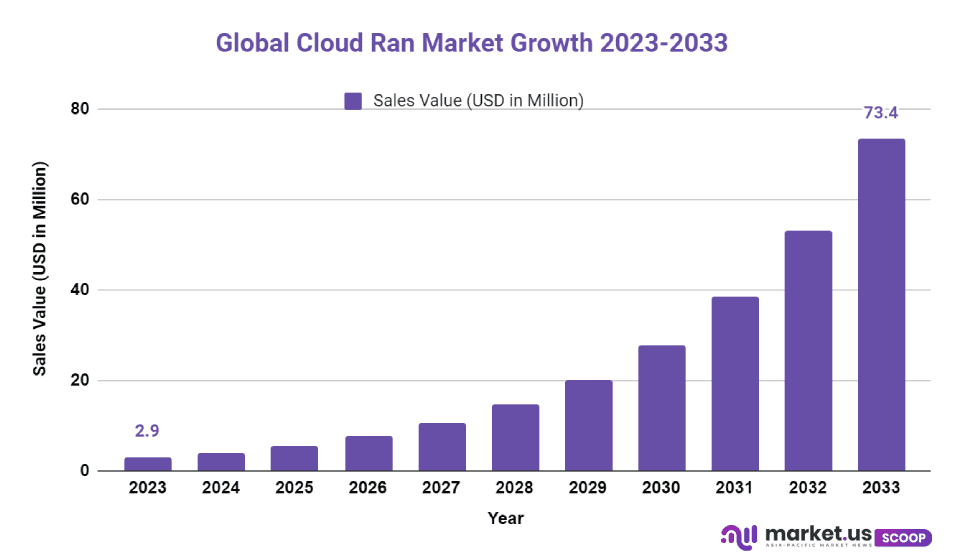 Anurag Sharma, a senior research analyst at Market.us, said," Over the next few years, the cloud ran Market will be driven by a rapid increase in capital expenditure and a decrease in operational expenditure. The market outlook is positive due to the growing use of wireless and telecommunication technologies, which improves 4G and 5G access." 
The market will be driven by the increasing demand for energy-efficient and cost-effective power resources, as well as the rising network congestion caused by the widespread use of smart devices and limited spectrum availability. Market growth is being slowed by concerns about security standards and government regulations.
A pool centrally located to achieve statistical multiplexing gains. The pool also transfers responsibility for fast wireline transmissions of data in quadrature or in phase. Cloud ran allows for energy-efficient network operation and possible baseband resource cost savings. Cloud ran increases network capacity by performing load balancing and cooperative processing from multiple base stations.
Cloud ran is a key technology that will enable 5G networks. Its ability to deliver the high-speed and low-latency services required by next-generation services like virtual reality and autonomous cars makes it a key enabling tech. Cloud ran is also a great way for operators to save money on their infrastructure and reduce their energy consumption.
Mobile network operators will face many challenges over the next two- to three years. These include maximizing the mobile network's value, building future-facing access networks, and service innovation.
The market was dominated by the centralization technology segment in 2022. There are many benefits to centralization technology. They can use cutting-edge technology and resource virtualization. It also makes it easy to deploy services at the edge. The centralized BBU pool shows that RRUs are distributed, but that BBUs are located at the network center. Cloud ran can outperform traditional cellular networks that distribute BBUs in many ways.
Nokia offers a wide range of products and services to meet the requirements of operators who want to use cloud-based RAN solutions. Nokia is well-positioned to capitalize on the increasing trend toward operator consolidation. It has a strong presence in North America, Europe, Asia Pacific, and Europe.
The global cloud ran market is divided into North America and Europe, Asia Pacific, the Rest of the World, and Asia Pacific. Due to the introduction of cloud-based architecture, which was part of an initiative to commercialize 5G in countries such as China, Japan & South Korea, the largest market share will be held by the Asia Pacific.
The cloud market's growth is hampered by strict government regulations and the need for compliance with security standards. It is still difficult to achieve optimal cell clustering and baseband unit pool assignment with minimal overhead and maximum gain. One baseband unit pool should have the maximum number of channels, with minimal overhead and fronthaul delay. One baseband should be able to handle multiple geographical locations. This makes it difficult to do clustering or assign baseband units in cloud ran systems.
---
---
Media Enquires
If you require any further information about a related market, please get in touch with us. we're happy to help you
+91 7008 614 496
+91 7008 614 496