Consumers Actively Seeking Fresh and Exciting Developments in the Home Fragrance Market, says Market.us
---
---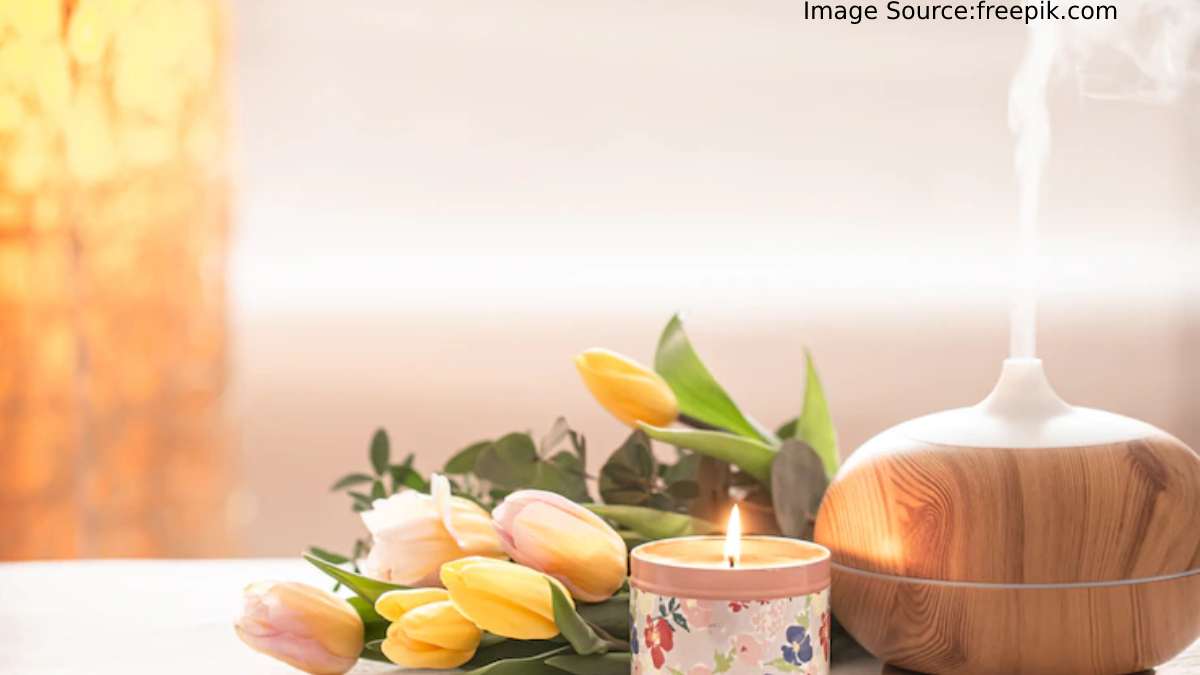 The home fragrance market is flourishing with new and exciting products that make it easy to create a comfortable and welcoming atmosphere in your home. With a wide range of products available, including candles, diffusers, and room sprays, the home fragrance market has something for everyone.
Whether you're looking to invigorate your senses, unwind after a long day, or simply add a touch of luxury to your living space, the home fragrance market has you covered. From big-name brands to boutique companies, the home fragrance market is teeming with innovative and captivating scents that are sure to delight your senses and bring a touch of beauty to your home. Get ready to breathe in the beauty of the home fragrance market.
According to the latest report by Market.us," The Global Home Fragrance Market is expected to grow at a CAGR of roughly 4.8% over the next ten years and will reach USD 11.67 Bn in 2032, from USD 7.3 Bn in 2022."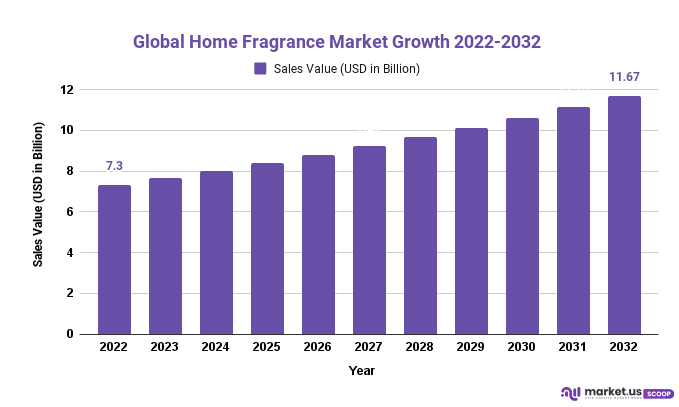 The fast-growing Home Fragrance Market offers exciting growth opportunities for competitors. A recent report by Market.us highlights some key strategies companies can adopt to benefit from the latest industry trends.
The report highlights the key trends that will shape the Home Fragrance Market going forward by giving information on the size of this fast-growing market development, drivers, trends, and which regions and segments are most important.
Anurag Sharma, a senior research analyst at Market.us, said," The home fragrance market has been experiencing steady growth over the past few years and shows no signs of slowing down. With consumers looking for ways to create a comfortable and welcoming atmosphere in their homes, the demand for home fragrance products continues to rise. From premium candles to elegant diffusers, the market offers a wide range of options to choose from, providing consumers with the opportunity to select the perfect product to fit their style and needs."
Several factors, including the rise of e-commerce and the growing popularity of home fragrance products as a gift are driving the growth of the home fragrance market. With more people shopping online and the ease of buying products from the comfort of their own home, the home fragrance market is seeing a surge in sales. Additionally, home fragrance products' popularity as a gift drives growth, as consumers look for unique and high-quality products to give to friends and loved ones.
Another factor driving the growth of the home fragrance market is the increasing awareness of the benefits of aromatherapy. From reducing stress to improving mood and creating a more relaxing atmosphere, the use of essential oils and fragrances is becoming more widespread. With consumers seeking natural and eco-friendly options, the home fragrance market is shifting towards products that use natural ingredients and essential oils.
Overall, the home fragrance market is showing strong growth, with consumers looking for new and innovative products to bring a touch of luxury and comfort to their homes. Whether you're looking for a new candle or diffuser, or just looking to try something new, the home fragrance market has something for everyone.
The following are the latest trends in the home fragrance market
Scent customization: As consumers become more discerning and seek out unique fragrance experiences, brands are offering more customizable options, such as personalized candle scents and mix-and-match diffuser sets.
Wellness-focused fragrances: With the rise of self-care and the popularity of aromatherapy, the home fragrance market is seeing an influx of products designed to promote wellness and relaxation. From stress-relieving lavender scents to uplifting citrus fragrances, brands are offering a wide range of options to help consumers create a calming and rejuvenating atmosphere in their homes.
Market.us has segmented the Home Fragrance Market based on the following parameters:
By Product Type, the market is divided into Sprays, Diffusers, and Candles. Spray dominated the global market in 2021, with a revenue of 32.9%. Sprays are more inexpensive than other products and come in a variety of variants, such as rose, jasmine, and lavender. For Instance, Godrej Aer Magic Spray is an adjustable refilled spray that can be set with four different scents in a matter of minutes.
In terms of Distribution Channels, this market research report is further divided into Supermarkets & Hypermarkets, Convenience Stores, and Online. In 2021, hypermarkets and supermarkets held 49.5% of the largest share. This segment is growing in popularity because it allows buyers to scan the product before purchasing, which can influence their decision. Additionally, they have the option of having a store associate assist them in selecting the right product.
Some of the key players in the home fragrance market include Yankee Candle, Bath & Body Works, Glade by SC Johnson, Air Wick, Jo Malone, Archipelago, Botanicals, Nest Fragrances, Lampe Berger, Chesapeake Bay Candle, P.F. Candle Co., and many others.
These companies are known for their high-quality products, innovative scents, and strong brand recognition. They offer a wide range of products, from candles and diffusers to room sprays and essential oils, and are considered leaders in the home fragrance market. Additionally, many of these companies are expanding their product lines to include eco-friendly and sustainable options, catering to the growing demand for natural and environmentally-friendly products.
---
---
Media Enquires
If you require any further information about a related market, please get in touch with us. we're happy to help you
+91 7008 614 496
+91 7008 614 496