Corporate Wellness Market Soars as Employers Now Increasingly Prioritize Employee Well-Being, says Market.us
---
---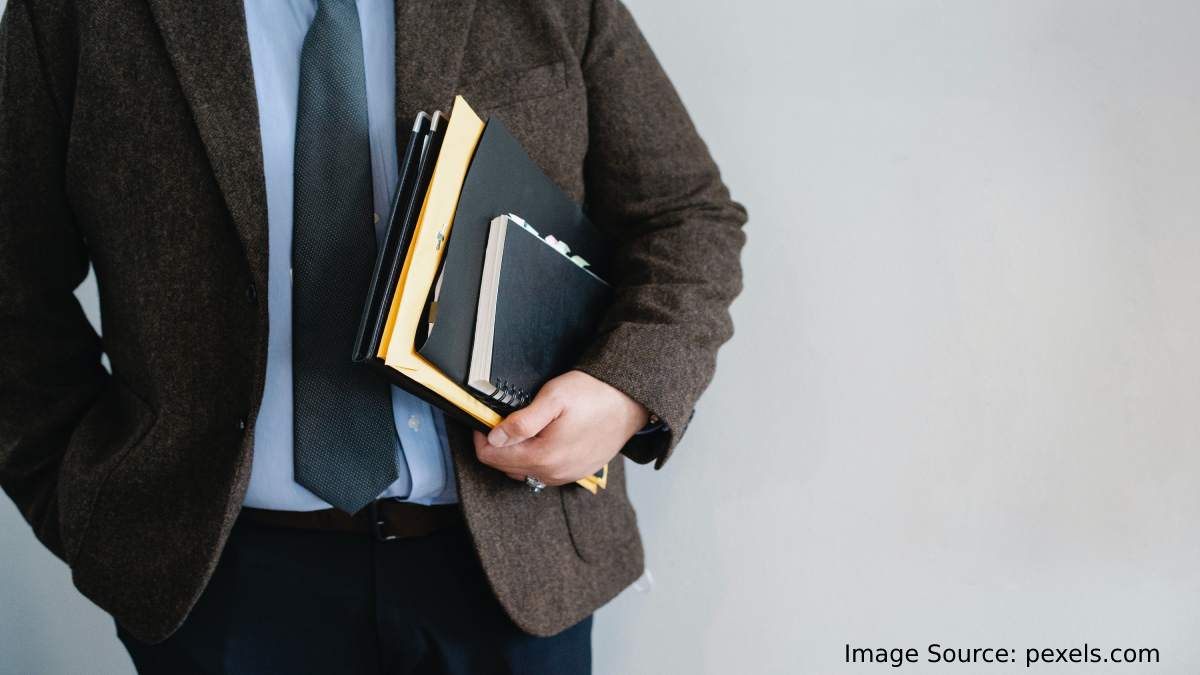 Corporate wellness refers to programs and initiatives that promote the physical, mental, and emotional health and well-being of employees in the workplace. Corporate wellness programs typically include activities such as fitness classes, health assessments, stress management workshops, and healthy eating initiatives, among others.
Corporate wellness aims to improve employees' overall health and well-being, leading to increased productivity, reduced absenteeism, and lower healthcare costs for employers. Additionally, corporate wellness programs can foster a positive workplace culture and improve employee satisfaction and engagement.
According to the latest report by Market.us, "The Global Corporate Wellness Market is expected to grow at a CAGR of roughly 4.7% over the next ten years and will reach USD 86.75 Bn in 2032, from USD 54.8 Bn in 2022."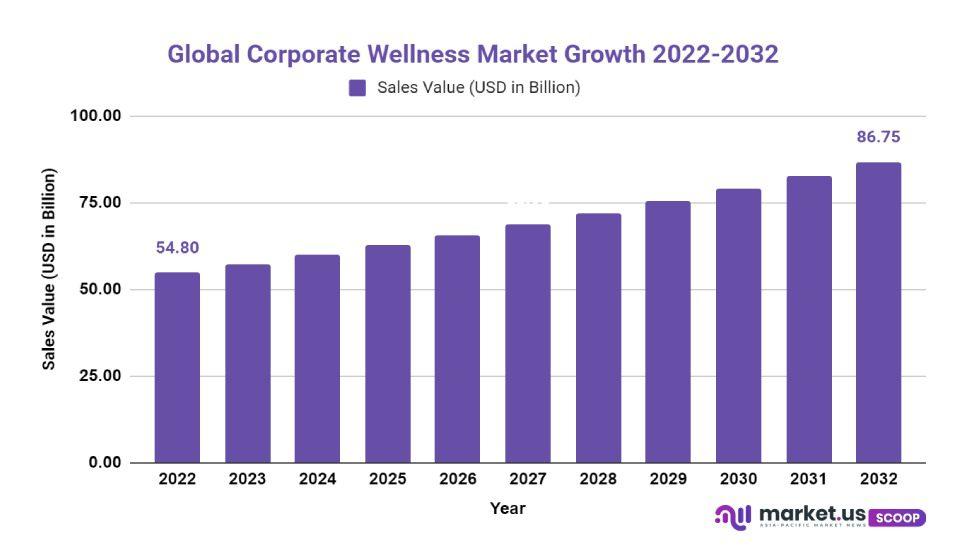 The fast-growing Corporate Wellness Market offers exciting growth opportunities for competitors. A recent report by Market.us highlights some key strategies companies can adopt to benefit from the latest industry trends.
The report highlights the key trends that will shape the Corporate Wellness Market going forward by giving information on the size of this fast-growing market development, drivers, trends, and which regions and segments are most important.
Anurag Sharma, a senior research analyst at Market.us, said, "The corporate wellness market has seen significant growth in recent years, driven by factors such as rising healthcare costs, an aging population, and increasing awareness of the importance of employee well-being. Companies seek to improve their employees' health and well-being, leading to increased productivity, reduced absenteeism, and lower healthcare costs."
The corporate wellness market is expected to continue to grow in the coming years, driven by increasing demand from organizations and a growing awareness of the importance of employee well-being. Advancements in technology, such as the use of mobile health apps and wearable devices, are also expected to drive growth in the market.
The trend toward the increasing use of technology has had a significant impact on the growth of the corporate wellness market. Wearable devices, such as fitness trackers and mobile health apps, have enabled organizations to deliver wellness programs in a more convenient, accessible, and sophisticated manner.
Wearable devices provide employees with real-time data on their physical activity, sleep patterns, and other health metrics, allowing them to track their progress and set goals. This has made wellness programs more engaging and interactive, encouraging greater participation and adherence.
The integration of technology into corporate wellness programs has also allowed companies to track and measure the impact of their initiatives more effectively. By collecting data on employee health and well-being, companies can identify areas for improvement and make data-driven decisions to optimize their programs.
Mental health is an increasingly important concern for organizations, as the high levels of stress, anxiety, and depression among employees can lead to decreased productivity, increased absenteeism, and higher healthcare costs.
As a result, many companies are offering programs and services to address mental health, including stress management programs, mindfulness and meditation programs, and counseling services. These programs help employees manage stress, improve their mental well-being, and increase their overall health and productivity.
The increasing focus on mental health is also reflecting changes in societal attitudes and expectations as individuals seek to prioritize their well-being and mental health in their personal and professional lives.
The next latest trend is personalization, which plays a significant role in the growth of the corporate wellness market. As companies recognize the importance of employee well-being, they are seeking to tailor their wellness programs to employees' individual needs and preferences.
Personalized wellness programs take into account each employee's unique health and wellness needs and provide customized resources and support to help employees reach their goals. For example, some programs may focus on helping employees with specific health conditions, such as diabetes or heart disease, while others may offer specialized support for employees with high-stress levels or work-life balance challenges.
Market.us has segmented the Corporate Wellness Market based on the following parameters:
By type, the market is segmented into Health Risk Assessment, Fitness, Smoking Cessation, Health Screening, Weight Management, and Nutrition. The health risk assessment segment held the largest revenue segment, with a growth rate of over 25% in 2022.
In terms of application, this market research report is further divided into Big-Size Companies, and Small & Medium Sized Companies.
The corporate wellness market is highly competitive, with a large number of players offering a wide range of wellness solutions. Virgin Pulse, Central Corporate Wellness, Compsych, Spring Health, Power Wellness, Optum, Aetna, TotalWellness, Progyny, ConneXions Asia, Vitality Group, and others are some of the major players in the corporate wellness market.
In conclusion, the corporate wellness market is a rapidly growing industry with a plethora of players offering innovative solutions to meet the evolving needs of businesses and employees. The increasing emphasis on employee well-being and advancements in technology and data analytics has led to a surge in demand for corporate wellness programs. With a continued focus on employee health and well-being, the corporate wellness market is poised for growth in the coming years.
---
---
Media Enquires
If you require any further information about a related market, please get in touch with us. we're happy to help you
+91 7008 614 496
+91 7008 614 496