Cranberry Extract Benefits Entrepreneurs and Consumers Alike in Positive Ways, says Market.us
---
---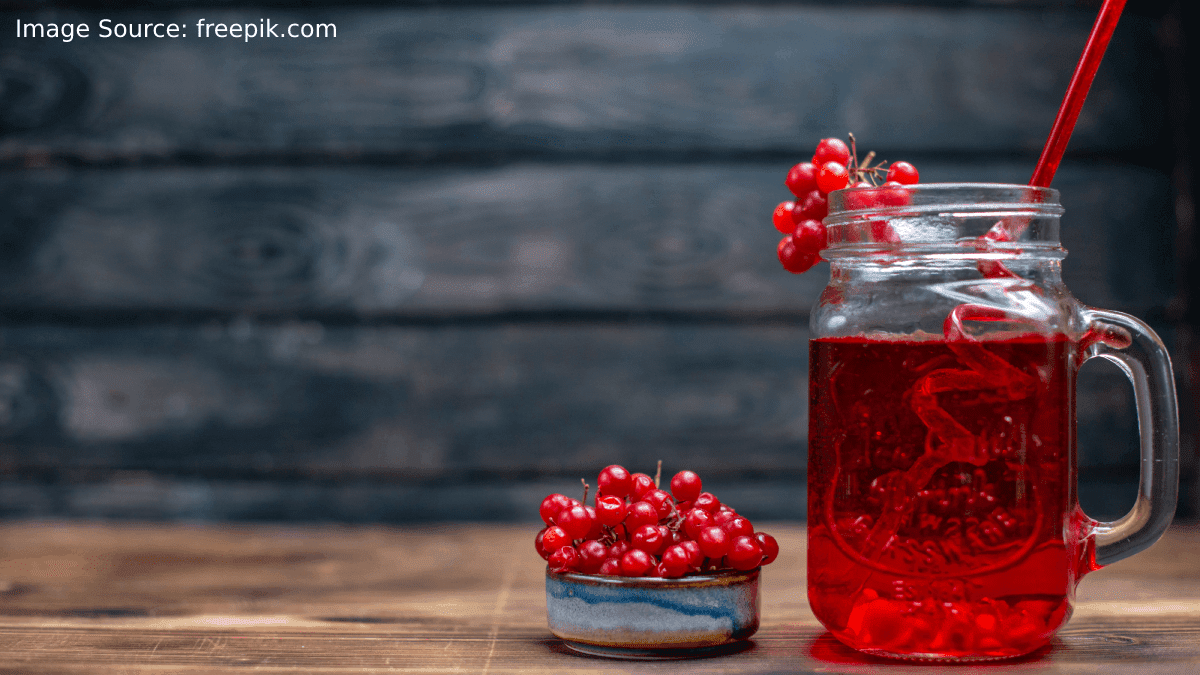 The rising demand for cranberry extract juice from the food and drink industry is driving the market for this product. It is used as a natural food color. It is also used in poultry and seafood. Because of its skin-protective antioxidant properties, cranberry oil is also used in cosmetics.
This product is rich in antioxidants and has been proven to be a cure for bladder infections. Market growth for cranberry extract is expected to increase due to increasing awareness about the health benefits of natural products.
According to Market.us' research," The Global Cranberry Extract market was valued at USD 124.8 Million in 2023 and is expected to reach USD 197.42 Million by the year 2031, at a CAGR of 5.9%."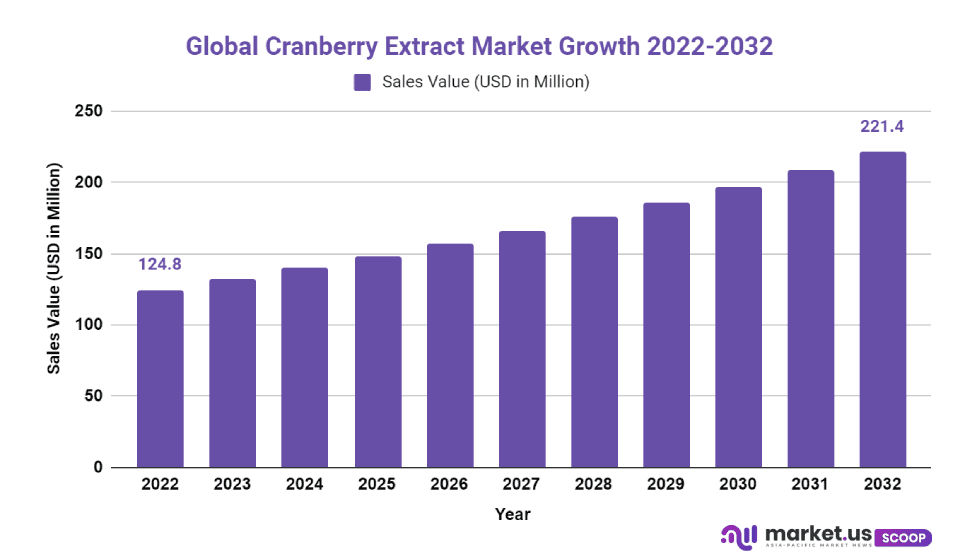 Anurag Sharma, senior research analyst at Market.us said, " The rising demand for natural flavors, pigmenting agents, and other ingredients is driving the cranberry extract market. People are increasingly aware of the many benefits of natural products and choose to use them over artificial ones. The future growth of the cranberry extract market is expected to be aided by a shift in lifestyles emphasizing natural products. This is beneficial for both consumers as well as producers."
Click here to check 200+ pages of in-depth market analysis reports on the Cranberry Extract market
Cranberry is an evergreen shrub that can be found in wet areas such as wetlands or marshy areas. Cranberry is a native of the northern United States.
Anthocyanin is found in Cranberry extract. It can be powdered, liquid, or pigmented. Anthocyanin can be found in dietary supplements. Anthocyanin is also used in natural food colors in the food and beverage industry. It can also be used in seafood or poultry.
As the demand for processed products has increased, the demand for cranberries has also been increasing. This is especially true in North America. There are many processed products made from cranberries. These include jams and jellies as well as sauces and dried cranberries. Powders and extracts are also available.
North America is the largest market for cranberry juice. This is due to the high demand in the region for the product, which has many nutritional and health benefits. The United States is the largest supplier of cranberry extract in North America.
The Nothern Climes are the most important areas for Cranberry cultivation in North America. Most of the cultivation can be found in Massachusetts, Wisconsin, and New Jersey. North America harvests approximately 200 billion cranberries annually, with more than USD 1.50 billion in annual sales.
Ocean Spray Cranberry Growers Cooperative is one of North America's largest producers of Cranberries. The cooperative accounts for 90% of all cranberry production in the United States.
Cranberries are native fruits and can be eaten in many forms, including fresh, ground, mashed, baked with cornmeal, dried, or mixed with meat. There are a few other ways that cranberries can be used to increase their demand.
Liquid Cranberry Extract is a concentrated product in liquid form that can be used in various foods and beverages as an ingredient or additive. Because of its diuretic effects, cranberry has traditionally been used to treat urinary tract infections (UTIs).
It is rich in proanthocyanidins and anthocyanins. These act together to prevent certain types of bacteria biofilms from forming on an epithelial surface, such as the kidneys, gall bladder, and other parts of the body. This helps prevent UTIs.
Cranberries can be dried in the sun to make cranberry powder. Because it is resistant to spoilage, dried fruit is a staple food for hikers or campers. It also provides excellent nutrition for extended trips. They are rich in antioxidants and bioflavonoids, which help to fight free radicals, lower bad cholesterol, and prevent heart disease.
The powdered cranberry extract is 100% pure and contains more phytonutrients than the other forms. You can mix the powder with water, juice, or other beverage to make a drink. It can also be added to foods like yogurt and other dairy products to increase its nutritional value.
The only thing that is limiting the market for cranberry extract is the seasonal availability and fluctuating price of cranberry fruit, as well as stubborn diseases caused worldwide by the Viburnum leaf beetle, which has decimated global cranberry yield, Viburnum leaves beetle.
---
---
Media Enquires
If you require any further information about a related market, please get in touch with us. we're happy to help you
+91 7008 614 496
+91 7008 614 496