Creative Solutions By Key Players Boosting Pet Food Packaging Industry, says Market.us
---
---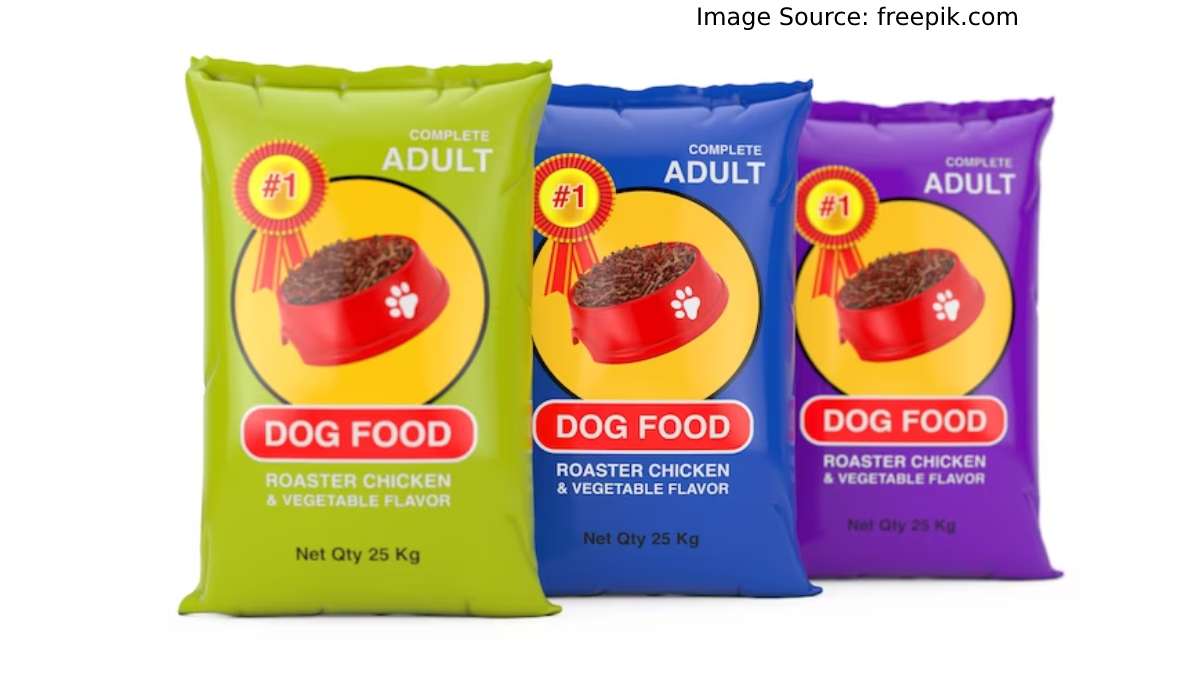 New product launches are on the rise as pet owners make lifestyle and dietary decisions for their pets that reflect their personal preferences. This is a significant increase in sales compared to five years ago. Trends are similar to human food. 
Pet owners are looking for healthier, more nutritious foods for their pets. This is driving an increase in pet food's vegetable and fruit content and a rise in pet food prices.
According to the latest report by Market.us," The Global Pet Food Packaging Market is expected to grow at a CAGR of roughly 5.2% over the next ten years and will reach USD 19.09 Bn in 2032, from USD 11.5 Bn in 2022″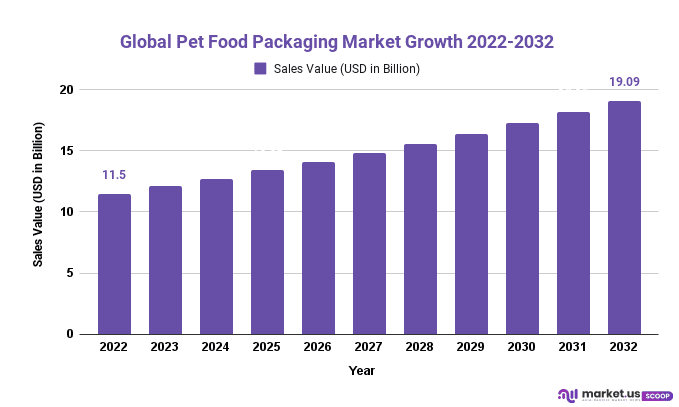 The fast-growing Pet Food Packaging Market offers exciting growth opportunities for competitors. A recent report by Market.us highlights some key strategies companies can adopt to benefit from the latest industry trends.
The Pet Food Packaging Market report provides an in-depth market overview, analysis, and forecasts, market segments, market size, market players, and geographies. The market's leading competitors' revenues, profiles, and market shares are also mentioned. 
Gaurav Yadav, a senior research analyst at Market.us, said," Pet food manufacturers are always looking for innovative and lightweight packaging options. Pet food was traditionally associated with single-item, bland flavors in small jars. As vendors have begun to offer innovative pouch packaging, this perception is beginning to change. Over the next four years, the retail of premium products will greatly increase the demand for packaging products."
The industry is focusing on quality pet food packaging in order to keep up with the growing number of pet adoptions as well as increase awareness about animal health.
Premiumization has been a hot topic in the pet food industry. Its focus was primarily on ingredients, sourcing, and processing. This trend is now being reflected in pet food packaging, with a focus on sensory-focused packaging. Packaging experts recognize the importance of communicating a brand's story in a way that consumers will find appealing, with touch-based packaging becoming more popular over time.
The market will be fueled by constant innovation from key players in pet food products and the rising disposable income of pet owners. Stringent government regulations regarding pet food safety and quality are the main obstacles to the growth of this market.
In recent years, there has been a substantial demand for packaging products via online platforms. Recognizing this trend, industry leaders have increased their efforts to reach consumers through e-commerce websites, especially millennials. The online platform will likely be the preferred channel for distribution in the near future by major players in the market.
The sale of dog food packaging products is significant. However, cat food packaging products will be in high demand in the near future due to growing consumption in the wet cat food sector.
Sustainability is the most prominent trend in packaging at the moment. Both governments and consumers have expressed concern about it. Pet owners are becoming more concerned about the sustainability credentials and ingredients of pet food. This is prompting pet food companies to respond to consumers' demand for sustainable pet food and pet food packaging.
There is a correlation between the growing adoption of rescue dogs and pets in North America and the increased demand for pet food packaging. The American Pet Products Association (APPA) has revealed that approximately 70% of US households have pets, which is roughly 90.5 million households.
The market was dominated by the North American region, which held a 43 percent share in 2021. The US is known for its humane approach to pets and it is becoming more popular in food and packaging. Manufacturers are working hard to produce more intelligent packaging solutions due to increasing demand from pet owners. These are the main drivers of the regional pet food packaging market.
---
---
Media Enquires
If you require any further information about a related market, please get in touch with us. we're happy to help you
+91 7008 614 496
+91 7008 614 496