From mining to sales, the diamond industry is a global powerhouse. And while the market has faced some challenges in recent years, it's still going strong. In this article, we'll take a closer look at the current state of the global diamond market.
We'll break down the different aspects of the diamond industry and explore what's driving its growth. Plus, we'll give you some tips on how to invest in diamonds. So, whether you're looking to buy your first diamond or just want to learn more about the market, read on!
According to the latest report by Market.us, "The global diamond market is growing, and the size of the diamond market is estimated to be worth an incredible $82 billion in 2020. The industry is expected to continue its expansion in the future, with a projected value of $102 billion by 2025, signifying a CAGR of 5%."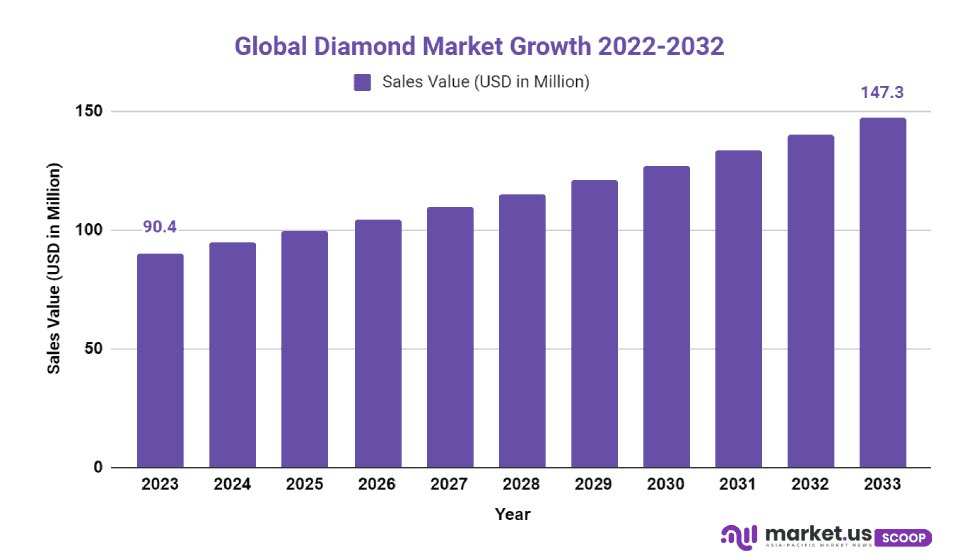 The global diamond market is in a state of flux. Rapid changes in technology, the rise of millennials, and shifting consumer preferences are all having an impact on the way diamonds are bought and sold. And while the market is still worth billions of dollars, it's changing rapidly and presents some challenges for those in the industry.
In this article, we'll take a closer look at the current state of the global diamond market and what it means for those doing business in it.
The diamond market is constantly evolving, and it can be difficult to keep up with the latest news and developments. That's why we're here to help. In this article, we'll give you a rundown of the current state of the global diamond market and highlight some factors impacting it.
First and foremost, the weak global economy is having a major impact on the diamond market. Jewelry buyers are increasingly reluctant to spend money on high-priced items, and this is reflected in the sluggish sales figures of the diamond industry. In addition, tighter regulations on luxury spending in China and India are also impacting.
Another key factor that's affecting the diamond market is the rise of lab-grown diamonds. This is a relatively new development, but it's quickly gaining traction due to its affordability and sustainability. Lab-grown is challenging the traditional notion that diamonds are precious stones reserved for the elite. They're also gaining popularity among millennials, who are looking for more sustainable and ethical options when it comes to jewelry.
So what does all this mean for the future of the market? It's difficult to say for sure, but it's clear that things are shifting and that there are plenty of challenges facing the industry. The key thing to remember is that you need to stay up-to-date with the latest news and developments if you want to make informed decisions about your jewelry purchases.
Jewelry and fashion trends have also contributed to the growth of the diamond market. Consumers are increasingly investing in luxury pieces such as diamond engagement rings and necklaces that are more affordable than ever before. Plus, environmental sustainability is a major focus for many people now so organizers are working with eco-friendly suppliers and jewelers that use recycled stones or conflict-free diamonds.
As more and more regions are opening their doors for foreign investments in precious stones, we can expect the global diamond market to continue its growth trajectory and bring even more opportunities for investors.
When it comes to diamonds, there are a few different types that you need to know about. The first is clarity. This is how "clean" the diamond is and is judged on the number of inclusions and blemishes that are present. The higher the clarity, the more expensive the diamond will be.
Another factor that affects the price is the diamond cut. This is how well the diamond has been cut and includes factors such as height, depth, angles, and other various factors. The better the cut, the more sparkle the diamond will have.
Lastly, there's the diamond-carat weight. This is simply how many carats the diamond weighs and is measured in millimeters. The bigger the carat weight, the more expensive the diamond will be.
So, should you invest in diamonds? Before making a decision it's important to consider all the factors. On the one hand, diamonds are a finite, non-renewable resource and are thus subject to market fluctuations. This adds an element of risk to the venture.
On the other hand, they have historically been a solid investment asset with relatively low volatility. Unlike stocks and bonds which can quickly change in value due to economic or political events, diamonds tend to hold their value over time. Additionally, there is evidence to suggest that in times of market uncertainty demand for diamonds increases as investors look for "safer" investments.
The decision whether or not to invest in diamonds should be based on individual circumstances and risk appetite. If you're looking for a potentially good return on investment (ROI), then could be an option – however, it's important that you do your own research and make sure you understand any risks involved before making any decisions.
Ketan Mahajan
Hey! I am Ketan, working as a DME/SEO having 5+ Years of experience in this field leads to building new strategies and creating better results. I am always ready to contribute knowledge and that sounds more interesting when it comes to positive/negative outcomes.