Digital Transformation Inspiring Secure Payment Solutions Boom, Leading to Demand of PoS Terminal, says Market.us
---
---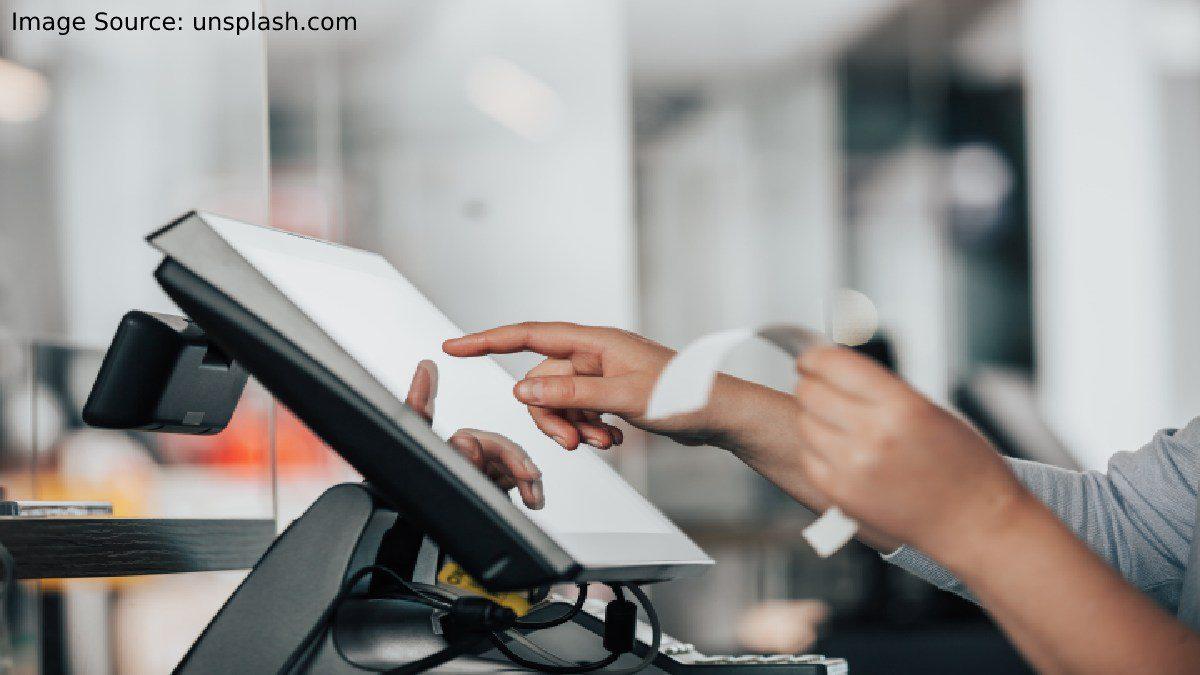 Contactless PoS terminals allow users to make transactions without entering a pin code or signature. This technology is expected to become the preferred choice for payment transactions owing to its convenience and security features.
According to a report from Market.us," The global contactless PoS terminal market size was valued at USD 32.25 billion in 2022 and is expected to grow at a compound annual growth rate (CAGR) of 11.9% from 2022 to 2032."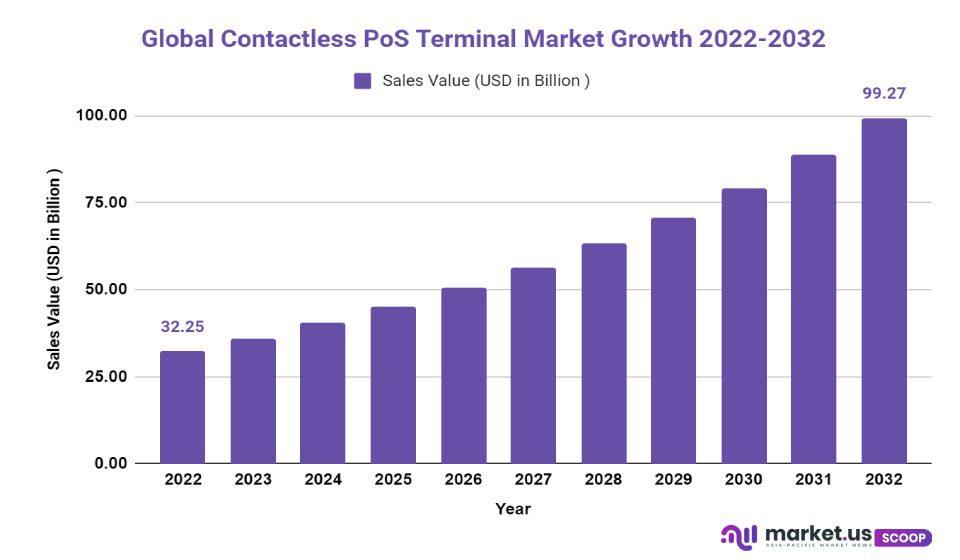 Gaurav Yadav, a senior research analyst at Market.us, said," The increasing acceptance of contactless payment technology, growing demand for wireless payments, and advancements in mobile POS solutions drive the market's growth. Contactless payment technology is being adopted rapidly due to its convenience, speed, and security benefits. The increasing penetration of smartphone-based payment solutions contributes to the market's growth."
Additionally, the growing usage of near-field communication (NFC) technology in contactless PoS terminals is driving the market's growth. NFC technology enables merchants to process payments without entering card information into the terminal. It also eliminates the need for physical contact between the customer and the merchant. In addition, NFC technology eliminates the need for manual authentication, thereby reducing fraud and making transactions faster.
Furthermore, contactless payment technologies are also used for loyalty programs and promotions, as they can be quickly linked with payment transactions. This helps increase sales and generate additional revenue for merchants. Furthermore, advancements in mobile PoS solutions are also driving the market's growth. 
The global contactless PoS terminal market is expected to grow considerably over the coming years. This is largely due to increasing digitization across the globe, technological advancements, and growing customer demand for secure payment solutions.
The emergence of new technologies such as NFC and biometric identification has made it possible for contactless PoS terminals to become commonplace in retail settings. This has resulted in a surge in the adoption of contactless PoS terminals, making them an important component of retail environments.
These mobile solutions allow merchants to take their business online and offer their customers the convenience of online payments. The rising adoption of contactless PoS terminals across various industries, such as retail, hospitality, healthcare, and transportation, further boosts the market's growth. 
Furthermore, contactless PoS terminals are increasingly being adopted in countries such as India, China, Brazil, and Russia due to the rapid adoption of digital payments in these countries.
The growing adoption of artificial intelligence (AI) and biometric technologies is also a significant factor driving the growth of the contactless PoS terminal market. These technologies enable retailers to personalize customer experiences by recognizing individual customers' preferences and providing tailored offers and discounts. This further encourages customers to make contactless payments, thereby driving the growth of the contactless PoS terminal market.
Integrating cloud-based services and AI into contactless PoS terminals is expected to drive the market's growth further. AI-enabled contactless PoS terminals can provide customers with personalized experiences tailored to their needs and preferences. This increases customer engagement and loyalty, boosting sales revenue.
The increasing adoption of contactless PoS terminals by hospitality businesses is another factor driving the market's growth. Hotel and restaurant owners opt for contactless PoS terminals to reduce waiting times and eliminate queues at their establishments.
Finally, government initiatives and incentives to promote digital payments are also expected to drive market growth. Many governments are offering subsidies and tax benefits for businesses that adopt digital payment solutions, further accelerating the adoption of contactless PoS terminals.
One major driver of this market is the implementation of government regulations aimed at improving the security of payments and transactions. The Payment Card Industry Data Security Standard (PCI DSS) is an important regulation that requires merchants to have the latest technology installed in their POS terminals, including contactless readers, to ensure data protection and secure transactions.
The increasing demand for contactless payment solutions has created a strong impetus for the growth of the global contactless PoS terminal market. The demand for these terminals is driven by several factors, such as the convenience associated with making payments quickly and securely, rising consumer preference for contactless transactions, and the advantages offered to merchants in reducing checkout times.
---
---
Media Enquires
If you require any further information about a related market, please get in touch with us. we're happy to help you
+91 7008 614 496
+91 7008 614 496