Digital Twin Market Takes Off as IoT and Cloud Computing go Hand in Hand, says Market.us
The digital twin is an emerging technology used in product development, along with machine learning (ML), artificial intelligence (AI), and cloud computing. It is costly to develop real parts in the aerospace industry. It is expensive to design prototypes.
In aerospace R&D, digital twins are used to improving the engineering and design of new parts. This allows them to model their performance under a wide variety of conditions. To develop critical systems in aerospace, such as the airframe, propulsion, energy storage, avionics systems, and thermal protection system, digital twins are used by companies.
According to Market.us, "The Digital Twin Market size is expected to be worth around USD 1,83,652.73 million by 2032 from USD 6,970 million in 2022, growing at a CAGR(compound annual growth rate) of 38.70% during the forecast period from 2022 to 2032."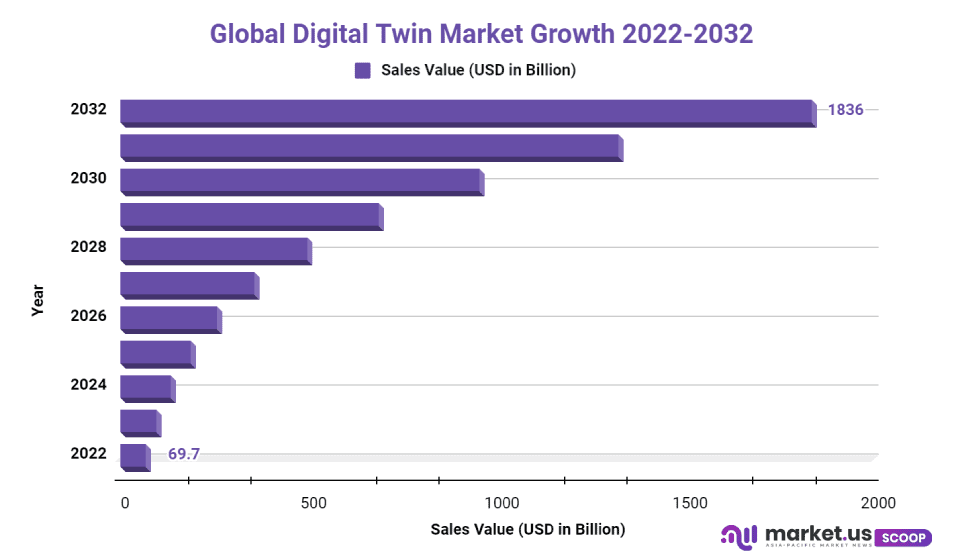 Anurag Sharma, a senior research analyst at Market.us, said," This growth can be attributed largely to digital twins being used in the design, simulation, MRO (maintenance and repair), manufacturing, after-service, and production. A digital twin can analyze performance data that has been collected during the vehicle's manufacturing phase."
Digital twins can be used to visualize a race car engine and determine the need for maintenance. Digital twins can also be used in the after-sales phase to gather feedback. Digital twins can be used to ensure safety by monitoring and alerting teams that are responsible for the replacement of any parts or systems.
Due to supply chain disruptions and production stop during the COVID-19 Pandemic, several other activities in the value chain of various industries were suspended, including manufacturing and aerospace.
This had a negative impact on the digital twin market during the first half of 2020 of the pandemic. The digital twin market started recovering as more COVID-19-related cases declined and the restrictions were lifted. Many industries began moving toward automation and visualization, and the digital twin marketplace started to rebound.
Although the world is currently on the road to recovery, there remains uncertainty surrounding the development of COVID-19 variations. Many countries worldwide are likely to incorporate digital twin technology into their economic activities.
The use of digital twins allows for the construction of predictive models. They also allow you to evaluate the success of your prototypes before releasing them. This has helped accelerate the adoption of digital twin technology in many verticals, beyond manufacturing.
Market growth will be further boosted by the integration of digital twin technology with the most recent technologies, such as IoT or cloud computing. Organizations are using AI and IoT technologies for collecting and interpreting behavioral data from IoT devices and connected products. The data can then be used to create a digital twin model that replicates the performance of the existing device.
This allows designers and product engineers to observe product performance and spot any problems. It also helps them predict the future. Organizations can use these technologies to increase productivity and improve product performance.
Increased use of IoT and cloud technologies can also lead to data privacy and security threats, as well as increased cyberattack risk. Cloud-based digital twins need online storage of asset data, which can lead to privacy and security concerns.
Organizations are also challenged by a lack of skilled professionals, making it harder to create and implement effective cybersecurity strategies. Many small and medium businesses are still reluctant to invest in advanced technologies. This will be a problem for the digital twin market growth.
In 2022, the automotive & transport sector accounted for more than 20% of total revenue. This is due to electric vehicles and lean adoption. It also reflects the increasing use of simulation technologies.
Engineers can use digital twin technology to capture vehicle behavior and operations data, which will help them improve automobile design and optimize costs. Future trends in the automotive industry include connected and autonomous vehicles and shared mobility. This will further increase the use of technology.
Many organizations are focusing on digital twin solutions in order to improve their supply chains and operations to recover from the economic disruptions caused due to the pandemic.
Cloud companies like Microsoft Azure and Google Cloud have been focusing on the launch of various cloud-based digital twin options for industry players. These solutions will allow them to be easily accessible and can be customized.
Google Cloud, for example, launched a supply-chain digital twin in January 2022. This was designed to give distributors and manufacturers unprecedented visibility into the operations taking place in their supply chains.
These innovative solutions, as well as the increasing demand for automation across various industries, are expected to drive demand for the digital twin platform over the forecast period.
Ketan Mahajan
Hey! I am Ketan, working as a DME/SEO having 5+ Years of experience in this field leads to building new strategies and creating better results. I am always ready to contribute knowledge and that sounds more interesting when it comes to positive/negative outcomes.