Discover the Reasons Behind the Surging Popularity of the Spices and Seasonings Market, via Market.us
---
---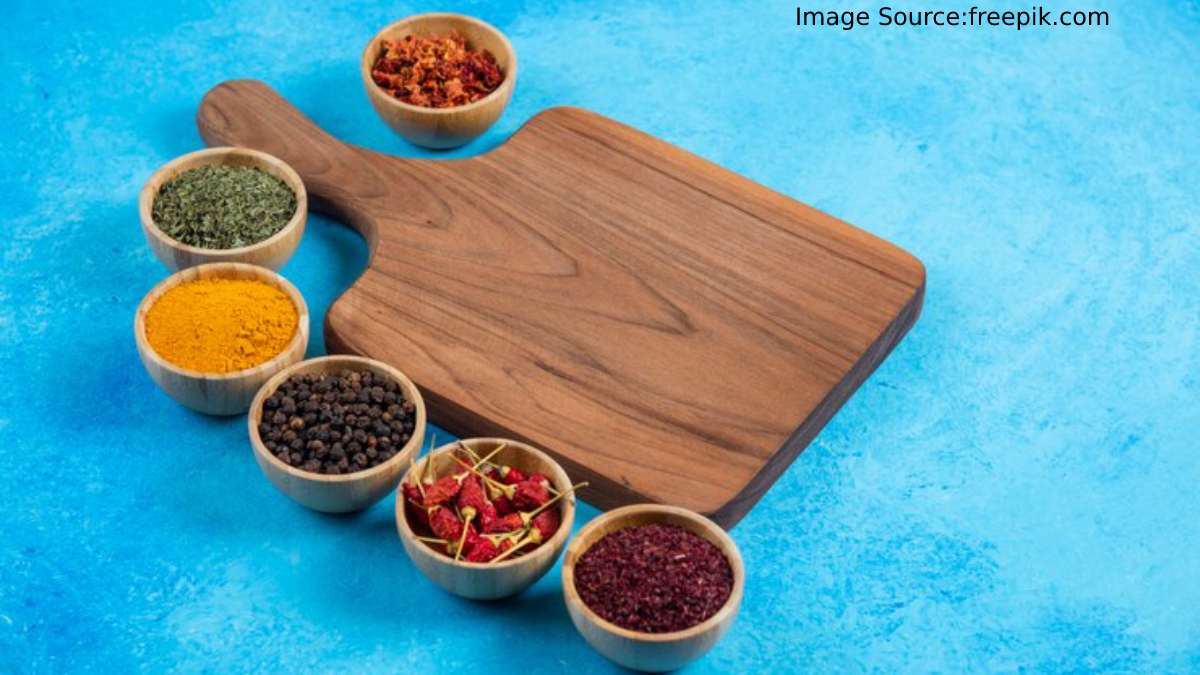 Spices and seasonings are food ingredients used to enhance the flavor, aroma and taste of food. Spices are obtained from the bark, root, fruit, seed, or flower of a plant. Seasonings, on the other hand, are a mixture of spices, herbs, and other ingredients used to add flavor to food.
The spices and seasonings market refers to the industry that produces and sells a wide variety of products used to add flavor, aroma, and color to food. The market includes products for both the food manufacturing and food service industries and consumer packaged goods for home use.
According to the latest report by Market.us," The Global Spices and Seasonings Market is expected to grow at a CAGR of roughly 6.1% over the next ten years and will reach USD 68.09 Bn in 2032, from USD 37.67 Bn in 2022."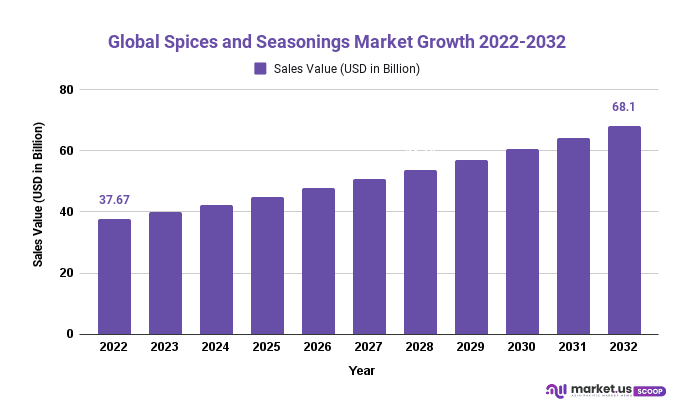 The fast-growing Spices and Seasonings Market offers exciting growth opportunities for competitors. A recent report by Market.us highlights some key strategies companies can adopt to benefit from the latest industry trends.
The report highlights the key trends that will shape the Spices and Seasonings Market going forward by giving information on the size of this fast-growing market development, drivers, trends, and which regions and segments are most important.
Anurag Sharma, a senior research analyst at Market.us, said," The growth of the spices and seasonings market is driven by several factors such as the increasing popularity of global cuisines, the growing demand for natural and organic products, the convenience of e-commerce platforms, and the rise in disposable income levels. These factors are contributing to the growth of the spices and seasonings market, making it a lucrative industry for companies to invest in."
As disposable income levels rise, consumers are more likely to spend money on high-quality spices and seasonings. These can be more expensive than basic ingredients, but consumers are willing to pay a premium for better quality, taste, and health benefits.
Consumers with more disposable income are more likely to invest in premium products and indulge in gourmet food experiences. This trend has led to an increase in the demand for premium spices and seasonings, as consumers are looking for products that are not only high in quality but also organic, non-GMO, sustainably sourced, and responsibly packaged.
Furthermore, with the rise of health-conscious consumers, there is a growing demand for natural and organic spices and seasonings as they are perceived to be healthier and more nutritious than conventional products. As a result, companies are introducing high-end, premium products to cater to this growing demand, contributing to the spices and seasonings market growth.
With the increasing use of e-commerce platforms, it has become easier for consumers to purchase spices and seasonings from the comfort of their own homes, which has also contributed to market growth. Online platforms such as Amazon, Walmart, and others have made it easy for consumers to access a wide variety of spices and seasonings from different brands and suppliers.
Some companies are introducing new packaging options and distribution methods, which help to retain the freshness and quality of spices for a longer time and make it easy for consumers to use them.
One example of new packaging options for spices and seasonings is vacuum packaging. Vacuum packaging involves removing the air from a package in order to reduce the amount of oxygen present, which can cause spices and seasonings to lose their flavor and aroma over time.
Market.us has segmented the Spices and Seasonings Market based on the following parameters:
By Product Type, the market is divided into Spices, Herbs, along with Salt & Salt Substitutes. The most popular spices are turmeric, cinnamon, and pepper. Other spices are also available on the market, including cloves, garlic and cardamom, ginger, chili, vanilla, and cumin seeds.
In terms of By Form, this market research report is further divided into Whole, Powder, and Crushed. The powder segment held the largest global revenue share in 2022 and will continue to be the dominant market. The forecast period will see the whole form segment grow at the second-highest CAGR.
By Distribution Channel, the market is divided into Foodservice and Retail. In 2021, the food service sector accounted for a large portion of global revenue. Cafes, restaurants, hotels, and QSRs are the main food service outlets offering various seasonings and spices in their dishes.
There are a few major players in the Seasonings and Spices market and several smaller and medium players. Ajinomoto Co, Inc., Ariake Japan Co., ltd., SHS Group, Kerry Group plc, EVEREST Food Products Pvt. Ltd., Baria Pepper Co. Ltd., Associated British Foods plc, Kerry Group, Kikkoman Corporation, Moguntia Food Group AG, Ariake japan company, and McCormick & Company Inc. hold the majority of the market share.
In conclusion, trends that can be seen in the market are the increasing demand for natural and organic products, the growing popularity of global flavors, and the increasing popularity of plant-based products.
Companies will likely focus on these trends by launching new products, expanding their product portfolio, and acquiring other companies to stay competitive in the market. Companies also focus on digital marketing and e-commerce to reach more customers and increase their online sales.
---
---
Media Enquires
If you require any further information about a related market, please get in touch with us. we're happy to help you
+91 7008 614 496
+91 7008 614 496