Discovering New Opportunities in the Shrimp Feed Ecosystem with Latest R&D Activities, via Market.us
---
---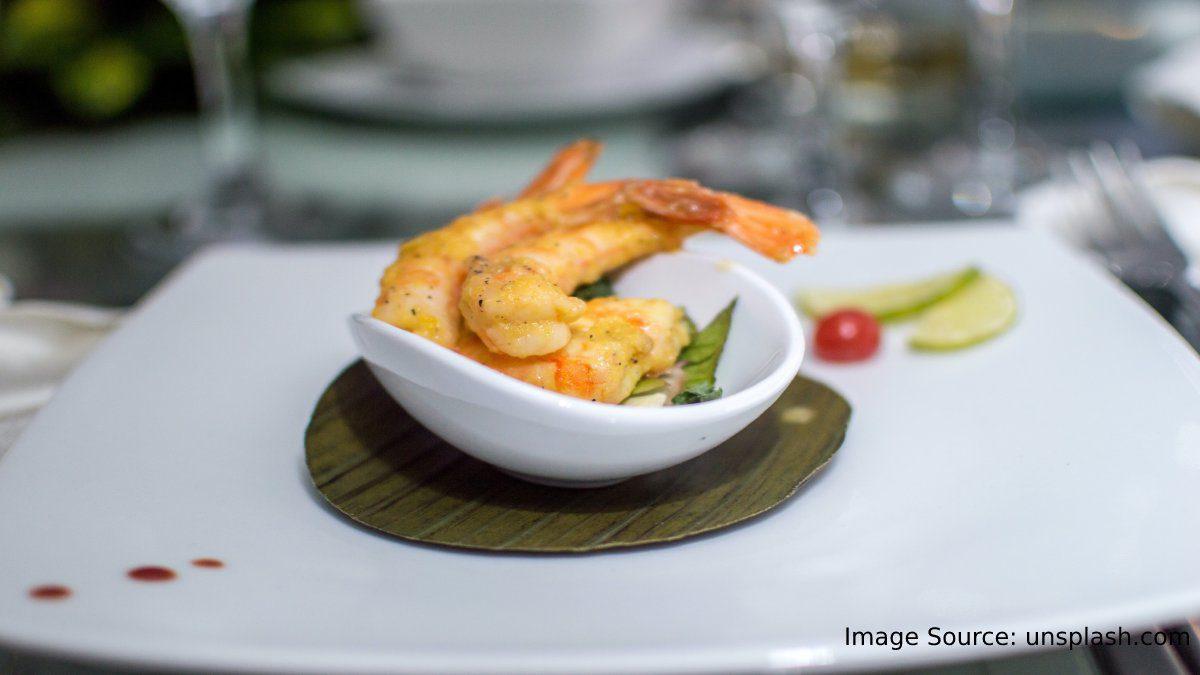 Shrimp feed is made from soybean, cereal flour, fish, squid, and lecithin. This helps meet the nutritional needs of farmed shrimp. It contains essential amino acids, vitamins, minerals, fatty acids, carbohydrates, and nutrients.
The food given to fish and shrimp is called shrimp feed. The additions are nutrients added in small amounts to fish and shrimp feed. They can be used to enhance the quality of the final product, preserve their diet or maintain the aquatic environment.
According to the latest report by Market.us, "The Global Shrimp Feed Market is expected to grow at a CAGR of roughly 5.4% over the next ten years and will reach USD 26.73 Bn in 2032, from USD 15.8 Mn in 2022″
The report highlights the key trends shaping the Global Shrimp Feed Market in the upcoming years. This report provides qualitative and quantitative analysis of market dynamics, competition scenarios, opportunity analysis, recent developments, market growth, etc., for the forecast year up to 2032. 
Gaurav Yadav, a senior research analyst at Market.us, said, "The main driver of market growth is the increase in shrimp commercialization due to strong demand from developed and developing nations. Also, the increase in population, rise in disposable income, and improvements in shrimp farming practices are key factors. There will be new opportunities for shrimp feed market producers in the future due to an increase in research-and-development activities and a rising demand from emerging countries."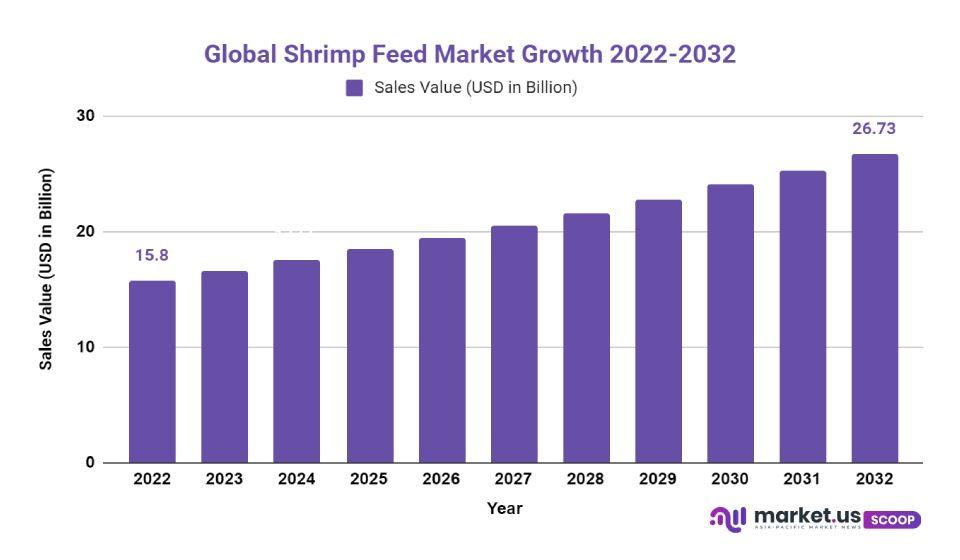 Click here to check 200+ pages of in-depth market analysis reports on the Shrimp Feed Market.
In the past few years, innovations in the seafood industry have continued to grow. The industry would benefit from technological advances and market entry in the commercial seafood farming sector.
It reduces environmental pollution and increases shrimp production. Many product manufacturers currently focus on premium shrimp feed that has enhanced water stability, nutrition density, and palatability.
Feed is responsible for over 50% of shrimp production costs. It is one of the most important, if not the only, components that make shrimp production profitable and successful. The global aquafeed industry accounts for 16% of the total fishmeal consumed in aquaculture. It consumes 31 percent.
However, many major diseases continue to impact the industry, as well as shifting and uncertain global prices that negatively affect many producers. Innovation is key to the industry's development and expansion, especially in feeds.
All animal production industries, including shrimp feed, strive for faster growth, higher survival rates, and better organoleptic product characteristics.
Shrimp farmers and seafood producers have been increasing their seafood consumption Forn over the past few years. They are expanding their business in international markets and entering partnerships to make their shrimp feed more accessible. Market players are constantly developing innovative ideas to increase shrimp feed production and attract more shrimp farmers.
For Instance, Cargill plans to expand its shrimp feed manufacturing operations in Ecuador after a partnership with SkyWest and Naturism. Cargill's production capacity will almost double with this joint venture. We will invest in the facility and expand our shrimp feed offer under Cargill's Aquaxcel brand. The Ecuadorian shrimp farming sector has seen continued growth, with an increased demand for high-quality feed.
Global fish and shrimp feed markets are highly fragmented. They include small and medium-sized feed manufacturers, feed additive producers, and a few prominent players like Biomar and Cargill. Biomar, a major supplier of larval, fry, grower, and functional feeds has strong sales in China. 
China is the largest aquaculture market in the world. Due to the increasing awareness about the quality of seafood, there is a growing demand for feed additives that aid in the growth of shrimp and fish at all stages.
---
---
Media Enquires
If you require any further information about a related market, please get in touch with us. we're happy to help you
+91 7008 614 496
+91 7008 614 496