E-paper Display Improving the Functionality of Many IoT Applications, Including Logistics, Manufacturing, and Retail, says Market.us
---
---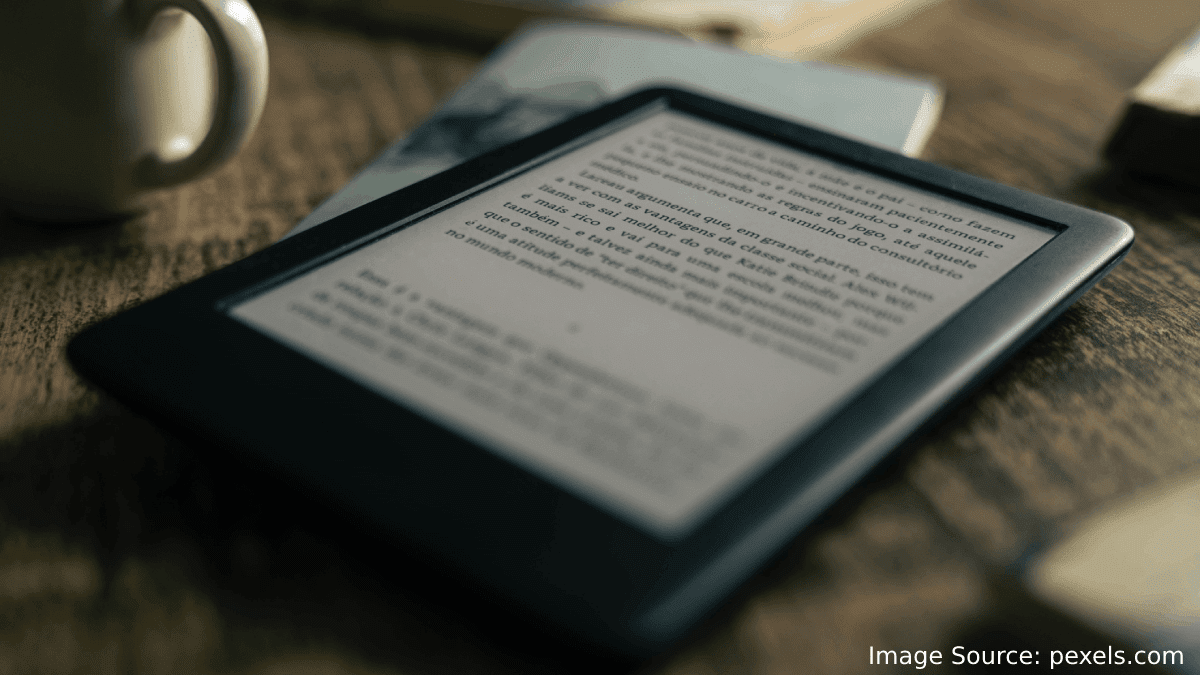 Electronic Paper Display (also known as e-paper) is a display technology that mimics the appearance of ink on paper using electronic components. Electronic paper displays differ from LCD display panels in that the paper emits light rather than reflecting it like LCDs.
Each paper is composed of millions of tiny ink capsules that are filled with clear fluid. This fluid contains microscopic particles of various colors and electrical charges. Electronic paper displays are expected to grow in popularity due to increased awareness among readers and consumers.
According to Market.us, "The global e-paper display market was valued at $1.6 Billion in 2022. It is expected to grow at 17.3% CAGR from 2021 to 2032."
According to Anurag Sharma, senior research analyst at market.us said, "Technology innovation, ongoing advancement, expanding application areas and environmental impact are all key factors that impact the e-paper market's growth. The market's growth will be impeded by limitations in the color palette and video output as well as the slow refresh rate of e-paper displays. However, a rise in key players and the growth of the retail automation industry are expected to provide remunerative opportunities in the e-paper market. The market will be affected by each of these factors during the forecast period."
The benefits of electronic paper display technology far outweigh their use in public and commercial settings. Electronic paper displays are lighter, bulkier, and require more energy than LCDs. E-paper displays are less tiring and allow readers to read content outdoors in bright sunlight. These displays can be used indoors and outdoors for traffic signs, retail shelf labels, and interactive museum signs.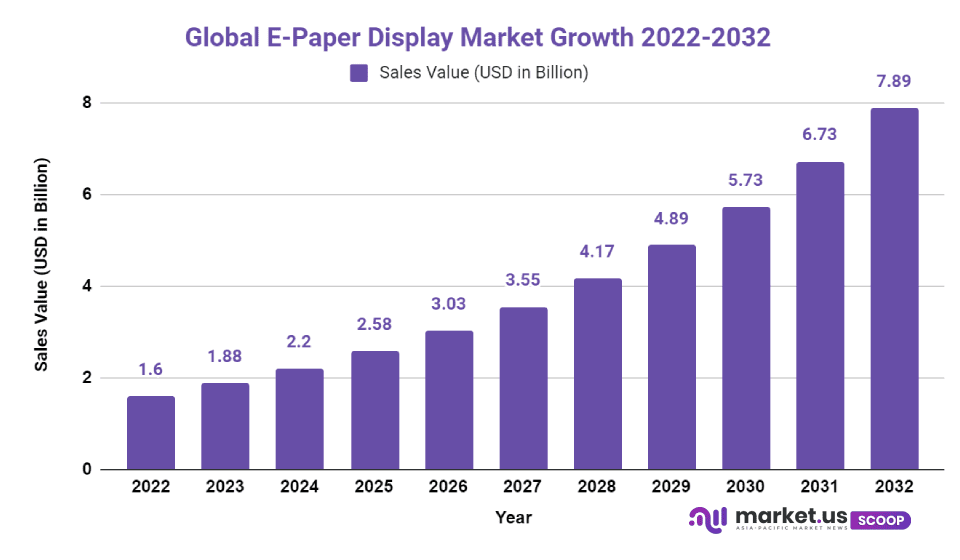 E-paper displays offer many benefits, including low manufacturing costs and final retail value, minimal power consumption, daylight readability, foldable screens, custom manufacturing, and other benefits. These benefits are expected to be driving the market growth for electronic paper displays.
Electronic paper displays are a practical combination of electronics, chemistry, and physics. This display technology uses e-ink ink, which has a chemical composition that is similar to conventional printing ink. This ink is not deposited on the paper.
Instead, it comes in the form of small capsules that are about the size of human hair and sandwiched between two electrodes. It can produce either monochrome or limited color results. For monochromatic EPDs, the two-pigment system is used. However, for multicolored applications such as electronic shelf labels, a 3-pigment system is used.
E-paper display market growth in various applications can be attributed to technological advances in e-paper screens, positive environmental impacts owing to lower energy consumption, and increased application areas for large e-paper displays.
These paper displays offer many benefits in terms of user experience, readability, energy consumption, manufacturing cost, and overall market growth. The overall growth of the e-paper displays industry is limited by a lack of awareness, low refresh rates, and a narrow color palette along with video output limitations.
The report profiles Liquavista B.V., Cambrios Technologies Corporation, CLEARink Displays, Inc., CLEARink Displays, Inc., E Ink Corporation, Guangzhou OED Technology Inc., GDS Holding S.r.l., Plastic Logic, LG Electronics Inc., Pervasive Displays Inc., Samsung Electronics Co. Ltd. These key players have used strategies such as product portfolio expansions, mergers & acquisitions, and agreements, geographic expansion, collaborations, and collaborations to improve their position in e-paper display markets.
The market for electronic paper displays is expected to grow during the forecast period due to the rapid growth in the use of display devices such as e-readers and the increasing awareness about the environment. The market is further supported by rising demand for electronic devices like smartphones, tablets, and wearables.
The electronic paper display market is expected to grow due to increased demand for e-books via the internet, and a shift in tech-savvy users' preference from traditional books towards portable electronic reading devices. Wearables use electronic paper displays extensively. Due to the rise in fitness trends, wearables such as fitness trackers are becoming more popular.
---
---
Media Enquires
If you require any further information about a related market, please get in touch with us. we're happy to help you
+91 7008 614 496
+91 7008 614 496