Easy Booking and Special Discounts to be the Game-Changers for Luxury Travel Industry, says Market.us
---
---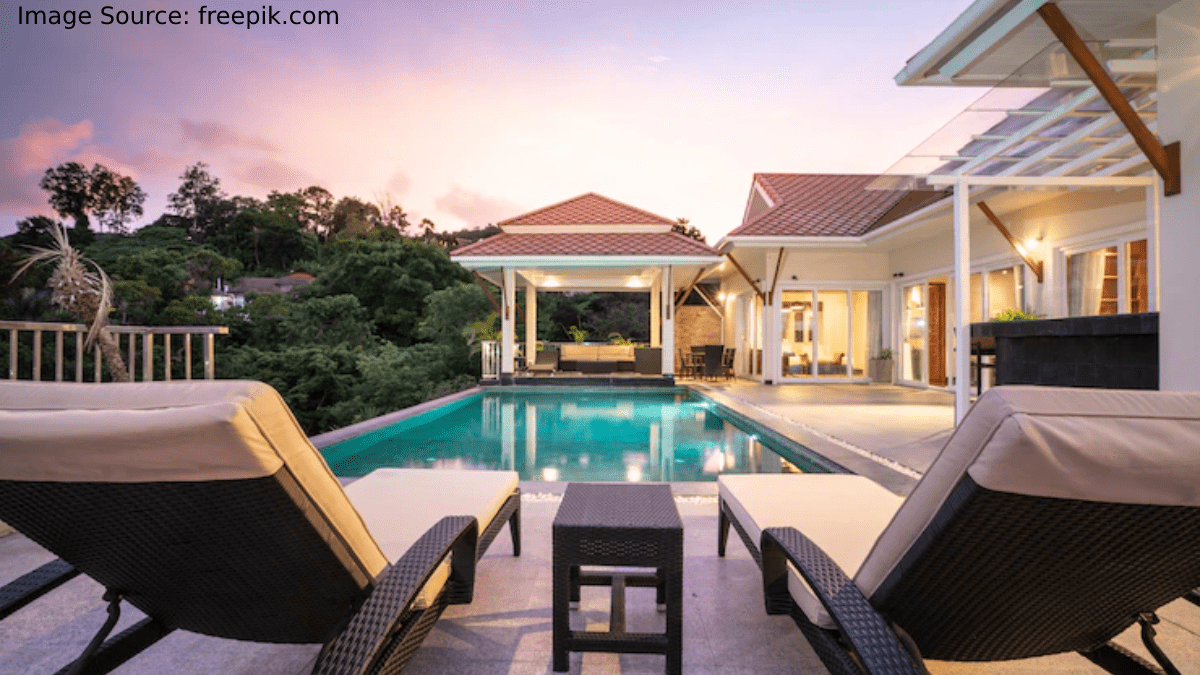 The industry is being driven by the increasing spending of elite travelers who want to explore new destinations and have unforgettable experiences. Industry growth has been supported by the growing popularity of micro-trips and the expanding tourism sector worldwide.
According to Market.us, "The Luxury Travel Market is projected to reach a valuation of USD 2.47 Trillion by 2032 at a CAGR of 7.5%, from USD 1.20 Trillion in 2021."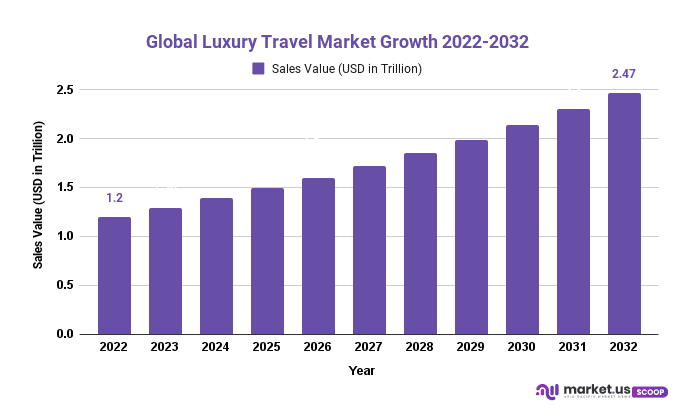 The fastest growth rate is expected in the Asia Pacific region during the forecast period. This region's growth can be attributed to factors such as increased spending on food tourism and adventure tourism by Asian millionaires. Travel is also a popular choice for the wealthy in China. A growing number of tourists are choosing to travel further from the mainland and Hong Kong in a more luxurious way.
Market.us' senior research analyst Anurag Sharma said, " According to experts, the technological advancements that make it easy to book, and offer the ability to view all accommodations options, as well as special discounts, will drive growth in the luxury travel market."
This market was affected by the COVID-19 pandemic. Because luxury travel is an integral part of the distribution and wealth around the world, local economies depend on it. Luxury travelers spend on art, cultural restaurants, guides, sporting events, and other amenities.
Flexible itineraries are a great way for travelers to create unique experiences. They can combine relaxation and entertainment. A large number of tourists are attracted to small ships, yachts, and cruises. The most highly regarded customers in this sector are the High Net-worth Individuals (HNWIs). Companies in this industry are now paying more attention to water-based luxury travel, such as cruises. In November 2019, Abercrombie & Kent USA, LLC, announced special edition features for cruises. Industry growth is expected to be driven by the growing number of HNWIs around the world, who are one of the most important travel groups.
To escape their hectic lives and gain valuable experiences, travelers are seeking out exotic and unusual vacation spots. When choosing where to travel, it is important to consider whether the location is quiet, peaceful, tranquil, or exotic. The #1 choice for luxury vacationers is private islands. Affluent tourists are increasingly choosing to visit culturally and historically fascinating locations due to a greater desire to absorb and learn about local culture.
Culinary tours are a popular choice for travelers who want to live in the local culture. According to the 2021 status report on the food industry, 56% of millennials are seeking out food and drink experiences while traveling. The same survey found that 39% of food-related travel initiatives are driving more food travel. Luxury travel will be driven by increased demand for unique vacation experiences.
Technology has made it easier for customers to book travel via digital devices, such as mobile phones and computers. The younger, tech-savvy population is driving the online travel booking market. An increasing number of people are making online purchases because it's so easy to compare prices and package options online. Major players like Hipmunk, Kayak and TripAdvisor have developed new apps and mobile versions of their websites in order to accommodate this trend. Travel agencies are attracting new customers and engaging their existing customers with the latest leisure travel trends.
Increased exposure to social media platforms has led to a greater understanding of many societal trends by people. Many social networking sites are being used to create fake travel agencies. Customers are more inclined to choose travel services and goods based on recommendations from other people who have stayed or visited the area. You can also refer to the evaluations and insights on many social networking platforms. Websites allow for greater transparency about products, services, and experiences. Clients are now looking for unique experiences through social media. These clients are choosing to customize holiday packages, which is driving the luxury travel market.
Terrorist attacks and civil rioting are on the rise. This poses a threat to leisure travel's future growth. Due to the dangers associated with such travel and the warnings given by government agencies, the tourist sector has seen a drop in vacation bookings. Traveler safety concerns are a major setback for places at higher risk of violence. Terrorist acts have been increasing around the globe, which has led to people looking for areas with less risk of terrorism or political turmoil. The luxury travel market is being held back by safety concerns that have led to changes in travel destinations.
---
---
Media Enquires
If you require any further information about a related market, please get in touch with us. we're happy to help you
+91 7008 614 496
+91 7008 614 496