Exploring the Benefits of Insect Growth Regulators Market Amidst Advancements in Agriculture, via Market.us
---
---
Market growth has been driven by a global increase in pesticide use. Additionally, organic farming methods are becoming more popular which has resulted in an increase in the use of insect growth regulators.
According to Market.us, "The Insect Growth Regulators Market is projected to reach a valuation of USD 1693.11 million by 2032 at a CAGR of 6.1%, from USD 936.55 million in 2022."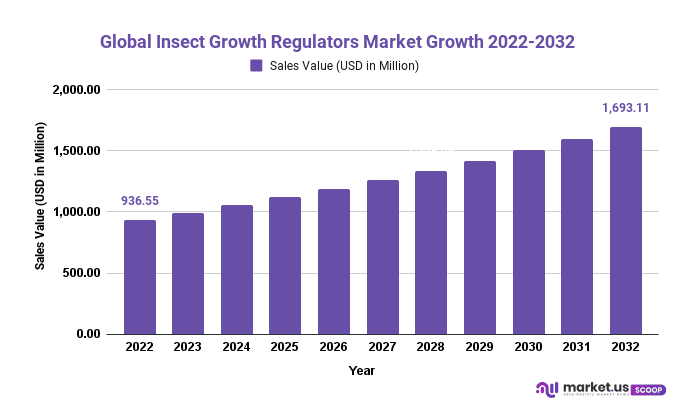 Asia-Pacific will likely show the highest CAGR because of the expanding agricultural sector and growing awareness about other crop protection methods. These sectors are seeing a shift towards organic farming in developing countries like India and China, as well as the increased demand for generic products due to their low prices.
Anurag Sharma, a senior research analyst at Market.us, said, "Global market growth is driven by increasing pest control strategies in agriculture, forestry, stored product, gardening, residential and other areas."
Click here to check 200+ pages of in-depth market analysis report on Insect Growth Regulators Market .
Because they are effective in controlling pests and insects, insect growth regulators are in high demand in agriculture. Manufacturers are now focusing on developing organic and sustainable insect growth regulators due to rising environmental concerns about chemical regulators.
Insect growth regulators are able to target a small number of insects, which is helping to boost the market. The market is further bolstered by the fact that insect growth regulators can also be used with other pest control systems.
Due to the increasing population and decreasing arable land, as well as the rising demand for food, farmers are using more pesticides to increase crop yield. This has led to groundwater and soil contamination. The resistance of pests to the repeated use of synthetic pesticides is increasing, as well as the increasing awareness of the adverse effects of pesticides on human health and arable land has positively influenced the sales of IGRs around the world.
IGRs are also being used on more environmentally-friendly crops due to their ease of use, such as tomatoes, cotton, wheat, and tomatoes. A significant increase in IGRs' use across all sectors, including agriculture and residential, is due to their efficiency. The market is also growing due to the increasing adoption of organic farming methods around the world. The market will also be driven by other factors such as increasing environmental concerns and increased awareness of professional pest control services.
Chitin synthesis inhibitors are the most widely used to control pests in livestock and agriculture.
For the exoskeleton to be formed in different insects, chitin is necessary. Chitin synthesis inhibitor compounds inhibit the growth and production of chitin. This helps to develop the exoskeleton in targeted insects. The insect's inability to form the outer shell necessary during molting causes it to die. These IGRs also kill the eggs of these insects, restricting their development. These hormones are still widely used for the development and control of insect growth regulators, such as chitin synthesizers. These hormones are used widely by consumers to control fleas in pets and cattle.
Analogs and mimics of juvenile hormones: Greater application in commercial pest management
It is known that mimics and analogs of juvenile hormones can disrupt insect development. The normal process of molting converts larvae to the pupal stage. However, excessive amounts of juvenilizing agents can produce additional larval stages or intermediate larval stages. To reduce the number of these insects, leading manufacturers are working to develop a variety of IGRs such as juvenoid invertebrate growth regulators.
Manufacturers are working on juvenoid insect growth regulators that can also be used to control the eggs of these pests. These IGRs can disrupt behavior, sterilize, or disrupt dormancy (the process that triggers it), and may also cause sterilization. Methoprene, a juvenile hormone analog that is widely used to control horn fly, is also available under many different brands.
Sumitomo Chemical (Japan) introduced Pyriproxyfen in 1980. It is used to control fleas and mosquitoes as well as carpet beetles and ants.
Anti-juvenile hormonal agents: Reduces the effects of juvenile hormone
The IGR contains anti-juvenile hormonal agents that block the production of juvenile hormones. An anti-juvenile hormonal agent can be used to treat an instar that molts too early and becomes a non-functional adult. These factors will likely continue to be a hindrance to market growth, however, because IGRs can only be developed in a limited way and are not economically feasible for manufacturers.
---
---
Media Enquires
If you require any further information about a related market, please get in touch with us. we're happy to help you
+91 7008 614 496
+91 7008 614 496