Farming Gets Future-Ready with Agricultural Robots By Easing Workload at Every Stage, says Market.us
---
---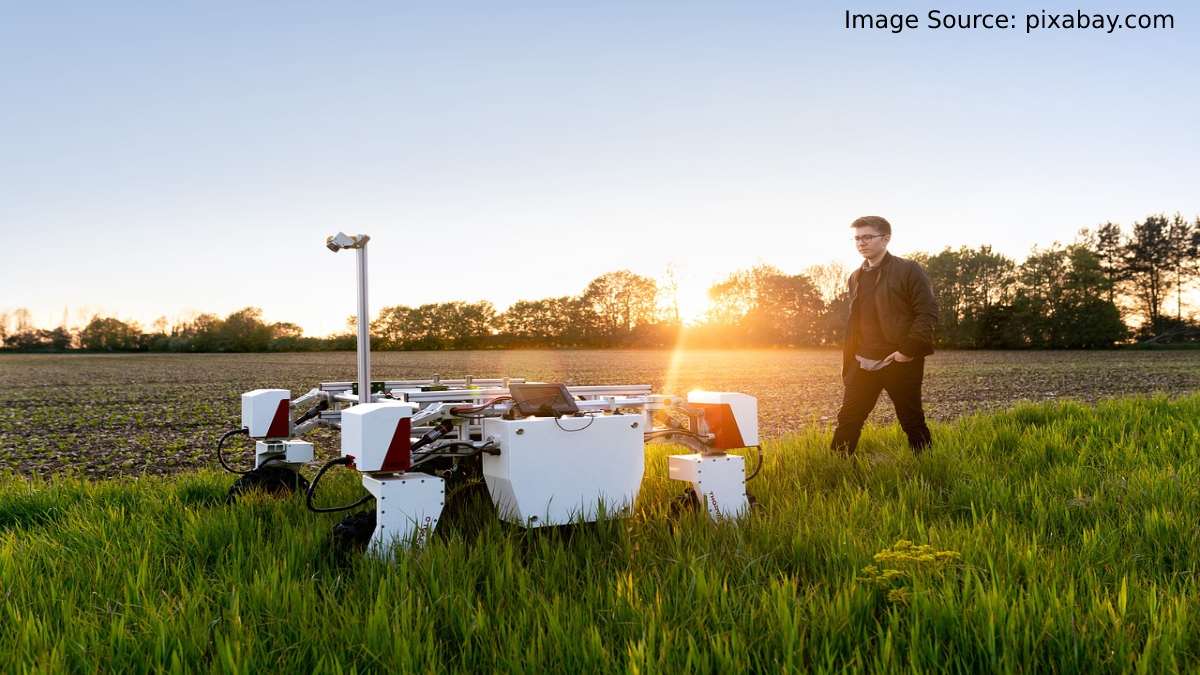 A robot used for agriculture is referred to as an agricultural robot. Robotics are primarily used in agriculture today during the harvesting process. Weed control, cloud seeding, seed planting, harvesting, environmental monitoring, and soil analysis are examples of new robotic or drone applications in agriculture. 
The launch of a wide variety of robots created for various agricultural activities, together with the gradual acceptance of automation technologies, are the main factors driving the growth of the worldwide agricultural robot market.
According to a new study by Market.us, "The Global Agricultural Robots Market is expected to reach up to USD 84.93 billion by the year 2030, increasing at a CAGR of 12.9% over the study period of 2022–2030." 
The increase is attributable to agricultural robots' role in addressing the societal issues brought on by the expanding human population by increasing crop yields, keeping track of environmental footprints, and reducing a severe labour shortage. 
Gaurav Yadav, senior research analyst at Market.us said, "In addition to assisting farmers with soil analysis, weed control, environmental monitoring, seed planting, and cloud seeding, agricultural robots also boost productivity, lower operational costs, and enable the most recent precision agriculture techniques. The aforementioned elements are projected to fuel the industry's expansion."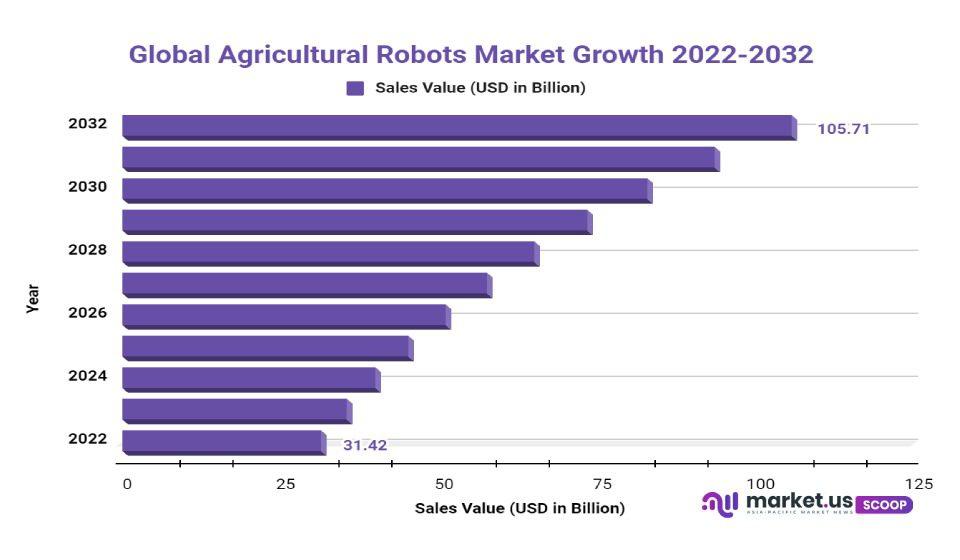 Click here to check 200+ pages of in-depth market analysis reports on Agricultural Robots Market Market.
Smart energy systems, new sensors, and other technologies are increasing rapidly. In addition to that, indoor farming is increasing rapidly as it is typically automated to control temperature, light, and water use. Therefore, more indoor farming is projected to enhance demand for agricultural robots in the upcoming years.
Additionally, technology has a lot of promise to enhance agriculture-related development, distribution, and operations in emerging nations. This is also said to have fueled the market for agricultural robots over the anticipated period of expansion.
The amount of labour needed in the agriculture sector is a subject of great concern. Many nations struggle to meet the demands of the agricultural labour market as their populations rise. Additionally, they are dealing with the problem of a sizable immigrant workforce. 
The government makes significant attempts to halt labour immigration, but they fall short of the need. The majority of agricultural enterprises are launching, developing, and testing a wide range of robotic systems for diverse agricultural applications in an effort to combat this condition of always-rising demand. 
The anticipated years will see an increase in the use of agricultural robots such as milking robots, automated harvesting systems, unmanned aerial vehicles, and other robots. This will lead to an increase in the demand for agricultural robots. The quick advancement of digital farming technologies helps farmers increase yields, save costs, and increase their take-home pay. This raises the market for agricultural robots' demand in the ensuing years.
The major driving factors in Agricultural Robots Market focus on increased productivity and farm efficiency, automation leading to curtailed use of labor and well-organized usage of natural resources, population growth, and continuous technology innovation.
The increasing use of precision agriculture, among farmers, for collecting & processing data helps in making better decisions on fertilizing, planting, & harvesting crops. The method has enormous potential to increase crop yields, increase crop revenues, and end food and water problems. 
Over the projected period, the industry demand is anticipated to be driven by the growing requirement for crop health monitoring for yield production and the growing government backing for the implementation of innovative agricultural practices.
According to trends in agricultural robots, smaller farms are largely left behind by the repetitive waves of automation, including agriculture robots. The ROI or return on investment for smaller farms will be significant for breakthroughs like the tractors with autopilot capabilities, which have a hefty cost. 
Even if the technologies for auto-steering and drones have somewhat advanced and some of them are the least expensive options for automation, small farms are still slow to adopt them.
---
---
Media Enquires
If you require any further information about a related market, please get in touch with us. we're happy to help you
+91 7008 614 496
+91 7008 614 496