Gene Therapy is One of the Most Recent Treatment Options in Healthcare, says Market.us
---
---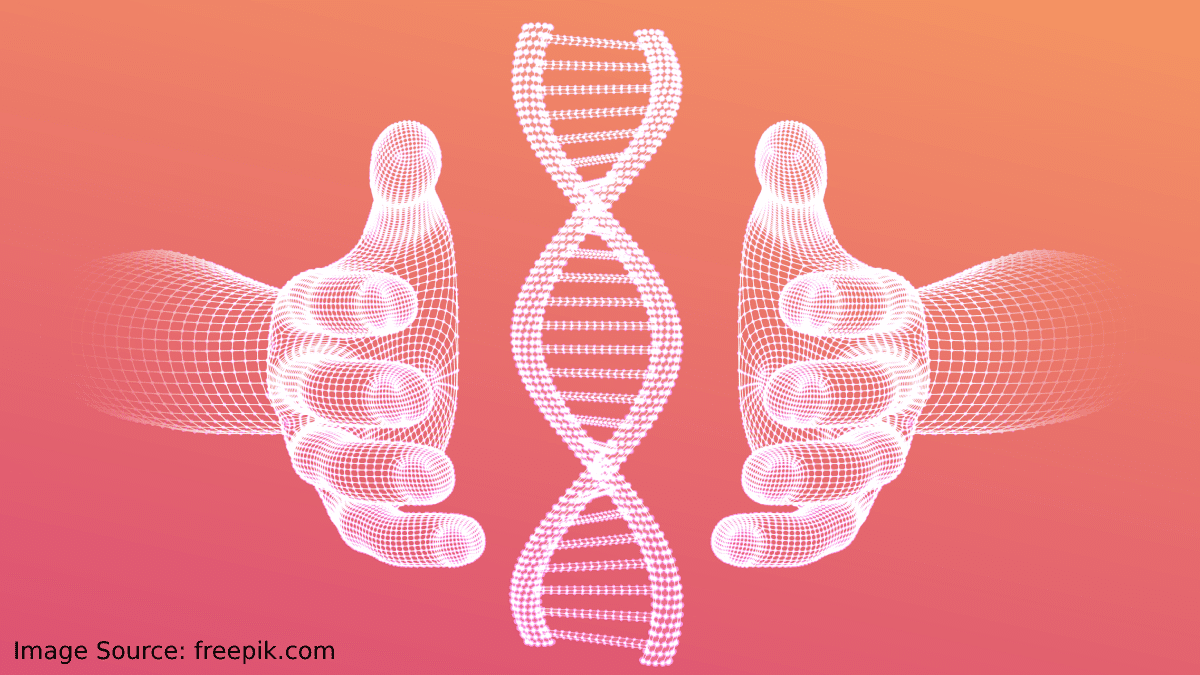 It has been shown to be effective in treating genetic diseases such as cancer. In the past few years, gene therapy research has been gaining more attention. Many companies also focus on this market's growth potential by launching advanced products.
A gene is a functional, hereditary unit that carries instructions for performing a specific function. Gene therapy is a treatment that is advanced for treating cancer, chronic diseases, and blood disorders.
Gene therapy is the replacement of defective genes within a patient's body with healthy ones. This can be used to treat or prevent disease growth. Based on the position of the target gene on a particular chromosome, there are two types: germline and somatic gene therapy. This can be used to treat many diseases such as Parkinson's disease, hemophilia, and cystic fibrosis.
The biological vectors that transfer the transgene into the host cells include the virus, liposome, and plasmids. These vectors can be further classified as non-viral and viral vectors. Retrovirus, lentivirus, and adenovirus are all examples of viral vectors. Liposomes, transposons, and plasmids are all examples of non-viral vectors. There are physical methods that can be used to transfer genes, including photoporation and sonication.
Market.us reports that "The global gene therapy market was valued at USD 2.26 Billion in 2021. It is projected to grow at a compound annual rate (CAGR of 20.4%) between 2022 and 2032."
These factors will likely boost the market growth. Despite the fact that therapy development is encouraged by the high cost of current therapies, this can limit access and lead to market withdrawals because of their economic viability.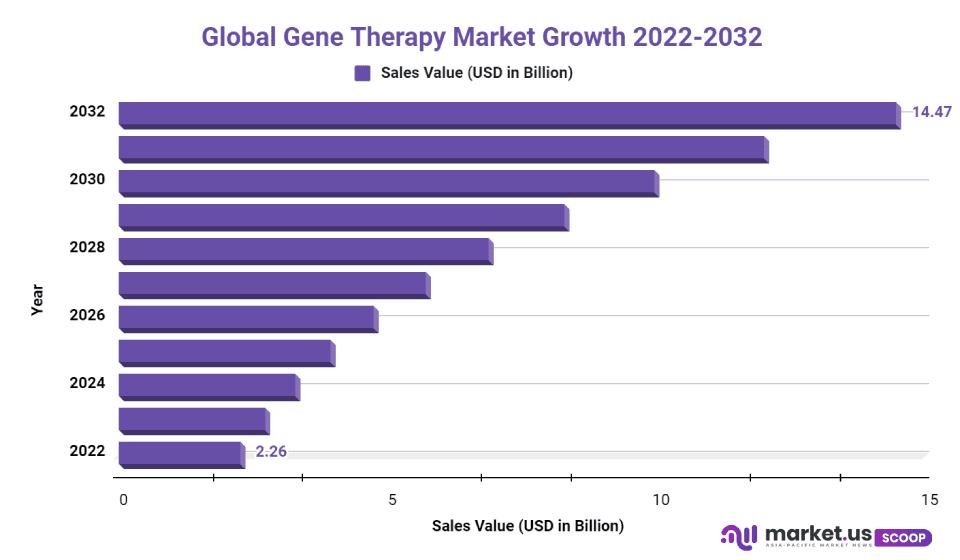 A growing market for advanced therapies and gene delivery technology has created a highly competitive environment where many market players are involved in the commercialization of their products. Therapy developers are investing in collaboration/mergers and acquisition deals as a viable strategy to enhance in-house expertise and strengthen product pipelines.
Click here to check – 200+ pages of in-depth market analysis reports on the Gene Therapy Market.
The world is currently trying to reduce the negative impact of the SARS/CoV-2 pandemic in order to restore market revenue. The gene therapy and cell industry have been severely affected. The progress of ongoing R&D has been slow since many universities have stopped all research and enrollment processes for clinical trials.
Biopharma companies have taken a number of initiatives to increase their market share. Companies are pursuing various market entry strategies such as expansions of biopharma facilities, collaborations, and development with Contract Manufacturing Organizations.
Gene therapy is a promising area for biotechnology and pharmaceutical companies. Most of the major players in gene therapy are currently focusing their efforts on developing new products that will capitalize on the potential growth opportunities for therapy.
Some of these products are currently in the pre-clinical phase, while others are in the clinical phase. They are expected to be approved in the next few years.
In addition, companies operating in the Gene therapy industry are focusing on various disease areas, including hemophilia A & B, Fabry disease, wet age-related macular degeneration, mucopolysaccharidosis Type II, ornithine transcarbamylase (OTC) deficiency, achromatopsia, and multiple myeloma. In the future, gene therapy is expected to grow in popularity.
Gene therapies are expensive. They can cost up to USD 1,000,000 per patient, depending on their disease. Reimbursement programs cover most gene therapy products in the US or EU. It is however difficult for those who are not insured to pay for such high-cost treatment.
The Gene therapy industry can be divided into two types of vectors based on their vectors: viral vectors and non-viral vectors. In 2021, the market share for non-viral vectors was larger.
This segment is driven by factors such as lower immunogenicity for non-viral viruses compared to viral vectors and easier mass production.
---
---
Media Enquires
If you require any further information about a related market, please get in touch with us. we're happy to help you
+91 7008 614 496
+91 7008 614 496