GPU Market Heats up with Growing Interest in AI and Cloud Gaming
---
---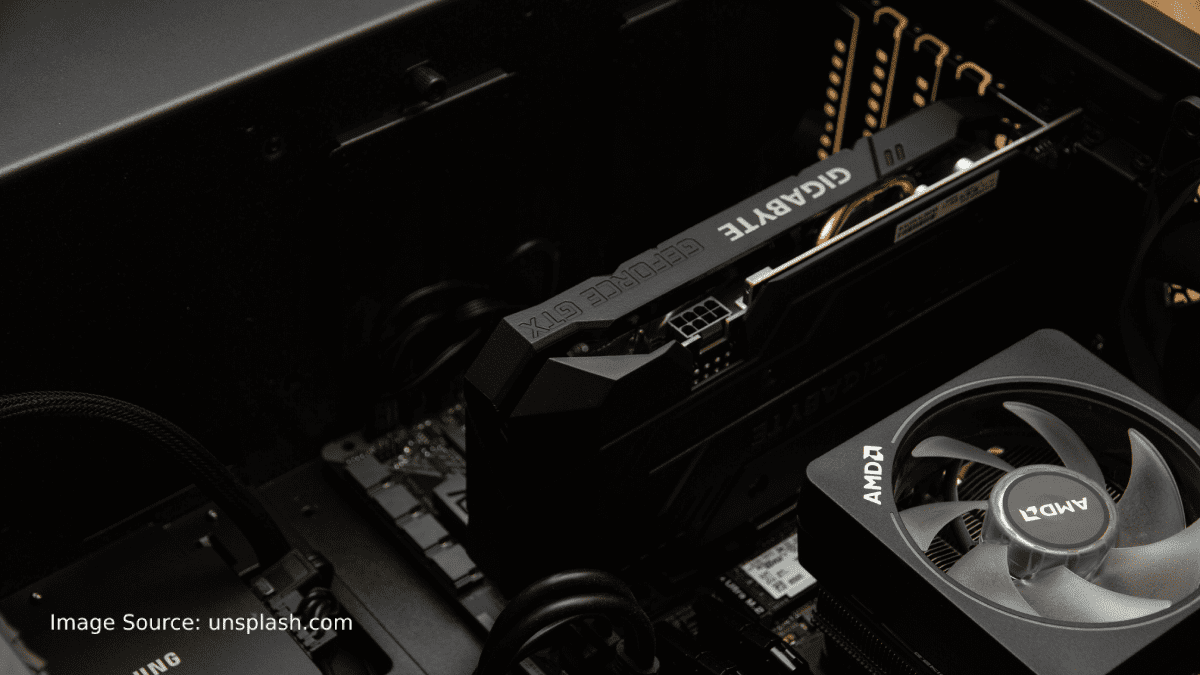 Graphics processing units, also known as visual processing units, are computer chips that quickly perform mathematical calculations for the purpose of rendering images.
This unit is made up of hundreds of cores and can handle many thousands of threads at once, as opposed to CPUs. The CPU has fewer cores and less cache memory, which limits its ability to handle multiple threads simultaneously. Graphic processing units can be found on plug-in cards or on the same chip as the CPU.
While the GPUs are housed in separate cards, they have their own RAM. However, in the chipset, they share the main memory of the CPU. The 3D graphics processing unit uses transistors for mathematical calculations. The GPU is used extensively in mobile electronic devices, such as laptops, tablets, medical wearable equipment, smartphones, and many others.
In constant development are integrated and hybrid GPUs to replace the dedicated GPUs in applications like artificial intelligence platforms, virtual reality and augmented reality systems, and supercomputers.
According to Market.us, "In 2019, the global GPU market was valued at $19.75 Billion. By 2032, it is expected to grow at a 33.6% CAGR from 2020 to 2032″.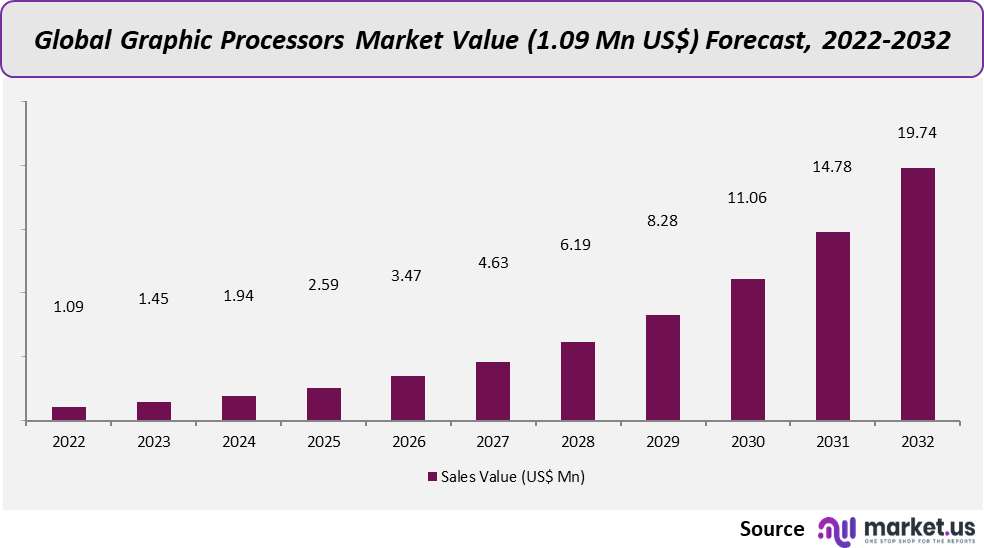 Global graphic processing unit markets have seen significant growth over the last few years. However, due to the COVID-19 pandemic, the market will see a sudden decline in 2020. Different governments have had to impose lockdowns that have halted the production and tasks of many organizations, which has had a significant impact on the global economy.
Diverse ventures around the world are experiencing a shortage of work and a deficiency in hardware components. This will likely result in a correction in the growth of the GPU market over the next few years.
The graphics processing unit is used primarily in defense, IT, and media. The market's rapid growth is due to technological advances in GPUs and the increasing adoption of mobile computing devices like smartphones and laptops. The growth of the graphics processing units market is expected to be supported by government funding for virtual reality, as well as the emergence of many machine learning startups.
The United States has seen a rise in video games. This number has increased dramatically in 2020 with most people playing on their smartphones. Smartphones were ranked first in the top three most preferred gaming devices. Gaming consoles and computers came in second and third, respectively.
For the smoother operation of smartphones, gaming consoles, and PCs, there is a need for more powerful graphic processing units. The popularity of companies like Intel and Apple has accelerated the adoption of GPUs. These factors have accelerated the growth of the market for graphics processing units in the country.
The market is expanding due to the increasing number of gamers and the multiplicity of game-developing businesses in the region. The region is also benefiting from the growth opportunities provided by prominent GPU companies that are making significant investments in this sector and taking important steps toward innovation.
China's used GPU market has been flooded by RTX 3060S and 3080s below MSRP. Due to China's crackdown on cryptocurrency, used GPUs have flooded the market. The country has seen a surge in GPU sales due to changes to its cryptocurrency laws. This will allow companies to keep pace with the demand for high-end cards in the country.
The GPUs are optimized for data-parallel or throughput computing. This means that more transistors are available for computation, and the architecture is more tolerant to memory latency. These microprocessors are designed to render images quickly and effectively.
Modern GPUs offer superior memory bandwidth, processing power, and efficiency to their CPU counterparts. GPUs provide richer PC gaming experiences. Onboard graphics solutions can't match dedicated graphics cards in order to deliver rich video output and excellent performance in terms of interactive input/output.
The demand for GPUs by cryptocurrency miners is high in Europe. Miners are increasingly shifting to Sweden and Norway in order to take advantage of low temperatures and inexpensive hydroelectric energy to cool and power their high-performance servers.
According to the Association for UK Interactive Entertainment, there were 2,261 gaming companies operating in the country as of June 2018. They use a wide range of gaming technologies, including AR and AI, to create games that are compatible with mobiles, computers, and consoles.
Over the forecast timeline, the growth in PC gaming will support the adoption of GPUs.
---
---
Media Enquires
If you require any further information about a related market, please get in touch with us. we're happy to help you
+91 7008 614 496
+91 7008 614 496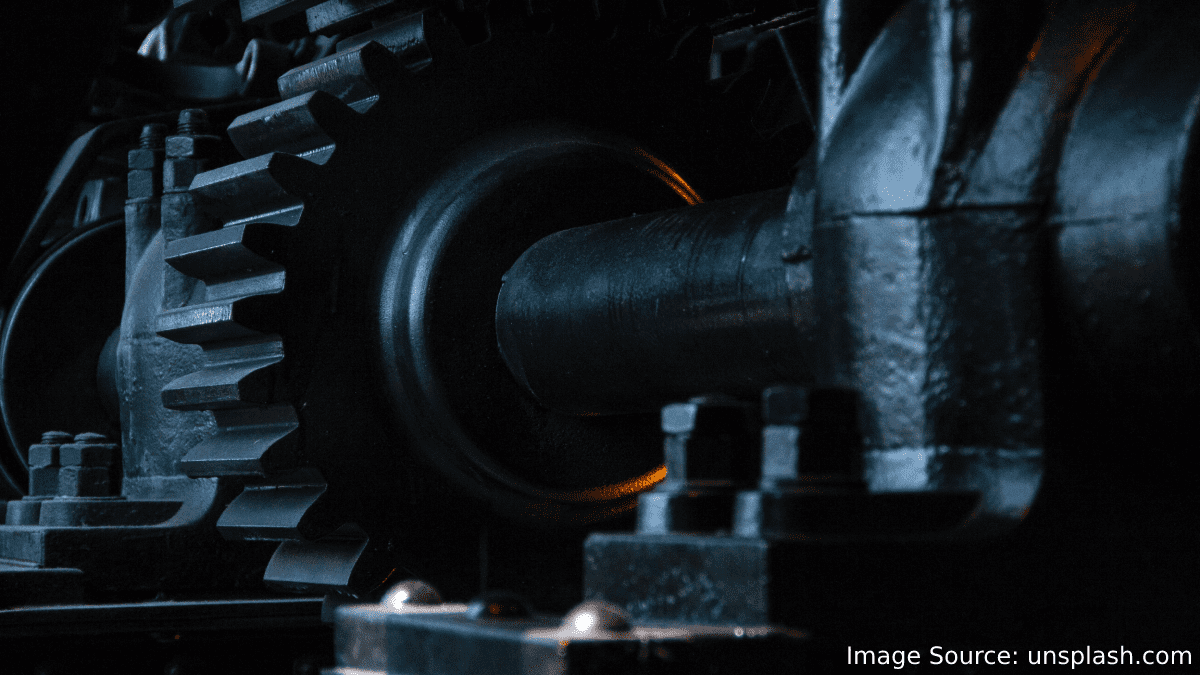 The Manufacturing Sector Finds Untapped Potential in the Gear Motors Market, says Market.us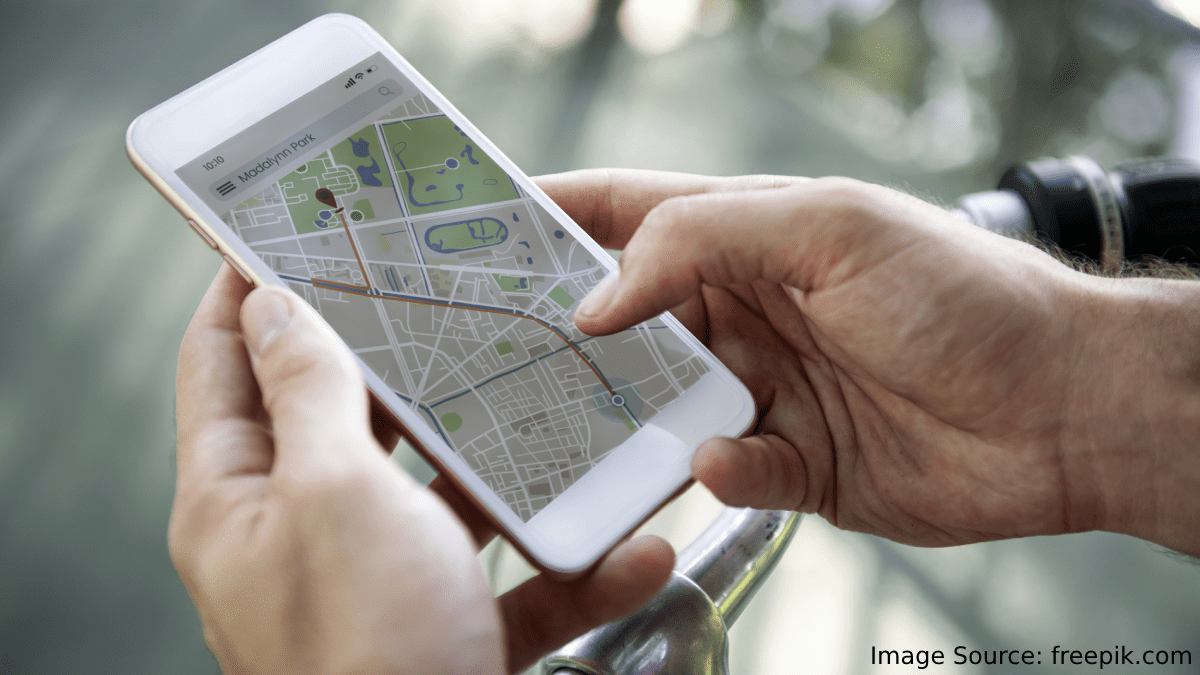 The Surge of Growth in GPS Tracking Devices in the Automotive Industry Spurs Innovation, says Market.us