Growing Cancer Immunotherapy Market is Generating New Hope in Battle Against Cancer, says Market.us
---
---
The cancer immunotherapy market is one of the healthcare industry's most exciting and rapidly growing segments. With its innovative approach to treating cancer, cancer immunotherapy offers a promising new way to improve patient outcomes and drive growth for businesses. By harnessing the power of the body's own immune system to target and destroy cancer cells, cancer immunotherapy provides a more effective and less toxic alternative to traditional cancer treatments.
The market for cancer immunotherapy is growing at an impressive rate, driven by advances in research and the increasing demand for effective cancer treatments. Companies that invest in cancer immunotherapy products and services have the potential to capture a significant share of this growing market and make a positive impact on patients and their families.
According to the latest report by Market.us," The Global Cancer Immunotherapy Market is expected to grow at a CAGR of roughly 8.6% over the next ten years and will reach USD 225.45 Bn in 2032, from USD 98.8 Bn in 2022."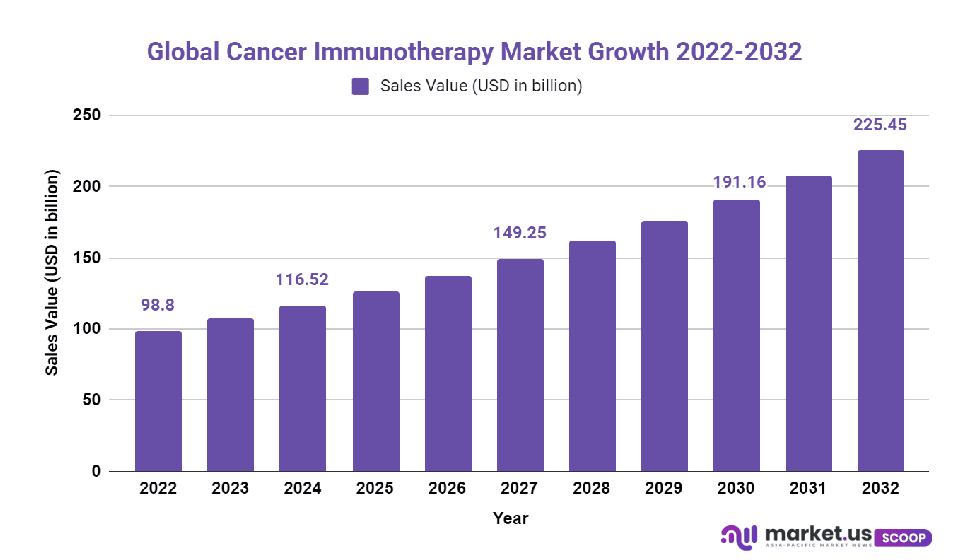 The fast-growing Cancer Immunotherapy Market offers exciting growth opportunities for competitors. A recent report by Market.us highlights some key strategies companies can adopt to benefit from the latest industry trends.
The report highlights the key trends that will shape the Cancer Immunotherapy Market going forward by giving information on the size of this fast-growing market development, drivers, trends, and which regions and segments are most important.
Anurag Sharma, a senior research analyst at Market.us, said," As the cancer immunotherapy market continues to evolve, it presents a major opportunity for businesses to drive growth, improve patient outcomes, and contribute to the fight against cancer. With its combination of innovation, impact, and growth potential, the cancer immunotherapy market is an exciting and rewarding space for businesses to operate in."
The cancer immunotherapy market is a rapidly evolving and exciting space, driven by a number of cutting-edge trends that are transforming the way cancer is treated. These trends are providing businesses with unique opportunities to tap into new and growing markets in order to make a positive impact on patients' lives.
One of the key trends driving growth in the cancer immunotherapy market is the increasing use of personalized medicine. With advances in technology and a growing understanding of cancer's genetic makeup, businesses can now provide treatments tailored to the individual needs of patients. This helps to drive better outcomes and improve patients' overall quality of life.
Another trend driving growth in the market is the growing focus on combination therapies. With the recognition that cancer is a complex and multi-faceted disease, businesses are increasingly looking to combine different types of cancer treatments to achieve better results. This is helping to drive the development of more effective and efficient treatments and improve patients' lives.
For Instance, Researchers in the biopharma sector are looking at vaccines that strengthen the body's immune systems against certain types of cancer. Companies like Genmab lead research to identify targeted antibodies that can help the immune system destroy and recognize cancer cells. These immuno-oncology breakthroughs have the potential to transform cancer treatment.
Additionally, the growing demand for non-invasive treatments has shaped the cancer immunotherapy market. With the recognition that traditional cancer treatments can be harsh and disruptive to patients, businesses are working to develop new therapies that are less invasive and more patient-friendly. This is helping to drive the development of more acceptable treatments to patients and improve the overall quality of life for patients.
So if you're a business looking to impact cancer patients' lives positively, now is the time to get involved in the exciting and rapidly growing cancer immunotherapy market! With a range of innovative and high-quality products, you can tap into the growing demand for personalized, effective, and patient-friendly cancer treatments and make a real difference in the fight against this devastating disease. Our team at Market.us will guide you by providing the right data needed to thrive in this market. 
Market.us has segmented the Cancer Immunotherapy Market based on the following parameters:
By technology, the market is segmented into Monoclonal Antibodies, Immunomodulators, and Oncolytic Viral Therapies, and Cancer Vaccines. Here, the monoclonal antibodies segment dominated the cancer immunotherapy market in revenue in 2022.
In terms of application, this market research report is further divided into  Lung Cancer, Breast Cancer, Colorectal Cancer, Melanoma, Prostate Cancer, Head and Neck Cancer, Ovarian Cancer, and Pancreatic Cancer. The lung cancer segment is expected to hold the largest market share due to the rising incidence of the disease. 
The monoclonal antibodies segment dominated the cancer immunotherapy market due to the availability of several approved drugs and a strong pipeline of potential drugs in development. 
The major key players in the cancer immunotherapy market are Merck & Co., Inc., Roche, Holding AG, Pfizer Inc., Bristol-Myers Squibb Company, AstraZeneca, Eli Lilly and Company, Novartis AG, GlaxoSmithKline plc, Sanofi S.A., Regeneron Pharmaceuticals, Inc., and many others.
---
---
Media Enquires
If you require any further information about a related market, please get in touch with us. we're happy to help you
+91 7008 614 496
+91 7008 614 496