Hearing Aids Market Booming, Thanks to Increasing Geriatric Population, Says Market.us
---
---
Deafness can significantly impact life in terms of employment and mental health. The right hearing aids will make a significant difference in your life, especially if you get the help needed to adapt them. Conduction hearing is a form of hearing loss due to abnormalities in the middle ear or ear canal.
In most cases, medical intervention is sufficient to help. A hearing aid may be an option for those with an open ear and normal external ears. This is due to the highly technical nature of the market, which includes unique devices such as smart hearing devices, undetectable listening devices, and AI wireless hearing devices that can connect to Ios/Android.
The market is expanding due to the increasing number of seniors and smart hearing aids. It is crucial to monitor and evaluate hearing abilities as hearing loss is rising worldwide. Due to the COVID-19 epidemic, more people are turning to monitor systems. This new era has brought about a paradigm shift in the delivery of audiology services. Audiology patients now require low- or no-touch procedures.
According to the latest report by Market.us," The Global Hearing Aids Market is expected to grow at a CAGR of roughly 6.6% over the next ten years and will reach USD 18 Bn in 2032, from USD 9.5 Mn in 2022."
The most common disorder among patients is hearing loss, particularly in industrialized nations. According to the WHO, approximately 6.1% of people live with hearing loss worldwide. That's an incredible 466 million people. Due to an increase in the elderly population, it is predicted that this number will reach 1.5 billion in 2050. Several factors can lead to hearing loss, including chronic inflammation, vascular disorder, physiological aging, noise exposure, and genetic susceptibility. This may increase the sales of these devices and lead to an increase in hearing-impaired patients worldwide.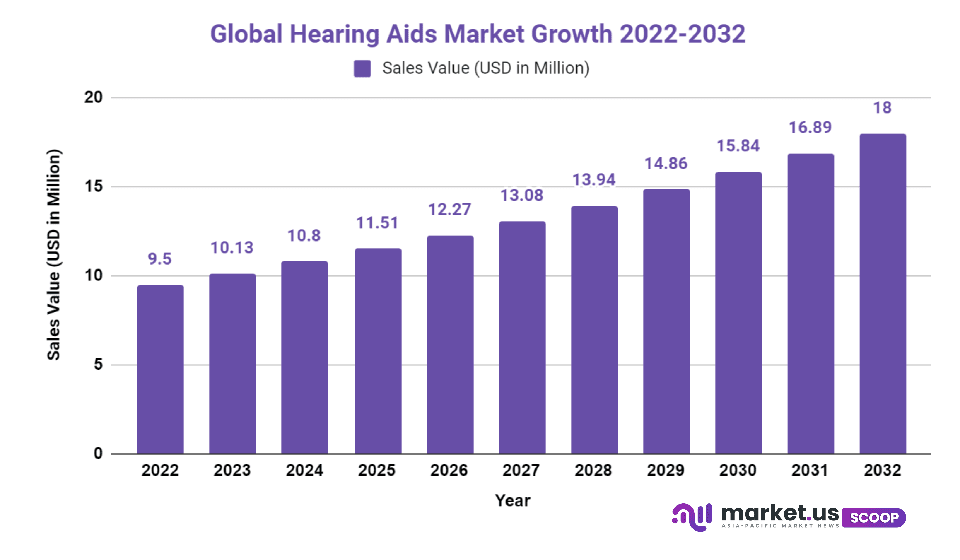 According to EHIMA, "more than 17.05 million hearing devices were distributed globally in 2019, a 6.4% increase over the previous year. This market is expected to experience significant growth because of the rising number of users."
Anurag Sharma, a Senior research analyst at market.us, said, "Increasing collaborations among industry leaders for improving products portfolio and launching new products, rising online sales and audiology services, growing adoption of telehealth among audiologists, and increasing adoption of personalized hearing aids are key market trends".
They also quoted that one of the major drivers of market growth is the rising number and quality of geriatrics worldwide. This is because the elderly are often affected by hearing loss. This increases the market demand from this group. The incidence of hearing problems has increased significantly among the population. Many cases of hearing impairment, especially in infants, go untreated. This can lead to psychological and/or speaking difficulties. The market is also growing due to the introduction and promotion of new designs and innovative product varieties, such as waterproof hearing aids. With the further implementation of digital technology, a positive outlook is expected for the market. Other factors contributing to market growth include rising noise pollution levels and growing birth complications.
All hearing aids have the same basic components that carry sounds from the surrounding environment into your ears and make them louder. The majority of hearing aids are digital and powered by a traditional battery or a rechargeable battery.
Small microphones can collect sounds from the surroundings. An amplifier converts the incoming sounds into digital code. It adjusts the sound to fit your hearing loss and listening needs. The amplified sounds are converted into sound waves by speakers and then delivered to your ears using receivers or sound-wave generators.
Manufacturers of hearing aids are constantly improving the user experience. These innovations will be driving market growth in the coming years. A quarter of American adults aged 18 years and older suffer from hearing loss. For example, in October 2021, the FDA proposed a plan for a new low-cost type of over-the-counter hearing aids. This provides a unique revenue stream for companies looking to enter the over-the-counter hearing aid market. The United States hearing aids market will benefit from this regulatory and government support level.
---
---
Media Enquires
If you require any further information about a related market, please get in touch with us. we're happy to help you
+91 7008 614 496
+91 7008 614 496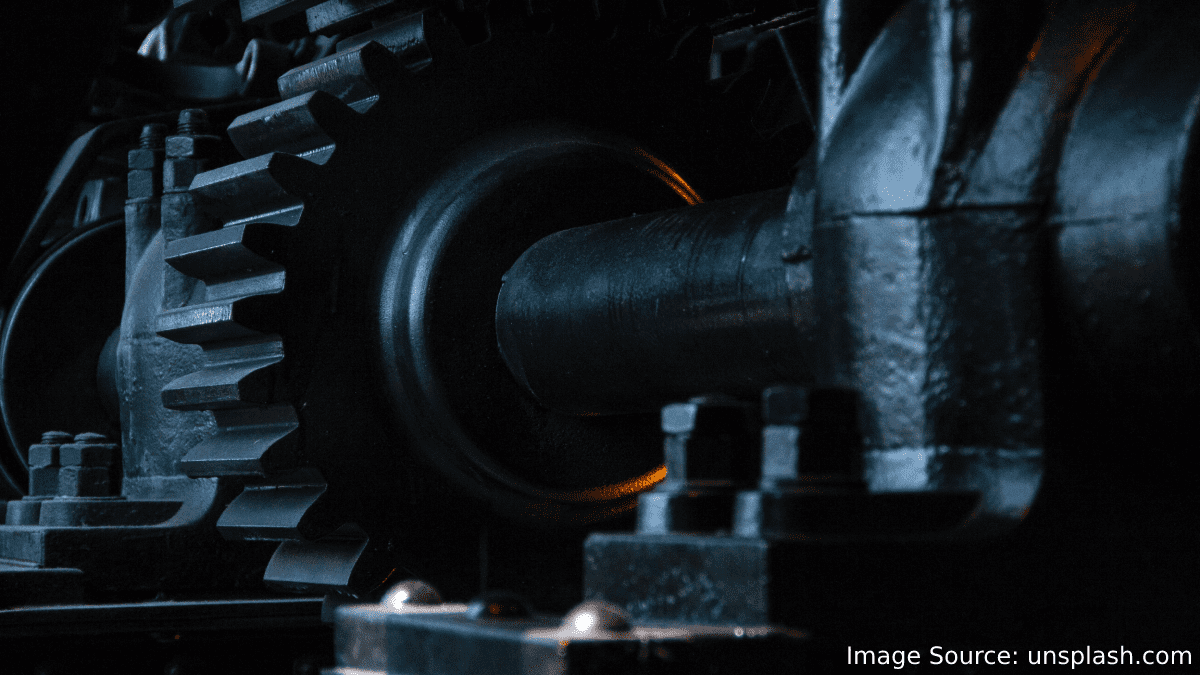 The Manufacturing Sector Finds Untapped Potential in the Gear Motors Market, says Market.us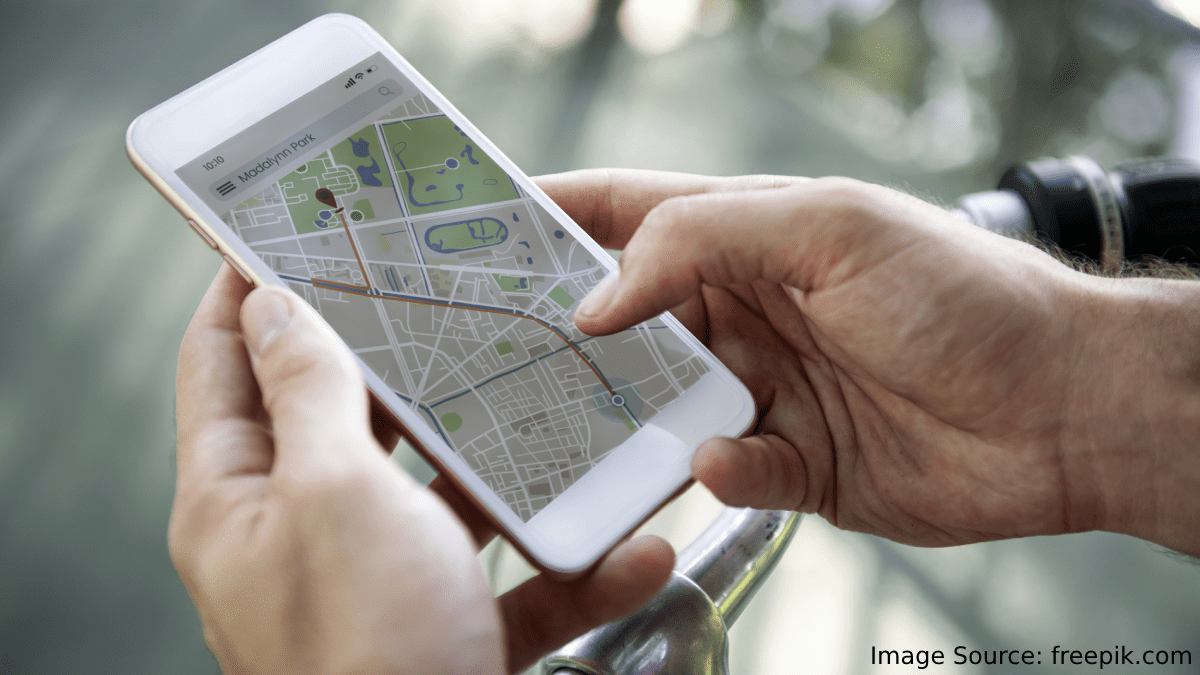 The Surge of Growth in GPS Tracking Devices in the Automotive Industry Spurs Innovation, says Market.us