Heavy Investments in Biotechnology Market Paving Way for Improved Healthcare Access, says Market.us
---
---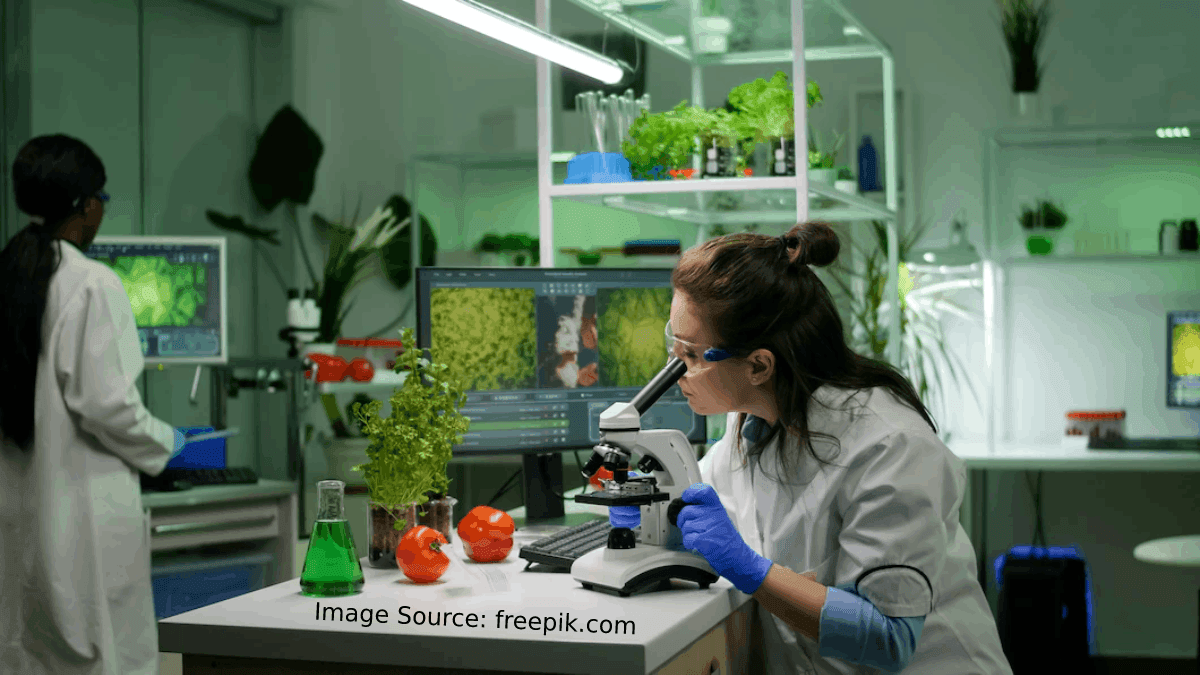 Research in biotechnology is booming due to the growing prevalence of conditions such as hepatitis B and diabetes. Biotechnology uses biology and chemistry research tools to study the genetic material in bacteria and viruses and to detect disease-producing agents.
GMO crops and insect-resistant and herbicide-tolerant seeds are growing in popularity, which is contributing to market growth. The adoption of tissue technology in agriculture has accelerated biotechnology applications.
This includes the creation of new varieties of rice, as well as disease- and pest-free varieties of bananas in South Asia and Africa. A strong clinical trial pipeline and funding opportunities in tissue engineering and regeneration technologies are also driving the market.
According to Market.us, "The Biotechnology Market size is expected to be worth around USD 35,02,263.56 million by 2032 from USD 10,22,640 million in 2022, growing at a CAGR of 13.10% during the forecast period from 2022 to 2032."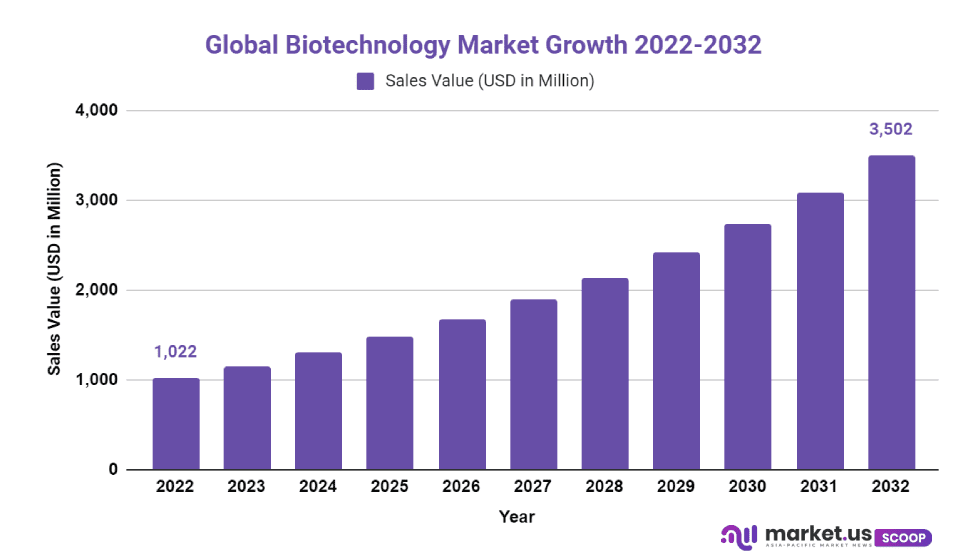 Gaurav Yadav, a senior research analyst at Market.us, said, " The most important area of biopharma company research is oncology. The medical application of stem cell therapy using a monoclonal anti-tumor antibody is progressing. The increasing prevalence of disease and the high costs of R&D will likely contribute to the rise of the biotechnology service market."
The growth of the biotechnology service market is likely to be limited by genetic data risk. Genetic modification of genes in biotechnological methods to create genetically-modified organisms (GMOs), has been seen as a serious threat to both human and environmental health. According to the World Conservation Union's report, GMOs could pose many environmental risks.
These include interbreeding with other species, creating new or worse viruses, competition, unintended and unpredictable effects, ethical concerns, and impact on the ecosystem. GMO food producers can follow guidelines set by the World Health Organization. Since January 2020, the USA has adopted the National Bioengineered Food Disclosure Standard, which makes it mandatory for all food containing genetically modified items to be "bioengineered" labeled. This is because genetically modified foods pose a risk to the market growth for biotechnology services.
The market for biotechnology services is made up of revenue from entities involved in research and experimental design in biotechnology. Biotechnology can help with many global issues, such as infectious diseases and aging societies, food security, energy security, climate change, and energy security. The market value includes any related goods or services that the service provider sells. This includes only services and goods that are sold to consumers or traded between entities.
Market growth will be affected by the clinical successes of gene therapy leaders in 2021. These include promising results from an In vivo CRISPR transthyretin-amyloidosis treatment, which Intellia Therapeutics has developed. Market growth is expected to be boosted by the rising demand for treatments for chronic diseases like cancer, diabetes, age-related macular degeneration, and almost all forms of arthritis.
These investigations will likely stimulate further research in this area and help drive the market. In the last few years, biotechnological methods such as stem cell technology and DNA fingerprinting have gained significant popularity. Stem cell technology is gaining popularity due to technological advancements in stem cell therapy, increased demand for biologics, and a greater focus on personalized medicine development.
Applications for DNA fingerprinting are increasing in forensic science and in the investigation of animal family relationships, as well as in measuring the extent of inbreeding. Genetic engineering and cloning are also being used more frequently in animal breeding, as well as for the manufacture of complex biological substances.
The rising incidence of chronic and infectious diseases, as well as increased research-and-development investments in breakthrough genomic techniques like cell-based assay (PCR) and polymerase chain reaction (PCR), will drive substantial development in emerging nations. The rise in healthcare spending and the expansion of the healthcare infrastructure will help boost the biotechnology market's growth in developing countries.
Rapid growth in healthcare services and modernization is one of the outcomes of expanding healthcare infrastructure in emerging nations. This is a contributing factor to the increasing demand for diagnostic procedures in emerging countries, which is driving higher revenue growth and sales of biotechnologies in this market.
Biotechnology is increasingly important because large quantities of data generated using techniques like nucleic acid sequence and protein acid sequencing need to be interpreted and managed for future medical and research purposes. The forecast period will see increased demand for biotechnology.
---
---
Media Enquires
If you require any further information about a related market, please get in touch with us. we're happy to help you
+91 7008 614 496
+91 7008 614 496