Calcium fluoride, an inorganic compound made of calcium and fluorine, is called CaF2. Calcium fluoride is the primary source of fluorine for the fabrication of calcium sulfate and hydrogen fluoride.
Fluorspar is another name for it. It is a white-colored solid. It is used in the manufacture of optical components, such as windows and lenses, spectroscopy systems, thermal imaging systems (telescopes), and excimer lasers. It is transparent across a wide range of frequencies, from ultraviolet (UV), to infrared(IR) frequencies.
According to Market.us, " The Calcium Fluoride market size was valued at USD 1.3 billion in 2023 and is expected to grow at a compound annual growth rate (CAGR) of 4.5% from 2023 to 2033."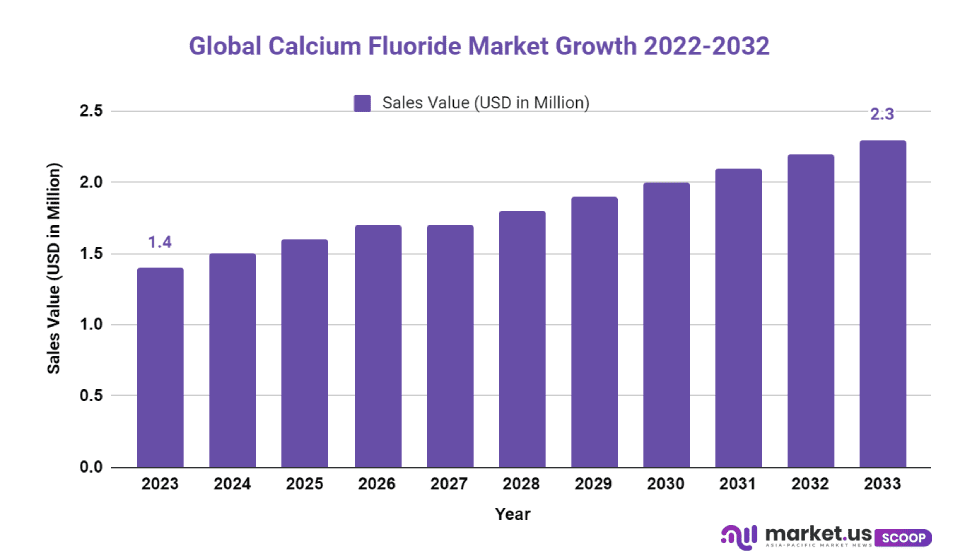 Because it has a low refractive index, anti-reflection coatings are not necessary. It is also suitable for water absorption. Doped calcium fluoride, such as natural fluorite can also be used in thermo luminescent meters. Because of its superior thermal stability and other properties, it is used extensively in aluminum metallurgy and optical glass manufacturing. It is used extensively in the manufacture of personal care products.
Side effects include tooth discoloration, weakness of the muscles, weakening bones and ligaments, nerve system problems, and other side effects.
The growth of the market is attributed to the increasing demand for calcium fluoride in various end-use industries, including metallurgy, glass, ceramics, and construction.
Anurag Sharma, senior research analyst at market.us said, "Global growth in automobile sales, production, and investment has a positive impact on the market for calcium fluoride. Market growth is aided by improvements in living conditions and interior design."
Many industries use aluminum for various purposes. These include automotive, aerospace, marine, packaging, and construction. Electronics, machinery, and electronics are just a few of the many uses. The aerospace industry's future looks bright. Strong aircraft demand will be crucial. It is expected that the annual passenger volume and fleet size of cargo and corporate passenger aircraft will both double over the next 20 years.
Due to the increasing number of aircraft, aluminum will be required for more production. As their production improves and global sales rise, the demand for cars increases. There is a lucrative opportunity to expand the market by increasing the production of brake lining materials, and aluminum products. To increase calcium fluoride market share, the government is increasing its infrastructure investment and making every effort in residential construction.
The rise in aluminum products in the aerospace and automotive industries is driving calcium fluoride demand. This is followed by an improvement in living standards, increased investments in infrastructural developments, growth in manufacturing & construction activities, an increase in disposable income, a rise in the production of welding agents, increases in investments in end-use industry, a rise in demand for welding joints & brake liner products, technological advancements, and growth in residential construction.
Fluorosilicic acids are used to produce aluminum fluoride (AlF3). However, AlF3 derived from fluorosilicic is not easily substituted by AlF3 made from fluorspar because of different physical properties. Although fluorosilicic acid was used to make hydrogen fluoride previously, this method has not been widely accepted. Aqueous hydrogen fluoride is the preferred product, rather than fluorspar. As substitutes for fluorspar fluxes, aluminum smelting dust, borax, and calcium chloride have been used.
The Asian-Pacific region is the dominant market for calcium fluoride based on geography. This is due to rapid industrialization and increased automotive production. Due to the increase in glass demand from the construction sector, North America is expected to see moderate growth. In Europe, the demand for brake lining, welding joints, and alumina products is expected to be impressive.
The market for calcium fluoride will grow due to increased infrastructure investment and government investments. Increased production of aluminum products as well as brake lining materials opens up lucrative opportunities for the growth and size of the calcium fluoride market. Market growth is accelerated by investments in product innovation and in the development of application methods.
Overall, the calcium fluoride market is expected to grow in the coming years, driven by the increasing demand for calcium fluoride in various end-use industries and the growing construction and automotive industries in emerging economies.
Ketan Mahajan
Hey! I am Ketan, working as a DME/SEO having 5+ Years of experience in this field leads to building new strategies and creating better results. I am always ready to contribute knowledge and that sounds more interesting when it comes to positive/negative outcomes.