GPS (Global Positioning System), originally NAVSTAR GPS, is radio navigation system, which is satellite based and the GPS tracking device uses the Global Positioning System to track movement of people, or vehicles, and to determine accurate current location. The detected location of a person or vehicle gets stored in the tracking device and is transmitted to others using Internet connection. GPS tracking devices are useful in various fields including metal and mining industry, transportation & logistics, government, food and beverages, and other industries. In logistics sector, apart from management of fleet, tracking devices also aid in keeping check on fuel consumption, performance of the vehicle, planning route, and theft prevention.
"India GPS Tracking Devices Market: Types, Applications, Growth Rates and Revenue Shares, and Forecast from 2020 to 2029" is a recently produced report by Market.US. India GPS tracking devices market is projected to reach a value of US$ 348.6 Million in 2029, from a value of over US$ 84.7 Million in 2018. The global market is projected to register a substantial growth rate of 14.1%. The India GPS Tracking Devices market has been segmented on basis of product type, and application.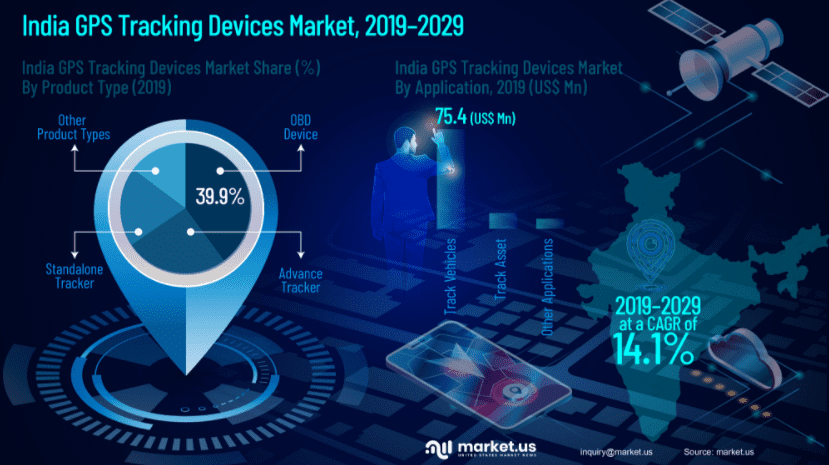 GPS tracking device is fit in the interiors of the vehicle and is not made visible, and it provides real-time location of the vehicle with highest possible accuracy. A GPS tracking device aids as a preventive measure for theft as well as for recovery of stolen assets. Progressive technological advancements such as person and vehicle tracking systems developed enables vehicle-owners to virtually keep a check on vehicles from anywhere in the world.
GPS tracking devices are compact and extended product life, and are available in variety range at reasonable cost. This is among the major factors estimated to drive market growth. In addition, rapidly growing transportation & logistics sector in India is estimated to have a positive impact on market growth. Also, Ecommerce sector is growing significantly in India, and increasing number of trade activities from and to this country is expected to lead to high inflow and outflow of products. Companies engaged in transport and logistics handle significantly high load of goods, thus, GPS tracking device is ideal to easily track the products and designated vehicles.
Among the product type segments – OBD device, advance tracker, standalone tracker, and other types; the OBD segment is expected to account for majority revenue share for the next few years. Among the segments based on application –track assets, track vehicles, and others; the track vehicle segment is expected to account for majority share in terms of revenue in the target market. Major players profiled in the final report include Teltonika, Garmin Ltd., Propress Instrumentation & Solutions Private Limited, Hastaka, Danlaw Technologies India Ltd., Autocop India Pvt. Ltd., SenSight Technologies Private Limited, Shenzhen Dytech Technology Co., Ltd. (Dyegoo), Galvanic Infotech Pvt. Ltd., Trakbond, Navi Technologies (Lamrod), Shenzhen Coban Electronics co., Ltd.