Innovations in the Pulmonary Edema Market Shows A Clearer Path, says Market.us
---
---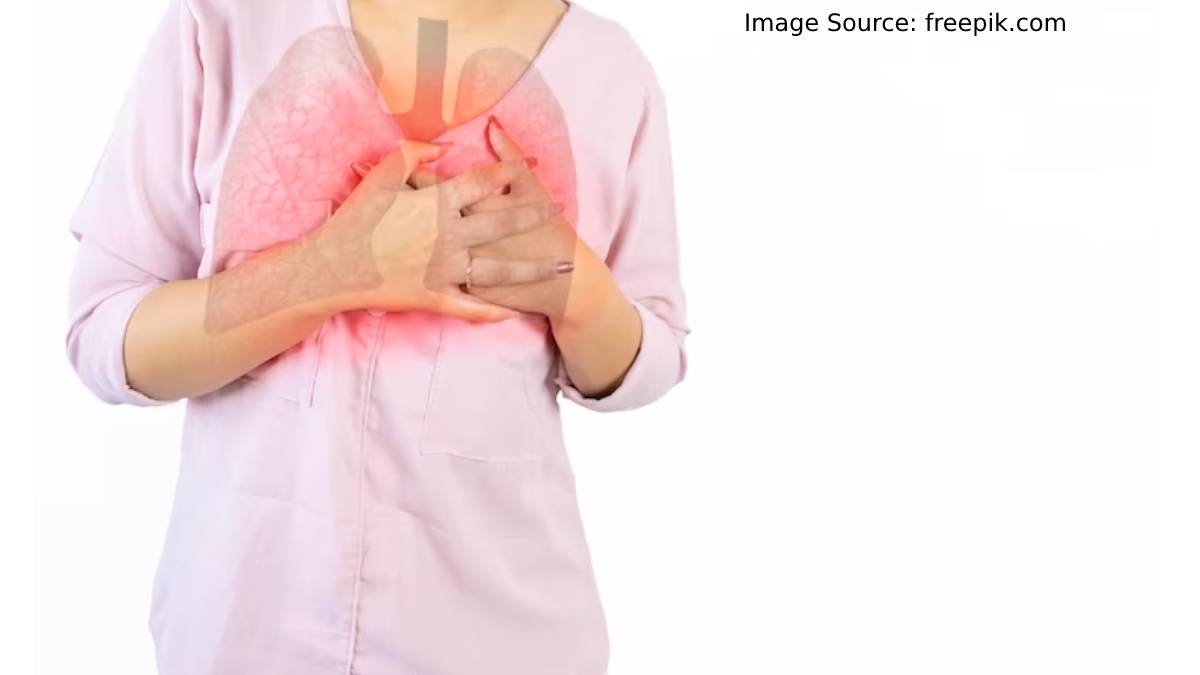 Pulmonary edema is a medical disorder that causes fluid to accumulate in the lungs, causing breathing difficulty, chest discomfort, and other symptoms. A multitude of reasons, including heart failure, lung infections, and exposure to specific chemicals, can cause the syndrome. The worldwide pulmonary edema market is expanding fast, owing to a variety of causes listed below. 
According to the latest report by Market.us," Global Pulmonary Edema Market Was Valued at USD 7.13 Bn In 2023 And Is Projected To Reach USD 14.7 Bn By 2032, at a CAGR Of 7.5%."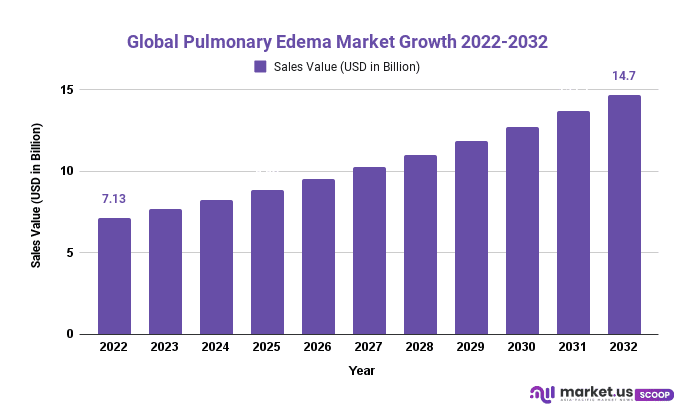 A prominent cause of pulmonary edema is heart illness, such as congestive heart failure. As a result, the increasing incidence of heart disease is a key contributor to the growth in pulmonary edema instances. An aging population, sedentary lifestyles, poor diet, and obesity are all factors contributing to the rising prevalence of heart disease. High blood pressure, excessive cholesterol levels, and other risk factors can all contribute to the development of heart disease.
If the frequency of heart disease rises, the incidence of pulmonary edema is expected to grow as well. Individuals must take efforts to lower their risk factors for heart disease, such as eating a balanced diet, exercising frequently, and refraining from smoking and excessive alcohol use. Early identification and therapy of heart disease can also aid in the prevention of consequences like pulmonary edema.
Because older persons are more likely to acquire heart disease and other chronic illnesses that can contribute to pulmonary edema, the aging population is a primary driver of growth in the pulmonary edema market. Furthermore, as people age, their lung function may deteriorate, leaving them more vulnerable to this ailment. 
As the world's elderly population expands, so will the number of persons suffering from pulmonary edema. This is anticipated to increase demand for innovative medications and therapies that might help patients manage their symptoms and improve their results.
Anurag sharma, senior research analyst at market.us said "Medical technology advancements have resulted in the discovery of innovative therapies for pulmonary edema, which is driving market expansion." 
Non-invasive positive pressure ventilation (NIPPV), for example, has been demonstrated to be useful in treating pulmonary edema. This treatment includes the use of a machine that helps the patient breathe by supplying air under pressure through a mask. NIPPV has been demonstrated to enhance outcomes in individuals with pulmonary edema while being less intrusive than previous therapies. The need for pulmonary edema therapy is predicted to increase as more modern medical technologies are produced.
As worldwide healthcare spending continues to rise, so does the need for pulmonary edema therapy. Governments and private healthcare providers are increasing their investments in healthcare infrastructure, fueling demand for medical devices, equipment, and treatments. Lastly, increased pulmonary edema awareness is propelling the industry forward. As more individuals become aware of the condition's symptoms and causes, they seek medical care and therapy. Also, healthcare providers are becoming more aware of the issue and are better qualified to identify and treat it. This improved awareness is projected to result in greater demand for pulmonary edema therapy, boosting market development.
To summarize, the worldwide pulmonary edema market is expanding fast, driven by a variety of reasons such as rising heart disease prevalence, an aging population, developments in medical technology, rising healthcare spending, and more awareness of the issue. As these variables continue to affect the market, we may anticipate a growth in demand for pulmonary edema therapy in the next years.
Nevertheless, there are also numerous issues that may hinder the expansion of this market.
The high expense of therapy is one of the key impediments. Pneumoedema therapy requires hospitalization, which can be costly for patients, especially in underdeveloped nations where the condition is more frequent. Moreover, the cost of drugs and medical devices required to treat pulmonary edema can be prohibitively expensive, thus limiting access to therapy. 
Another aspect that may limit the pulmonary edema industry is the scarcity of treatment alternatives. Just a few drugs are now licensed for the treatment of pulmonary edema, and they are not always successful for all patients. Because of this constraint, other therapeutic options such as stem cell and gene therapy have been investigated, although they are still in the early phases of research.
---
---
Media Enquires
If you require any further information about a related market, please get in touch with us. we're happy to help you
+91 7008 614 496
+91 7008 614 496