Innovative and Iconic Apple Accessories Meeting Varied Customer Needs Leading to Huge Demand, says Market.us
---
---
Apple has become one of the most recognizable brands in the world, its iconic products like the iPhone and iPad. As Apple continues to innovate and introduce new products into the market, so too does its accessories market.
The Apple accessories market is highly varied, offering everything from cases to protect devices from accidental damage to chargers that keep them powered up for longer periods of time. Specialized items are designed for specific activities such as photography or gaming. With so many options available, customers can find something that meets their needs and fits their lifestyle.
The Apple Accessories Market is a rapidly growing industry, with sales increasing exponentially every year. In this market, several factors have an impact on the success of sales. Understanding and assessing the impact of these factors can be key to predicting future trends in this field.
According to research by Market.us, "Apple Accessories Market was Valued at USD 25300 Mn in 2022 and is expected to Over USD 29700 Mn by 2030 with CAGR of around 5% over the analysis period."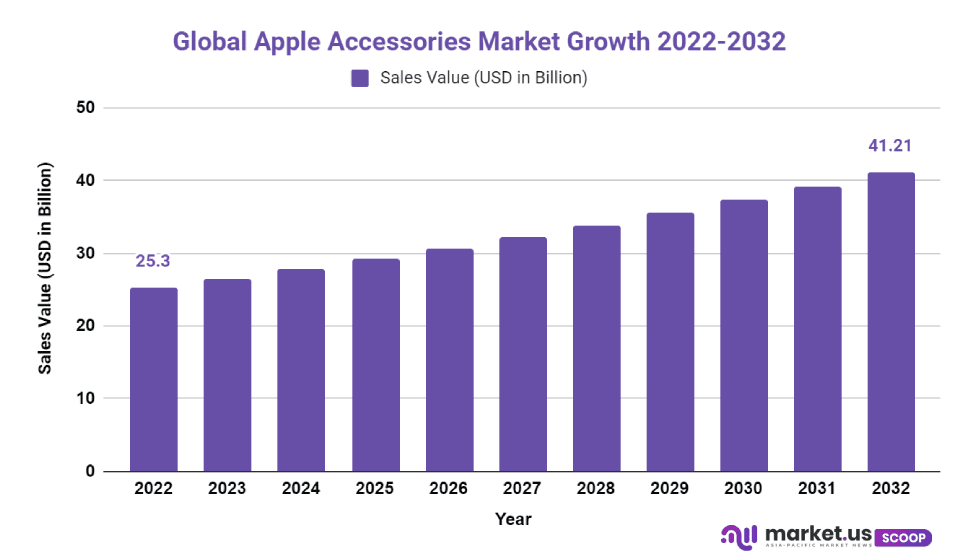 Apple Accessories are some of the market's most popular and sought-after items. From simple cases to luxury headphones, Apple products can provide users with everything they need for a connected lifestyle. With their innovative design and cutting-edge technology, Apple accessories make it easy for people to stay connected and up-to-date in a tech-filled world.
Gaurav Yadav, a senior research analyst at Market.us, said, "Consumer demand for Apple accessories has been one important factor in driving sales growth. Customers may look for specific features, such as waterproofing or wireless charging capabilities when choosing what product to buy. Additionally, brand reputation can influence customers' decisions as well; if an accessory has strong positive reviews from existing customers, it may increase its chances of being purchased by others. "
Click here to check 200+ pages of in-depth market analysis reports on the Apple Accessories market.
The types of accessories that are particularly popular are cases, cables, and chargers.
Cases are designed to protect iPhones or iPads from damage while also adding a layer of style with various colors and designs. Many cases are even designed with shock-absorbing materials that can protect against more serious accidents like drops or falls. Another great advantage of having a case is that they come in various materials such as leather, plastic, silicone, or metal so you can find the right look to suit any style preference.
The Chargers, provide the necessary power needed for charging compatible Apple products safely and quickly. Power & Convenience focuses on the range of Apple accessories that are available to extend the battery life and power up your device. Apple offers a wide selection of chargers, from wall plugs to car adapters, so you have plenty of options when it comes to charging your device.
Audio, Speakers & Earphones is an important topic to cover when discussing the world of Apple accessories. With audio being a critical component for many Apple devices, it's essential that users have access to quality speakers and earphones. Currently, Apple has created several products specifically designed for audio listening, including AirPods and Beats headphones. AirPods offer quick pairing with iPhones and iPads, while Beats provides superior sound quality in wired and wireless varieties.
Cables are an integral part of today's digital world, providing a vital link between our gadgets and the internet. Cables can be used to connect devices like iPhones and MacBooks to other devices such as power sources or monitors for greater functionality. With the wide variety of Apple accessories available in the market, cables are becoming increasingly important for connecting devices and syncing data across multiple platforms. Cables are crucial for establishing a connection from charging iPhone to transferring files from Macbook to another device.
In the world of Apple accessories, keyboards are essential for enhanced typing accuracy. The latest offerings from Apple come with exclusive features that help users type easily and precisely. For example, many of their keyboards feature a scissor mechanism beneath each key that helps you type smoothly and quickly while providing greater stability and comfort. This mechanism also allows for a lower-profile keyboard design which is great for portability.
Apple accessories that there is something for everyone out there. Apple devices can become an even more powerful and efficient machines with the right combination of products. Whether one is looking for protection, portability, or power, there is a quality accessory to suit all needs and budgets.
---
---
Media Enquires
If you require any further information about a related market, please get in touch with us. we're happy to help you
+91 7008 614 496
+91 7008 614 496