Investment in the Consumer Finance Sector Increases With Advent of Digitalization, says Market.us
---
---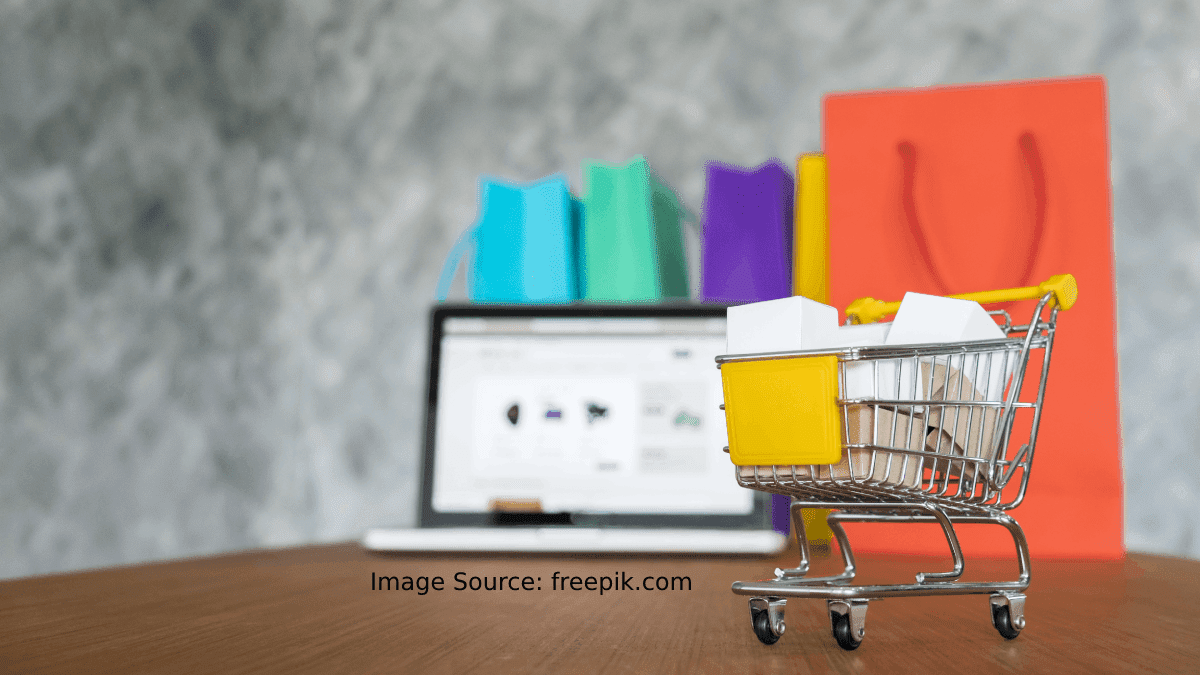 Consumer finance is a critical topic, as it affects the lives of many people and the economy of nations. It encompasses a range of financial activities related to budgeting, credit and debt management, saving and investing, tax planning, and more. In order to make smart financial decisions, it's important for consumers to have access to reliable information about consumer finance topics.
The consumer finance market is a dynamic and ever-evolving landscape. With the rise of digital banking, fintech innovations, and increasing access to credit products, it's never been easier for consumers to manage their finances. Understanding the trends that shape this market is essential for financial institutions wishing to remain competitive. This article will explore recent developments in the consumer finance market and highlight critical factors that define its current state.
According to the latest report by Market.us, "The Global Consumer Finance Market size is expected to be worth around USD 3.58 trillion by 2032 from USD 1.5 trillion in 2022, growing at a CAGR of 9.1% during the forecast period from 2022 to 2032."
The market is a rapidly expanding and evolving sector that merits close attention. This article provides an overview of the current size of the consumer finance market and examines its major contributors. Furthermore, it highlights key trends in the industry, discusses the impact of technological advances, and looks at how regulations shape the sector.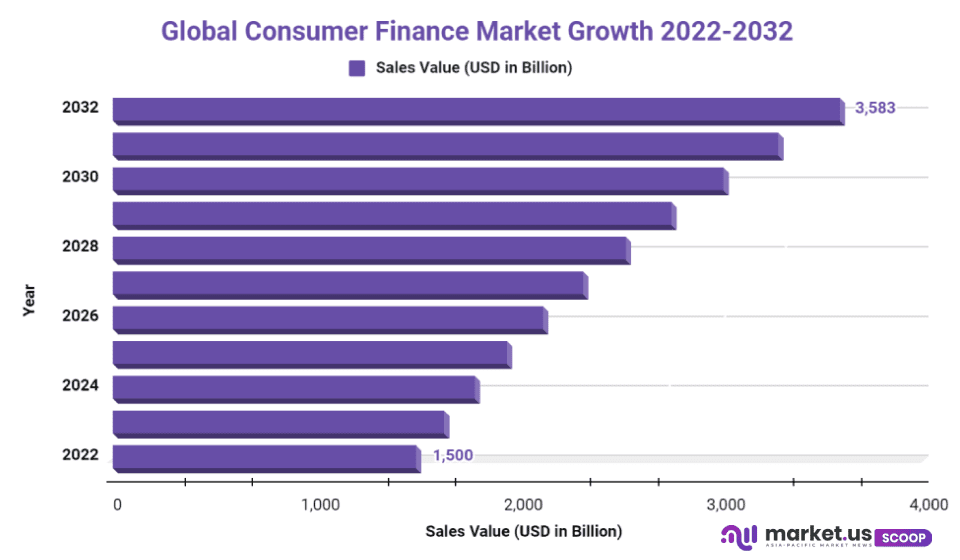 Gaurav Yadav, a senior research analyst at Market.us, said, " The consumer finance market is a fast-growing industry with numerous investment opportunities. In recent years, the sector has experienced tremendous growth as customers become increasingly more concerned with managing their finances."
In recent years, its rapid growth has been motivated by a variety of factors, including increased consumer purchasing power, improved access to credit, and technological advancements. As the consumer finance market continues to expand, understanding market share dynamics is essential for understanding its current state and future development. This article will provide an overview of the consumer finance market share, highlighting key trends and industry players.
This article examines the current state of the market, providing an in-depth analysis of its growth trajectory and major contributing factors. It will explore key elements such as macroeconomic trends, technological advancements, and regulatory developments that are driving the expansion of this lucrative sector.
With the continued rise of technology and its increased impact on our daily lives, it's no surprise that customers are looking to financial institutions to provide them with services they can trust. As a result, understanding the current trends in the consumer finance market is essential for organizations to stay ahead of their competition and build customer loyalty.
The consumer finance market is a complex and rapidly changing landscape. With regulations and technologies constantly evolving, financial institutions are striving to provide innovative services to meet the demands of their customers.
As consumers become more aware of their rights and access to various financial products, understanding their needs is essential for companies to remain competitive in the industry. This article provides an overview of the current state of the consumer finance market, outlining the key trends and expectations from lenders and borrowers.
The consumer finance market is a highly dynamic and rapidly evolving sector of the global economy. As such, various factors are driving its growth and expansion, including technological advancements, changing customer needs and preferences, regulatory changes, and the availability of new products.
The consumer finance market is an ever-evolving industry, with trends and innovations constantly emerging. As technology advances, how people access and make use of financial services has been transformed. Consumers now have access to various products and services from various providers, giving them more freedom to choose the best options for their needs.
In today's world, it is essential to learn how to manage money in order to make the most of our resources. Consumer finance is an important aspect of managing our finances that can provide great advantages when used responsibly. Understanding helps us make better choices regarding borrowing money, saving for retirement, and investing in the stock market.
In today's economy, financial literacy is essential for success. Unfortunately, many consumers lack the tools and knowledge to make sound financial decisions.
---
---
Media Enquires
If you require any further information about a related market, please get in touch with us. we're happy to help you
+91 7008 614 496
+91 7008 614 496