Investment Influx Predicted to Elevate Satellite Remote Sensing Industry, says Market.us
---
---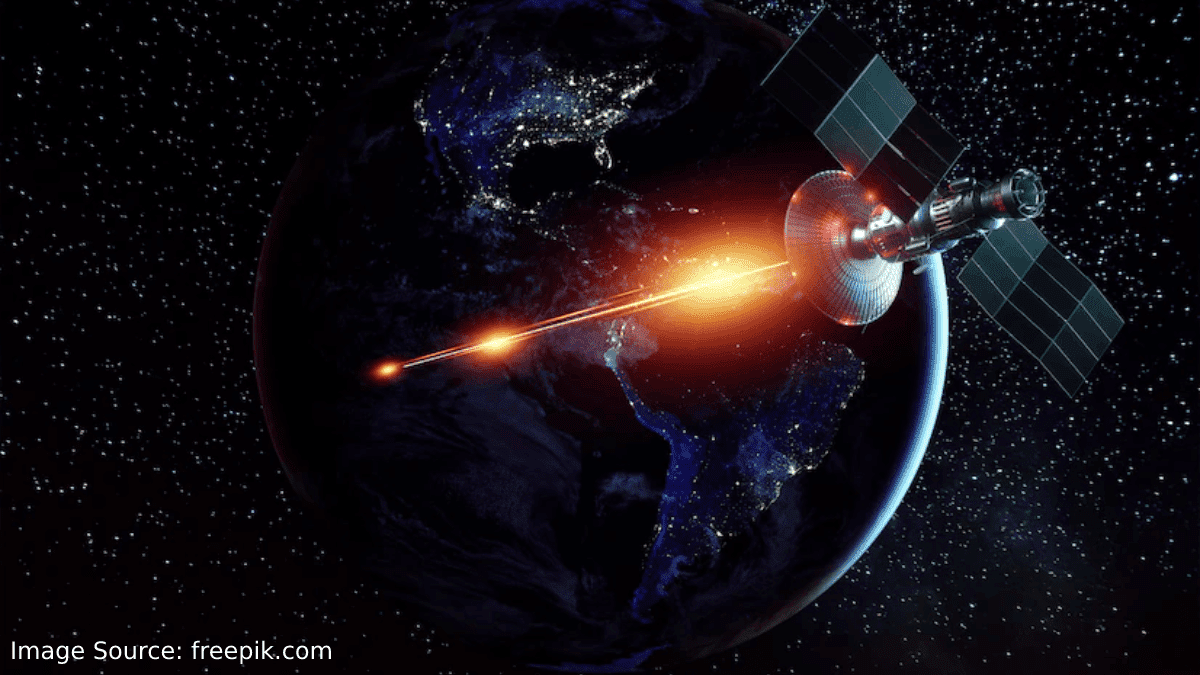 Satellite Remote Sensing refers to the ability to detect and monitor the physical characteristics of an area using reflected and emitted radiation measured at a distance (typically by satellite or aircraft). Remotely sensed images are captured by special cameras that help researchers "sense things" about the Earth.
According to a report by Market.us," The Global Satellite Remote Sensing market was valued at USD 145000 million in 2022. It is expected to grow at a compound annual rate (CAGR of 13.6%) between 2022 and 2031."
The key factors driving market growth in Satellite Remote Sensing include increasing use of the technology in defense applications, increasing earth observation projects, and increasing adoption of precision farming technology.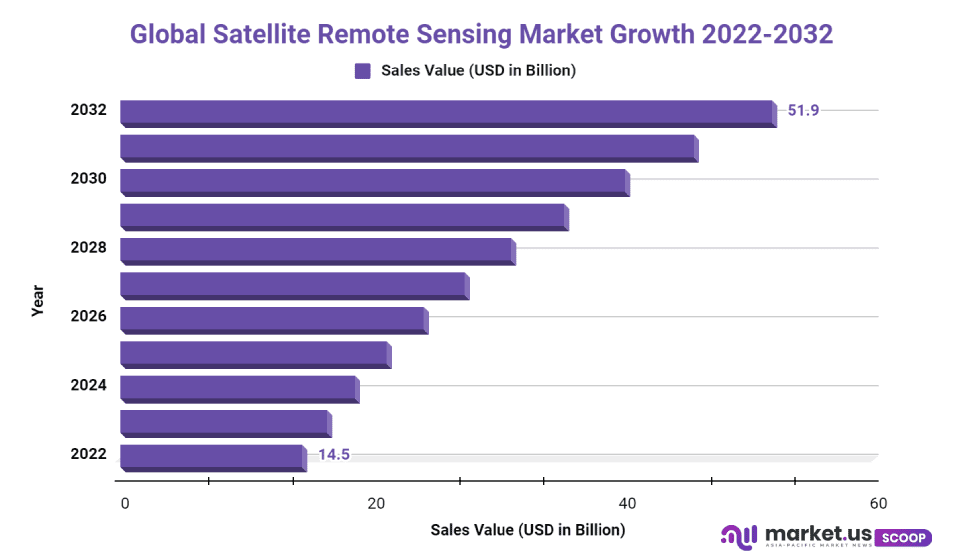 Global Satellite Remote Sensing growth is due to advancements in remote sensing technology, increased demand for remote sensing data in defense applications, and growing use of GIS applications in environmental risk management. The market for Satellite Remote Sensing is expected to grow due to increased investments in the market and intelligence, surveillance, and reconnaissance (ISR), payloads.
The growth of remote sensing may be impeded by factors like regulatory issues, lack of comprehensive government policies, and higher initial investments to commission remote sensing systems. Advancements in remote sensing technology are increasing
Gaurav Yadav, a senior research analyst at Market.us, said," Satellite Remote Sensing is experiencing significant advancements in data acquisition and interpretation. The continuous emergence of new developments in sensors, satellite systems, and the scale of the survey is expanding remote sensing software applications. This will also lead to greater adoption of remote sensing technology."
The key players offer upgraded offerings to meet remote sensing requirements. Hexagon's Geospatial division launched the updated Power Portfolio 2020 in October 2019. This is the latest version of its top remote sensing, GIS, and cartography products. The GPU-acceleration technology allows users to quickly address big data management problems with the Power Portfolio 2022
The Internet of Things (IoT) results from recent home automation and smart city advances. Satellite Remote Sensing and IoT technologies can provide a wide range of insights that could improve system performance, lower costs, or warn of imminent problems. Remote sensed data has many applications due to big data analytics. These include urban planning, natural hazards monitoring, global climate change, and more.
Due to the increasing demand from end-users for technological advances, the global market will experience rapid growth. The market will also benefit from increased investments in research and developments, launches, partnerships, as well as other strategic initiatives. The market will also benefit from the increasing focus of authorities on industrialization and urbanization.
The global remote sensing satellite market is set to grow due to the expansion of cloud computing in a broad range of services and areas and increased marginal use.
NASA announced in January 2022 that it would launch 4 Earth science missions by 2022. These missions will provide scientists with data about core climate systems and processes. They include extreme storms, oceans, surface water, and atmospheric dust.
In a similar fashion, the Indian Space Research Organization launched an EOS (Earth Observation Satellite) in August 2022. Multiple users across the country can use this satellite. The country's EOS 4 satellite in February 2022 preceded this satellite. These satellites were referred to as "Eyes in the Sky," a reference to their observational capabilities.
One of the main obstacles to the growth of the remote sensing satellite market is the inability of users to interpret and use the data across different industries.
Although it is relatively new, the cyber-security threat poses a significant threat to its sustainability due to several vulnerabilities. These mission-critical vulnerabilities include communications, launch systems, tracking and command, and telemetry.
Satellite Remote Sensing Market relies heavily on reliable and secure communication systems for these factors. These capabilities depend on international organizations for a legal norm to protect satellites and their communications. It can hinder the market's growth if breaches of international law are caused by cyber events that cause severe damage to satellite communications.
---
---
Media Enquires
If you require any further information about a related market, please get in touch with us. we're happy to help you
+91 7008 614 496
+91 7008 614 496