Investors Rush to Profit from Booming Liquefied Natural Gas Market, says Market.us
---
---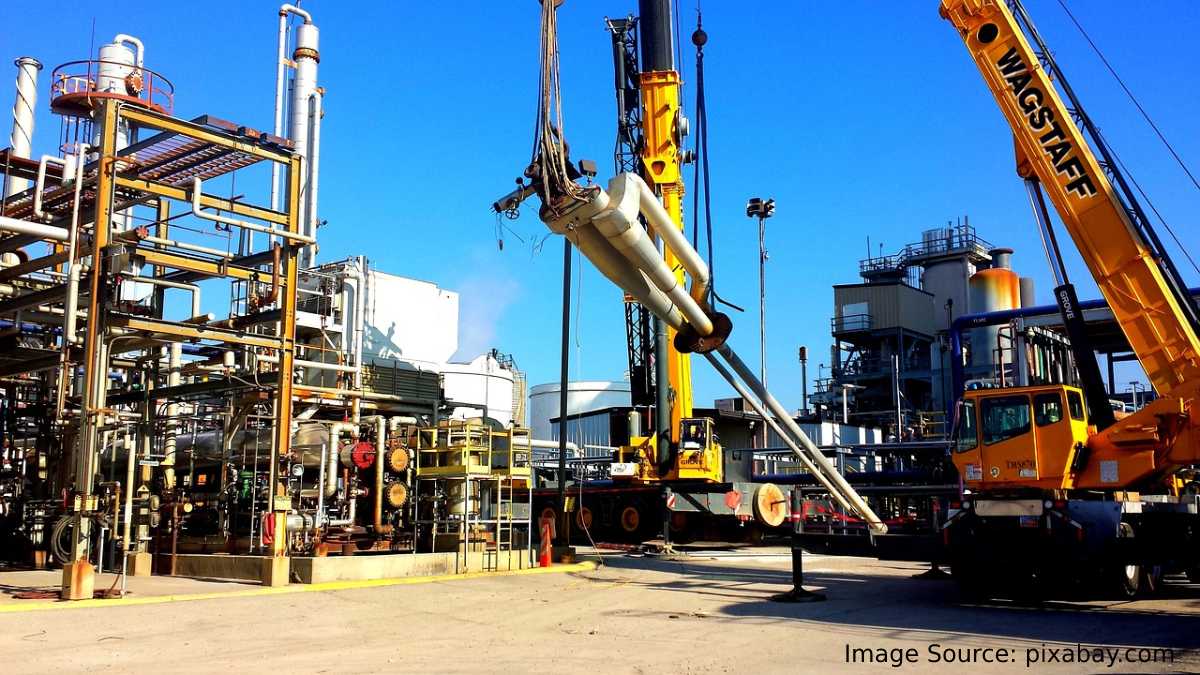 Natural gas that has been liquefied (LNG) is a natural gas that is cool down to liquid for convenience and security of storage and transport that is not pressurized. Liquefied Natural Gas (LNG) is one kind that is being utilized worldwide.
It's an odorless, colorless, non-toxic type made of natural gas which has been cool to minus 260°F and then condensed to liquid form. LNG is flexible and can be utilized as an energy source and fuel for transport.
Growing demand for LNG as a fuel for transport is increasing quickly. LNG is less polluting, more affordable, and more secure than diesel when it comes to particulate emissions, sulfur dioxide emissions, and greenhouse gases. LNG is manufactured in natural gas processing facilities and followed by transport via pipelines to the location of delivery.
According to research by Market.us, "The Liquefied Natural Gas Market size is expected to be worth around USD 244.05 billion by 2032 from USD 112 billion in 2022, growing at a CAGR of 8.10% during the forecast period 2022 to 2032."
Anurag Sharma, a senior research analyst at Market.us, said, "As for revenue figures, Europe was the second-highest share of 16.75 percent in the world LNG industry in 2021. A growing number of people in Europe significantly affects the power generation market. The growth in GDP and population is expected to boost the demand for power generated by clean energy sources, which is expected to boost the demand for LNG in the region."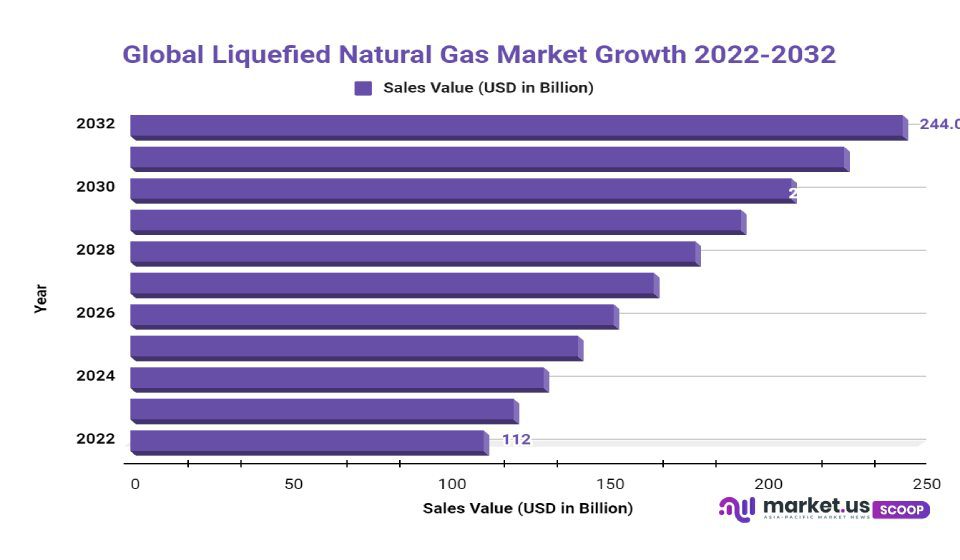 The energy landscape in the world is experiencing a major change as the demand for green energy sources grows. The Liquified Natural Gas (LNG) marketplace is anticipated to witness a significant increase over time as a reaction to this change. This increase can be attributed to the rapid growth of electricity generated by green energy sources such as solar and wind and the increasing emphasis on distributed energy projects.
Furthermore, the increasing attention to the security of energy has resulted in the increased demand for LNG, which is seen as a greener and more efficient option to other energy sources. Asia Pacific and Europe are major factors contributing to the growth of the global LNG market.
The LNG or liquefied natural gas (LNG) market is an aspect of the energy sector that has gained importance in the past few times. It's a global market with LNG producers, traders, buyers, and sellers making deals on prices that range from the regional markets and long-term agreements for supply. However, this LNG market is extremely volatile due to its dependence on oil prices, which could be a limitation for the market. Many factors affect the price of LNG, including the seasonality of demand, competition between suppliers, new technologies, and geopolitical developments.
The need for sustainable renewable energy sources is rising worldwide, and one of the most promising options is liquefied natural Gas (LNG). LNG has experienced a rise in popularity because of its capacity to lower emissions and offer effective, affordable energy. In the end, demand for LNG is growing rapidly. The demand for LNG is caused by its usage as a transportation fuel and an energy generation fuel.
The demand for LNG is increasing, as do the trends of this expanding business. From innovative production and transportation technology to evolving consumption habits, the LNG market has witnessed various shifts over the past decade.
Most of the time, the spot prices of LNG in the market of emerging economies are established by oil linkage. Insufficient universal guidelines related to the use of LNG are also limiting the market's growth. Every country has its own set of guidelines for the use of LNG. The major players in this market are struggling to comply with these prudent regulations and directives.
---
---
Media Enquires
If you require any further information about a related market, please get in touch with us. we're happy to help you
+91 7008 614 496
+91 7008 614 496