JAPAN LOOKS PROUDLY AT THE LEGACY OF THE 2020 TOKYO OLYMPIAD
The Japanese National Tourism Organisation is looking at the legacy of the recent Tokyo Olympic and Paralympic Games 2020 and what will remain from the events for future travellers.
Japan will long remember the Tokyo 2020 Olympic and Paralympic Games. They were like no other, due to the Covid-19 pandemic.
The Games might be over, but their legacy will be clearly visible to overseas visitors when global travel resumes and Japan once again welcomes tourists to its shores. It was always planned that Tokyo's Olympic and Paralympic Games would be more than a major sporting event.
From the time Tokyo was selected as host city, in 2013, the organisers made it clear they wanted the Games to be the catalyst for urban renewal in Tokyo. Despite the city's iconic skyline, much of Tokyo's infrastructure dated back to the time of the previous Games in 1964.
Environment concerns for Tokyo Olympics site
The organisers of the Olympic Games had to take into consideration to growing awareness of the need for sustainability and for the protection of the environment. In 2015, the International Olympic Committee issued new guidelines for host cities, instructing them to make maximum use of existing venues and to minimise the impact of the games on the environment.
As a result, construction of new venues for the Tokyo 2020 Games was minimised, and of a total 43 competition venues, just eight were built from scratch, each with a focus on social and environmental considerations and a legacy plan to ensure their long-term use after the Games. The new Tokyo Aquatics Centre, for example, incorporates state-of-the-art technology allowing the length and depth of its pools to be adjusted by moving floors and walls. Reflecting Tokyo 2020's commitment to sustainability, it is powered by solar energy and ground heat.
25 of the venues were existing facilities – five of them iconic structures originally built for the 1964 Games-with the remainder erected as temporary structures.
In cooperation with the Games organisers, the Tokyo Metropolitan Government is now looking at ways to ensure that the Games will bring lasting benefits to the residents and visitors beyond new sports venues and facilities.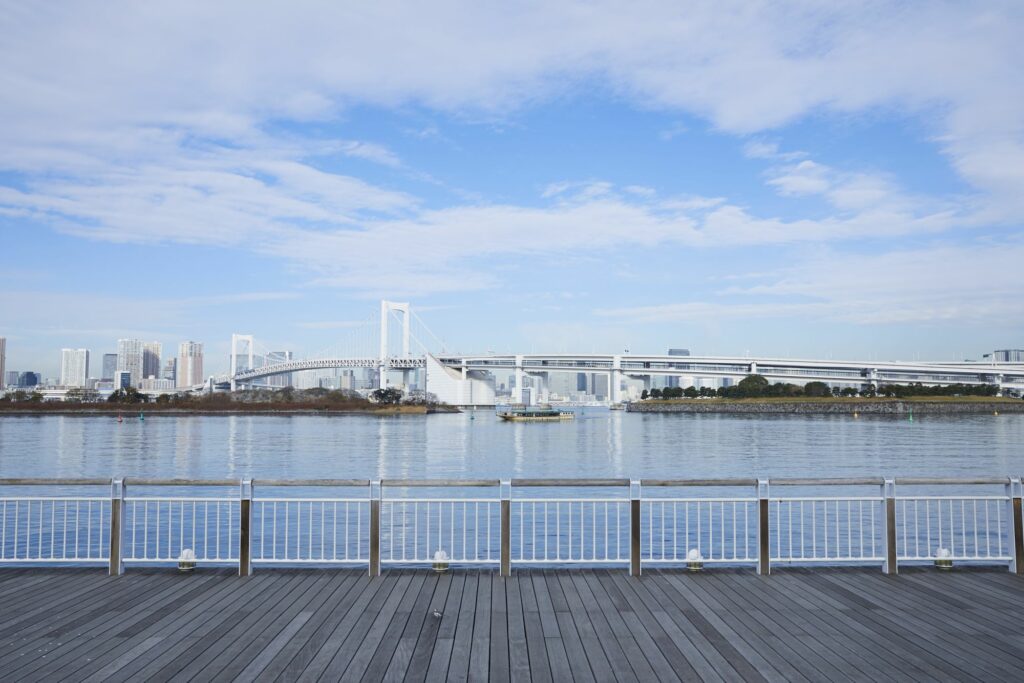 A new urban district and sport venues for all
One Olympics legacy is the new urban development called Harumi Flag, a regenerated site built on reclaimed land in Tokyo Bay. During the Games it was used as the Olympic Village housing the athletes; it is now being converted for use as a residential complex to eventually be home for 12,000 people and accommodate a diverse range of lifestyles. The layout incorporates a huge central plaza and barrier-free common areas to encourage interaction among residents of all ages.
Harumi Flag has also been designed to be a sustainable and environmentally friendly town, the first in Japan to be supplied with hydrogen via pipeline from a hydrogen station. The hydrogen will be used to power fuel cell buses and other vehicles. Extensive use is made of solar energy. Overseas visitors to Tokyo will be able to have a glimpse into the future when they visit this corner of Tokyo.
Improved sporting facilities is the most visible legacy: newly-constructed venues in the Tokyo Bay area offer opportunities for swimming, canoeing, archery, sailing, hockey, running, tennis, rugby, rowing and many more.
As an example, the new Sea Forest Waterway, built on reclaimed land in Tokyo Bay, will now host international rowing and canoe competitions. It has also turned into a recreational public area against a superb backdrop of the Tokyo skyline.
Overseas visitors returning to Tokyo will also appreciate the city's improved access and transportation links. Spurred in part by preparations to host the Olympics and Paralympics, roads and sidewalks in the vicinity of many of the Games' venues have been widened, and barrier-free access is available at key subway and mainline stations.
More English-language signage has been provided in public areas, and there are smartphone translation apps available to help visitors communicate directly with store assistants and taxi drivers.
source https://news.itb.com/regional-spotlight/asia/japan-looks-proudly-at-the-legacy-of-the-2020-tokyo-olympiad/
Tajammul Pangarkar
Tajammul Pangarkar is a CMO at Prudour Pvt Ltd. Tajammul longstanding experience in the fields of mobile technology and industry research is often reflected in his insightful body of work. His interest lies in understanding tech trends, dissecting mobile applications, and raising general awareness of technical know-how. He frequently contributes to numerous industry-specific magazines and forums. When he's not ruminating about various happenings in the tech world, he can usually be found indulging in his next favorite interest - table tennis.