Latest Findings Regarding Mashed Potatoes Industry Might Be A Positive Sign for the Food Sector, says Market.us
---
---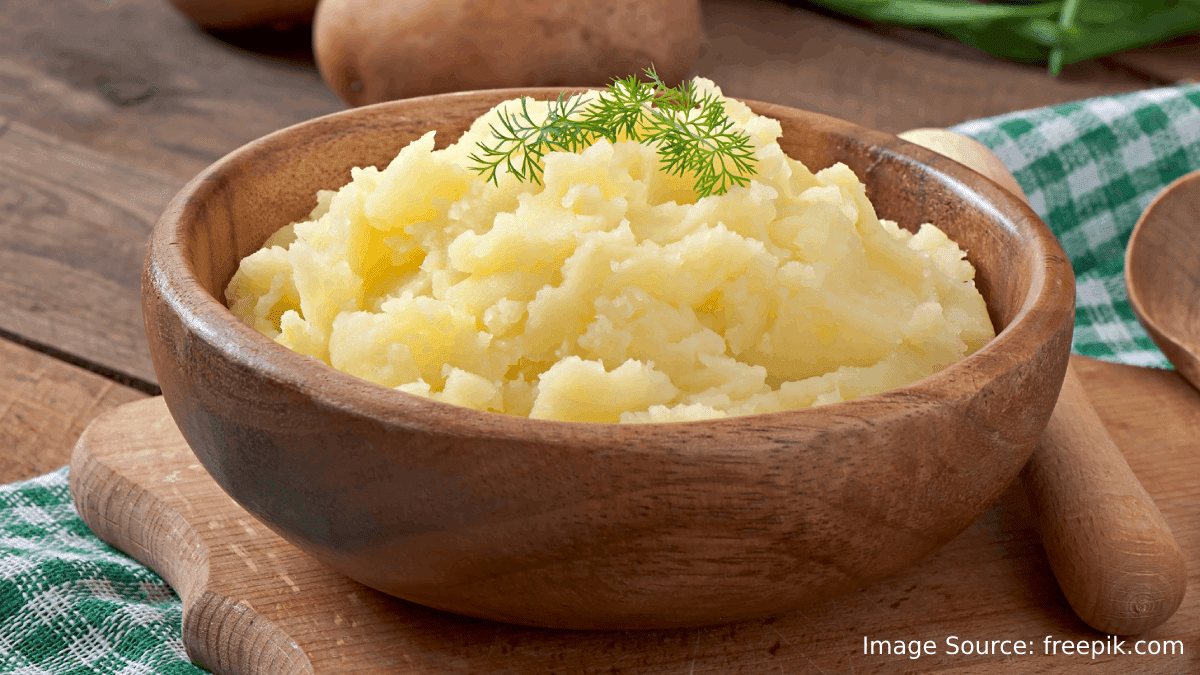 The growing demand for mashed potatoes from hypermarkets and supermarkets is driving the global market. These channels are seeing a growing demand for potatoes due to changing lifestyles and a growing population. This is what drives the growth in the mashed potato market.
To make mashed potatoes, boil the potatoes. This is one of the easiest recipes to make and can be used in a variety of food recipes. In order to meet current market demand, companies are now offering mashed potatoes that suit different tastes.
Consumption of processed and preserved foods has increased due to consumers' changing eating habits and lifestyles. Most mashed potato demand comes from the European and American markets, and companies are introducing new varieties to meet this rising consumer demand.
According to research by Market.us," The global mashed potatoes market was valued at USD 3.5 billion in 2023 and is expected to reach USD 6.24 billion by the year 2031, at a CAGR of 7.5%."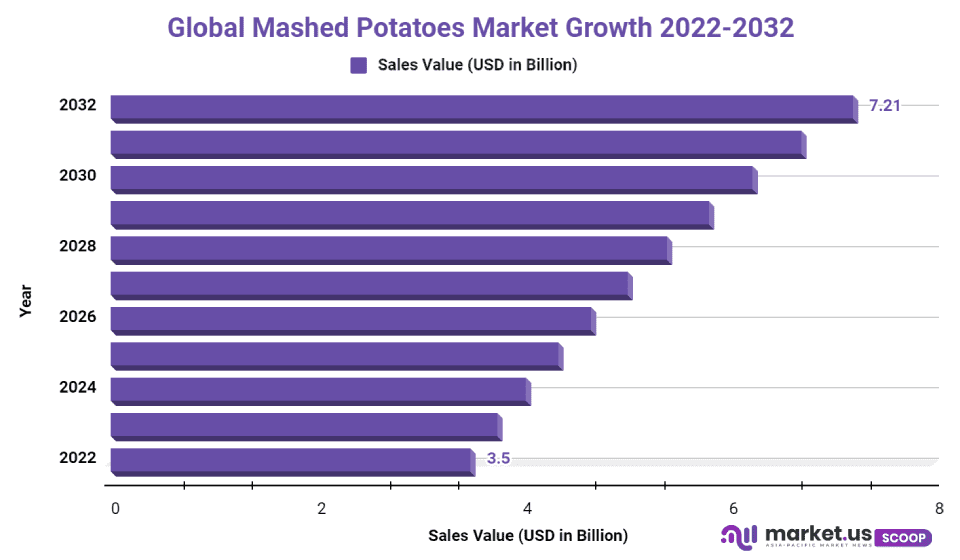 Anurag Sharma, senior research analyst at Market.us said, "Consumers' increasing hygiene consciousness has increased demand for Mashed Potatoes in the Food Industry. Both the supply side and the demand side are the factors that drive the demand for Mashed Potatoes. Consumers want foods that are simple to eat, taste good, and satisfy their hunger. These characteristics are what influence consumers to buy mashed potatoes."
Click here to check 200+ pages of in-depth market analysis reports on the mashed potatoes market.
The Food and Agriculture Organization of the United Nations FAO (Food and Agriculture Organization of the United Nations) states that more than half of potatoes are made into other value-added goods. A second factor is increasing use for a variety of recipes and cuisines, as well as their binding and thickening capabilities. Mashed potatoes are primarily driven by the increased demand for ready-to-eat (RTE) food products.
Due to increased health-conscious customer demand, mashed potatoes have become more popular. Companies sell low-sodium, low-fat mashed potatoes, among other things.
Mashed potatoes can help you meet your weekly vegetable intake goals. According to the U.S. Department of Agriculture, potatoes are considered starchy vegetables, and recommended that women consume 5 cups of them each week and men 6 cups. While mashed potatoes can be a good addition to a healthy diet, they also have some nutritional benefits. However, it is important to follow safe preparation techniques to avoid overeating saturated fat.
Potatoes are rich in vitamins, minerals, and antioxidants. They also contain fiber and resistant starch. But fried potatoes can also cause weight gain when eaten in large quantities.
A special starch found in potatoes is called resistant starch. This starch is not fully absorbed by your body, and it isn't broken down. It reaches the large intestinal tract, where the body absorbs it. Research has shown that resistant starch can have many health benefits. It may reduce insulin resistance which in turn improves blood sugar control. A study in animals showed that mice who were fed resistant starch had lower insulin resistance. Their bodies were more efficient in removing excess sugar from their blood.
In a study, type 2 diabetics found that eating a meal with resistant grain helped to remove excess sugar from the blood after eating. Another study involved ten participants who were given 30 grams of resistant starch per day for a period of four weeks. Researchers found that resistant starch decreased insulin resistance by 33%.
Food manufacturers promote mashed potatoes as a raw material for their food industries and as an ingredient. Both consumers and food producers are encouraged to include mashed products in their menus.
A new study has revealed that China is the largest global producer. India and Russia follow it. In terms of production, the United States is fifth.
The Food and Agriculture Organization of the United Nations reports that China produced over 18 million tonnes of mashed potatoes in 2016. India (9.5 million metric tonnes), Russia (4.1 million metric tons), and Ukraine (4.1 million metric tons). The United States ranked fifth with 2.2 million metric tonnes.
The export demand for Mashed potatoes has increased dramatically in recent years. Because more people use it in their medicine, this is why the Mashed Potato export demand has increased significantly. It is a beneficial vegetable that is widely grown in Europe. Because of the large forest areas, more easily produced in Europe, such as France, Germany, and Bulgaria. North America was second in the Mashed Potato market, followed by Europe.
---
---
Media Enquires
If you require any further information about a related market, please get in touch with us. we're happy to help you
+91 7008 614 496
+91 7008 614 496