Latest Research Findings Transforming Dried Fruit Into a Top Diet Product, Expanding Market Growth, says Market.us
---
---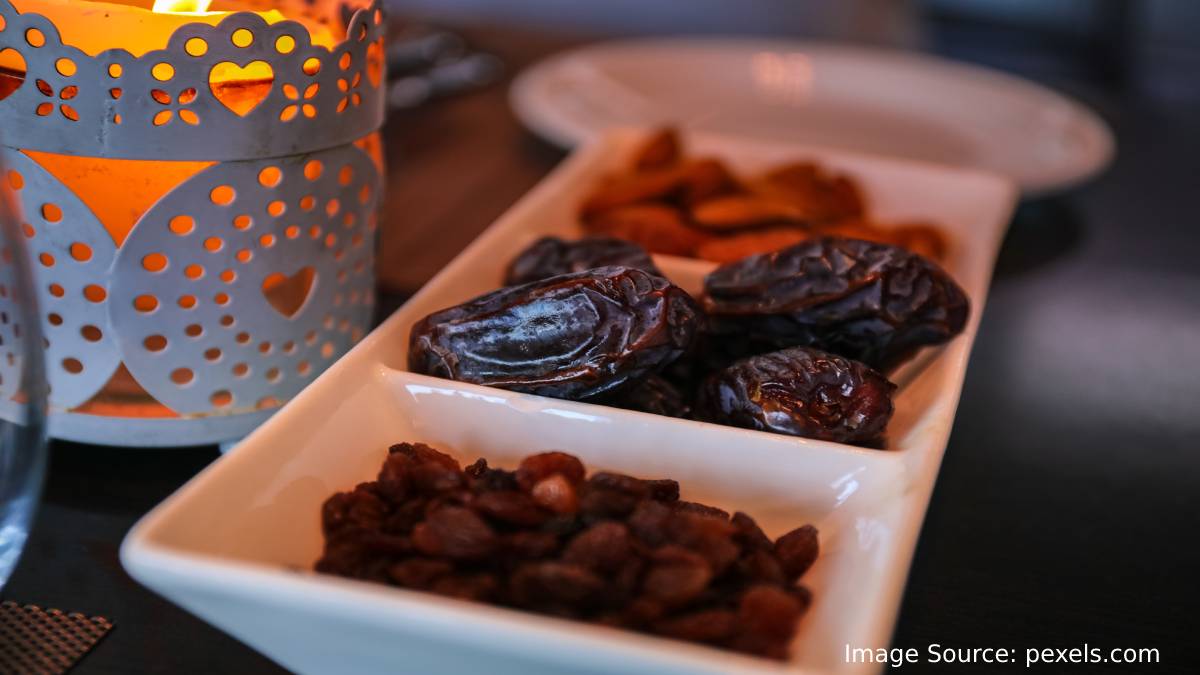 The shift in consumer preferences for healthier and more nutritious food items due to obesity-related increases and the aging of the population is driving demand for dried fruits. In addition, the growing acceptance of healthy packaged foods as well as the widespread applications of dried fruit in the bakery, dairy snacks, confectionery, and dairy industries, have driven an increase in demand for dry fruits in the past.
The demand for dried fruits is influenced by research studies highlighting this product's importance in weight loss and disease prevention. Numerous scientific studies have concluded that some types of dehydrated fruits and vegetables could aid in reducing the likelihood of developing certain cancers.
According to research by Market.us, "The Global Market for Dried Fruit was USD 6.61 billion in 2022. It is expected to reach USD 9.88 billion by 2032. This projection represents a 4.1% increase in CAGR over the 2022-2032 period."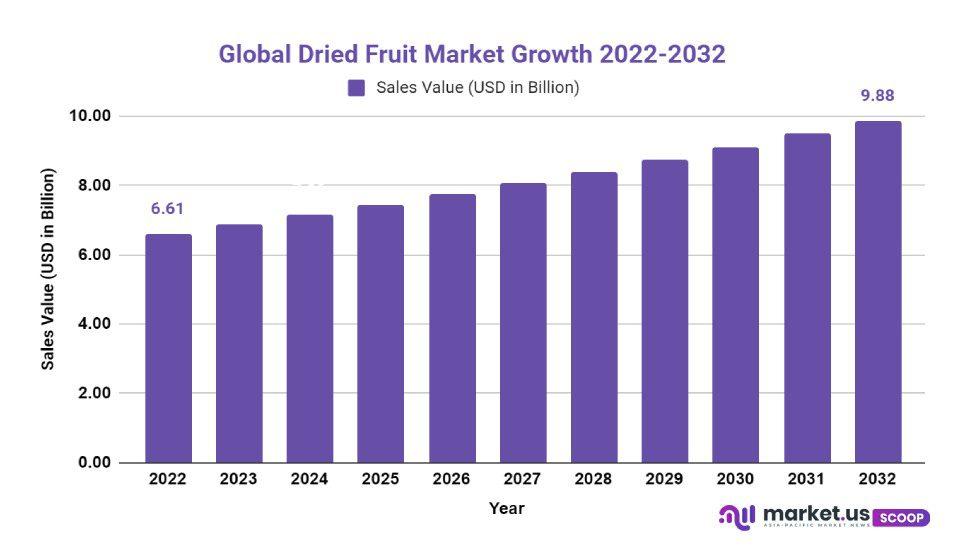 Gaurav Yadav, a senior research analyst at Market.us, said, "The growing awareness of the health of consumers from both developing and developed markets all over the world has led to increased consumption of dried fruits and nuts. The products are high in levels of proteins, unsaturated fats as well as vitamins and fibers. The growing trend of high-protein diets has dramatically driven the demand for dried fruits in young adults." 
The growing awareness of weight-related and lifestyle-related illnesses has increased the demand for healthy foods among consumers. Dry fruit bars that are snack-like, as well as breakfast cereals and bakery items, are getting more popular in the market for retail.
It is increasing consumer demand for convenient and healthy snack options, growing awareness of the health benefits of dried fruits, and the increasing popularity of plant-based diets. Additionally, the rise of e-commerce and online grocery shopping is also contributing to the growth of the dried fruit market.
Consumers' concerns about the safety of food items have profoundly affected the dried fruits and nuts industry. Growing dried fruit exports have increased the need for manufacturing companies to invest in their food safety standards. Mycotoxin, a common contaminant in dried fruits, has forced several developed nations to impose special rules for imports from countries in the developing world.
Companies can introduce new and unique dried fruit flavors and blends to attract consumers looking for new and exciting options. Dried fruits can be exported to new markets, particularly in Asia, Africa, and the Middle East, where there is a growing demand for healthy snacks. 
Also, with growing consumer demand for organic and sustainable products, companies can capitalize on this trend by offering organic and sustainably-sourced dried fruits.
Dried fruits can be packaged in small, resealable, and convenient bags and pouches that are perfect for on-the-go snacking; it's an opportunity to increase sales. And companies can increase marketing and promotion to raise awareness and educate consumers about the health benefits and versatility of dried fruits in cooking and baking.
As consumers become more conscious of their health and the environment, there is a growing demand for organic and non-GMO dried fruits, which are seen as more natural and healthier alternatives to conventionally grown dried fruits.
With more people turning to plant-based diets, dried fruits are becoming increasingly popular as a vegan-friendly snack option.
Dried fruits are often packaged in small, resealable, and convenient bags and pouches that are perfect for on-the-go snacking. This trend is expected to continue as consumers seek out convenient and portable snack options.
---
---
Media Enquires
If you require any further information about a related market, please get in touch with us. we're happy to help you
+91 7008 614 496
+91 7008 614 496