LED Services Market Promising Growth Opportunities for Key Players Owing Varied Applications in Different Industries, says Market.us
---
---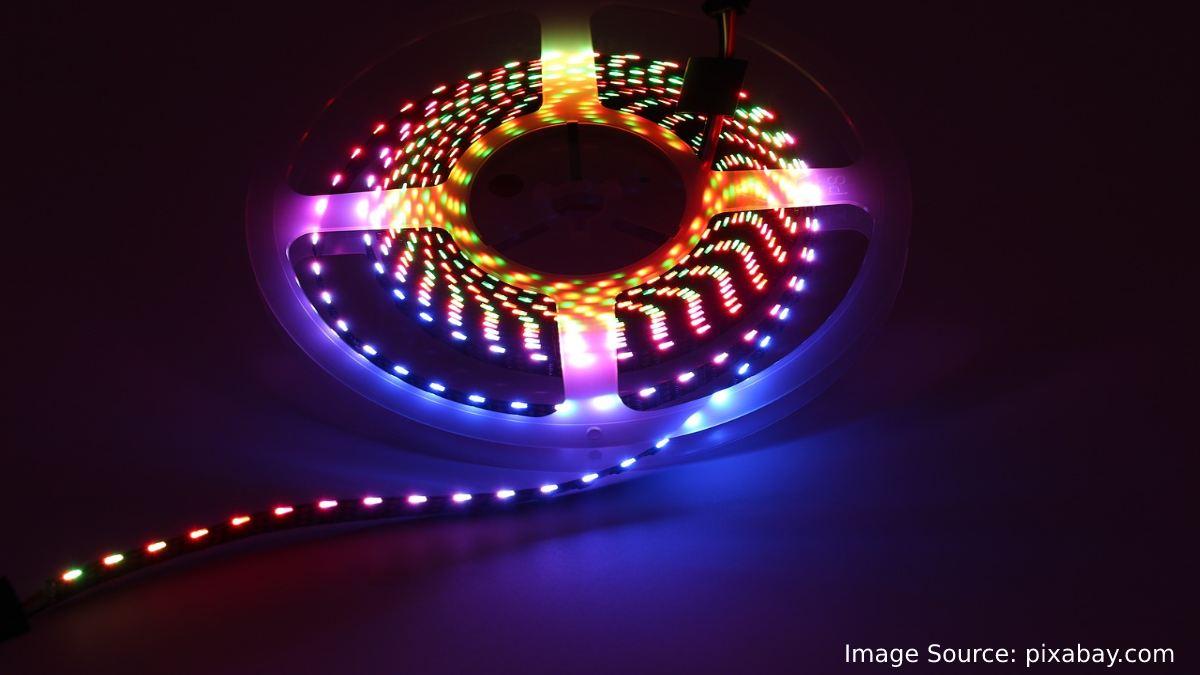 LED Services are an essential part of modern-day technology. Whether you want to upgrade or maintain your current lighting system, LED Services can provide the expertise and resources needed for a successful installation. 
LEDs, or Light Emitting Diodes, are highly efficient sources of light that offer numerous advantages over traditional lighting sources. LEDs also have low energy consumption and long-term durability, making them ideal for residential and commercial applications.
The global LED Services market is experiencing an outstanding level of growth. With digitalization enabling faster and more efficient lighting solutions, the demand for these services is rising. As economies worldwide adopt LED technology, they are also seeking ways to make their operations more cost-effective and energy-efficient by utilizing LED services.
According to research by Market.us, "The LED Services Market was valued at USD 19.65 billion in 2022 and is projected to reach USD 52.23 billion by 2032, growing at a CAGR of 10.27% from 2022 to 2032." 
Anurag Sharma, a senior research analyst at Market.us, said, "Due to its cost-effectiveness and energy efficiency, the LED Services market has attracted a broad range of stakeholders, including corporations, governments, and utilities. Companies in this industry provide design, installation, testing & commissioning, maintenance & monitoring systems, upgrades & retrofits, and consulting services for various applications."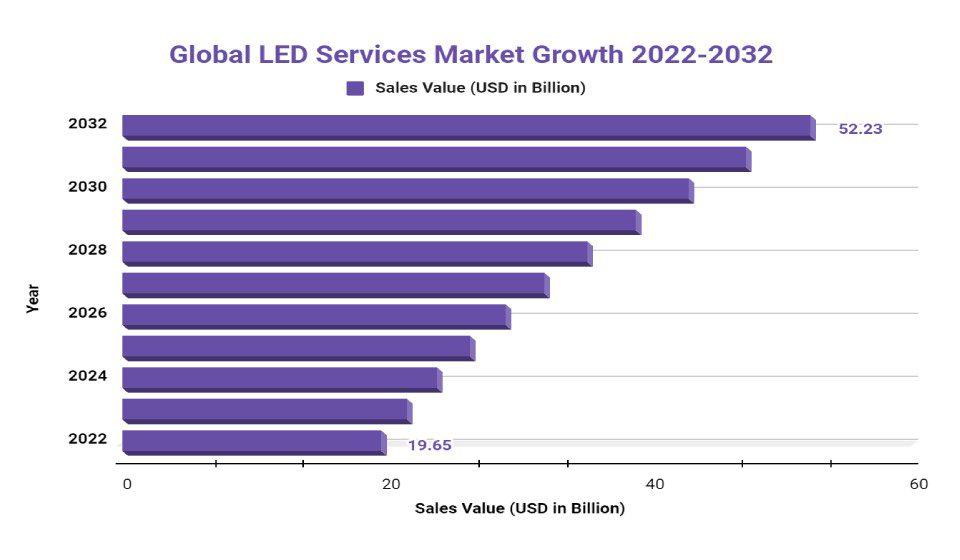 Click here to check 200+ pages of in-depth market analysis reports on LED Services Market.
He added, "These encompass indoor and outdoor lighting solutions for commercial buildings such as offices and retail spaces; industrial facilities such as warehouses; public institutions like universities or libraries; residential complexes; healthcare facilities; transportation hubs, etc."
The longer life expectancy of LED lighting is the main reason for the increased installation of these bulbs. LEDs last nearly 100,000 hours, compared to CFLs with 8000 to 10,000-hour lifespans and incandescent bulbs with 1000 hours. 
Because LEDs have a longer operating life, they can be more cost-effective and require less maintenance. Additionally, LED lighting fixtures are more efficient than traditional incandescent bulbs. LED lighting fixtures have an efficiency of between 80% and 90%, compared to traditional light bulbs that only 20% efficiency. 
LED lights use half the energy of traditional incandescent or halogen bulbs, primarily for residential and commercial purposes. The violet LEDs are more efficient and last longer than the blue with gallium-nitride material. These factors will drive market growth."
LEDs were previously limited to residential use and a small portion of the commercial sector. However, LED lighting has been gaining popularity due to growing concerns about energy efficiency and lighting quality, as well as stringent environmental policies. Conventional LED lighting fixtures are now replacing traditional lighting systems. Smart cities, smart homes, and smart street lighting drive demand for LED services. These factors will drive the global LED services market's growth during the forecast period.
The market for global LED services is likely to be constrained by quality concerns and a lack of awareness in emerging markets during the forecast period. The market's growth will be limited by a lack of awareness and low-quality LED lighting, particularly in emerging regions like MEA and Asia Pacific. In India and China, consumers still prefer CFLs and incandescent bulbs to LED lights. These issues also hinder the adoption of LED lighting in the MEA region.
The market's key players are focused on research and innovation to develop new products and expand their product range. For Instance, In December 2019, Lenovo Group Limited launched the Lenovo Smart Bulb, which can be controlled using Google Assistant or Amazon Alexa and has a life span of more than 15,000 hours. 
Mergers and acquisitions are common strategies for market leaders to increase their market presence and compete in the market. In February 2019, Phoenix Lighting, a subsidiary of JMC Capital Partners, purchased Bright Light Systems, Inc., an Atlanta-based light control system company.
---
---
Media Enquires
If you require any further information about a related market, please get in touch with us. we're happy to help you
+91 7008 614 496
+91 7008 614 496