Logistics Automation Market to See Rapid Growth Thanks to Robotics, says Market.us
---
---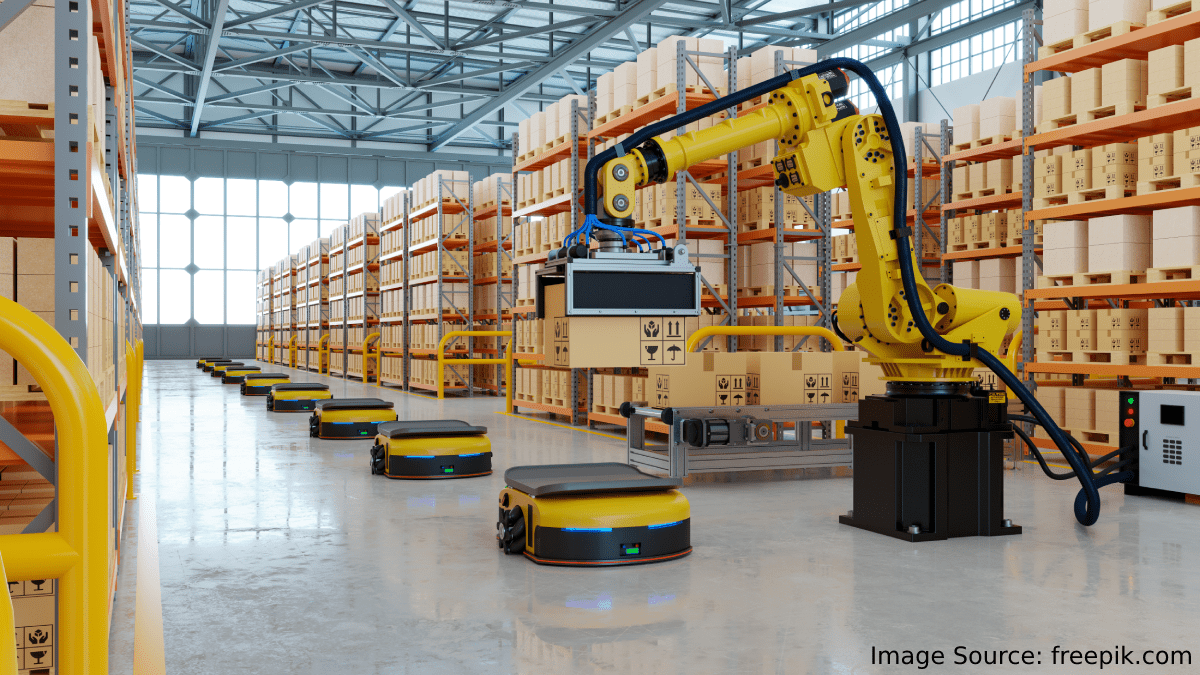 Automation has improved efficiency and allowed for better control over the procurement of different products. It can also be very beneficial in inventory management and production. It improves customer service and distributes various products over a while.
Automation in this industry has provided transportation, storage, and logistics benefits due to the increased use and automation of retrieval and storage systems. It has made warehouse management easier with the increased use of software and other services. It displays real-time information on the loading/unloading of products.
According to a report by Market.us," The Global Logistics Automation Market is projected to be USD 52.6 Bn in 2022 to reach USD 162.8 Bn by 2031 at a CAGR of 13.15%."
These are the key drivers that will keep the market thriving. The market's key driver is robotics. Robotics is used to move products between locations. Robotics has the most significant advantages in time and cost efficiency. Unsafe tasks such as material handling and warehouse warehousing are common.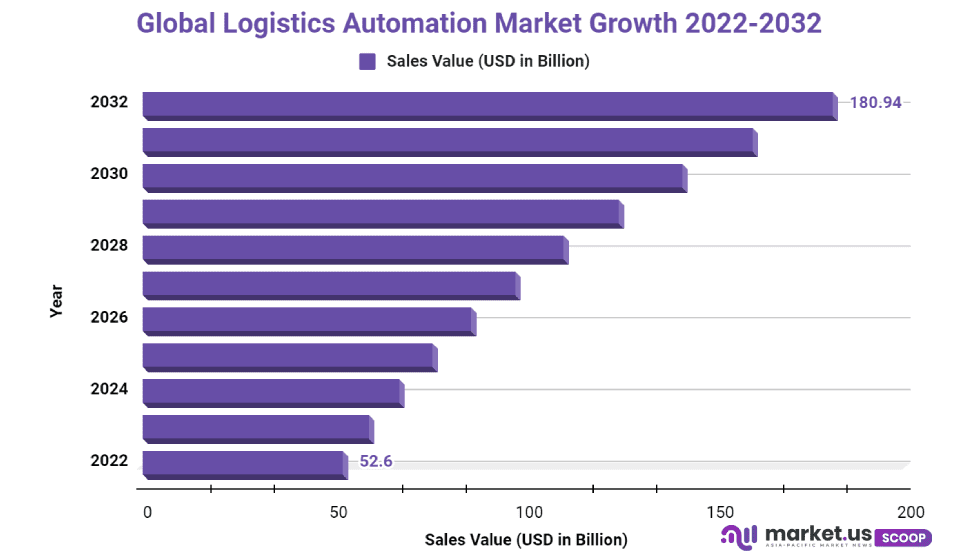 With robotics, these tasks can be completed quickly and easily. Safety is greater when there is no manual intervention. Many organizations are concerned about labor costs. Robotics can reduce labor costs in the logistics industry. Robotic technology is driving greater demand for the logistics industry.
Additionally, the demand for low operational costs and efficiency is increasing. With robotics technology, warehouse decision-making can be done in real-time. The AL machine can learn and think.
Positive changes are expected to occur in the future due to the adoption of robotics within the logistic automation market. This will lead to higher adoption and market expansion. E-commerce is also gaining popularity which benefits the logistics automation market. This will result in efficient product delivery and transfer. It will ultimately result in the growth of the automation market for logistics.
Anurag Sharma, the senior research analyst at market.us, stated, "Automation for warehouses offers superior convenience regarding costs-cutting for your overall business and helps minimize small errors in product deliveries."
Dalsey, Hillblom, and Lynn, an important 3PL company and end-user for warehouse automation solutions, found that approximately 80% of warehouses are still manually operated despite all the advantages. 15% of all warehouses use to pick and place solutions, sorters, conveyors, pick and place solutions, and other equipment, which is not necessarily automated. However, only 5% are automated at the moment. This has opened up several opportunities to expand and dominate the market.
The positive impact of vendors' partnerships and the post and parcel market growth has driven the market's positive growth. It is expected that this trend will continue during the forecast period.
Various factors, including rising labor costs and changing consumer buying habits, have increased demand for speedier and more efficient delivery operations. This, in turn, has created a substantial demand for automated sortation equipment. Thailand Post installed an automated package sorting system at its central logistics center, Hoa Khanh Industrial Park. It was launched in March 2021. This will allow the company to improve the efficiency of its parcel and mail sorting systems by utilizing automation and innovation.
High capital investments are required for automation in the logistics industry. Technology such as robotics comes at a premium price. This can make it difficult to get into the market. These automation technologies are costly to deploy in large warehouses.
Installing software, solutions, and automation equipment requires large investments. It is difficult for many companies to manage these costs. These automation technologies will also not be affordable for medium-sized enterprises. Because of the large capital investment required, logistics automation adoption can be slow. The Automation Market Research Report shows companies with limited resources will be reluctant to adopt these technologies.
---
---
Media Enquires
If you require any further information about a related market, please get in touch with us. we're happy to help you
+91 7008 614 496
+91 7008 614 496