Manufacturing Industries Embrace Virtual Platforms, Driving 3D CAD Software Growth, says Market.us
---
---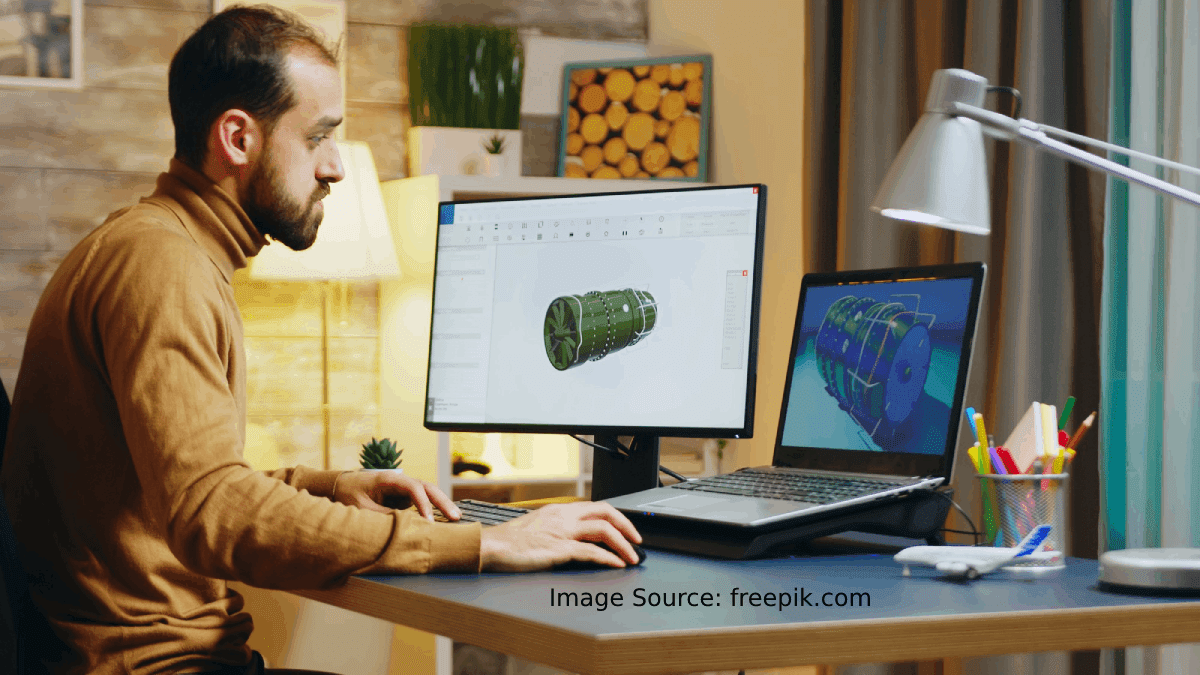 Engineers, architects, and other professionals use 3D CAD software for product layout and conceptual design. The CAD design process is used at all stages of the product's lifecycle, including product modeling, failure verification, concept verification, and product verification. The major driver of the 3D CAD software market growth is the rising demand for accurate designing and complex structure prototyping.
3D CAD software has been widely adopted because it simplifies designing and manufacturing by drawing a detailed model of the interior and exterior. It also helps engineers and designers save time and improve their efficiency.
According to Market.us, "The 3D CAD Software Market size is expected to be worth around USD 19,916.17 million by 2032 from USD 10,710 million in 2022, growing at a CAGR of 6% during the forecast period from 2023 to 2032."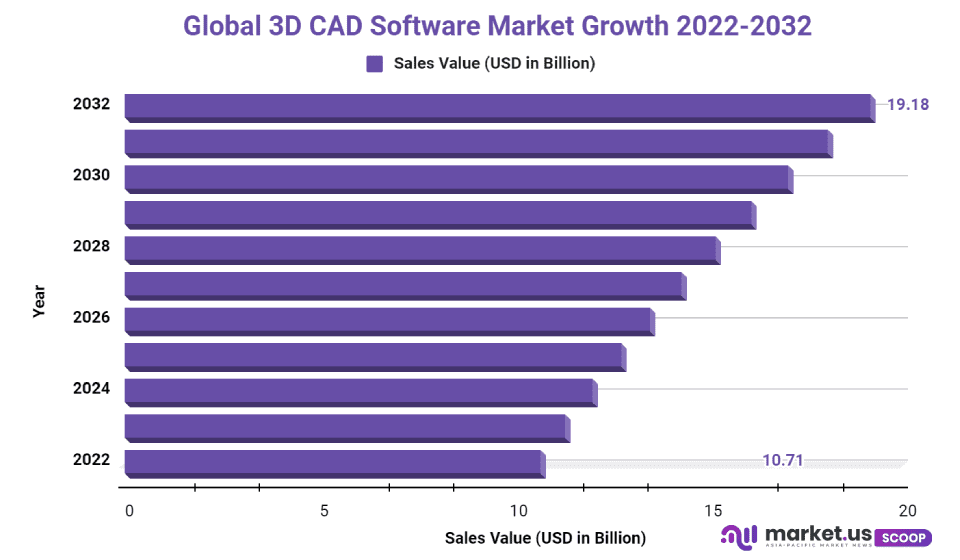 This is reflected in the increasing use of CAD software across many industries, including automotive, manufacturing electronics marine, and construction. The 3D CAD software market is also growing due to the increasing focus on additive manufacturing and the adoption of computer-aided designing in the automotive industry.
Anurag Sharma, a senior research analyst at Market.us, said," The 3D CAD software market is expected to grow due to increased investment in R&D and the increasing adoption of virtual platforms in product development within manufacturing industries."
To attract more customers, the key players are providing customized and personalized solutions for their clients. Autodesk Inc. and SolidWorks Corporation are some of the major players that offer customization options in their product offerings.
3D CAD software is in high demand due to advances in 3D printing. This allows the creation of three-dimensional models using computer-aided design technology. Growing funding allows 3D printing technology to be used to manufacture a wide variety of items from different materials depending on end-users needs.
Virtual Reality is a valuable auxiliary technology to 3D CAD. It allows users to see how the designs will perform in real life. VR technology allows users to see the virtual model and detect any defects.
The cloud-based deployment category will see a faster growth rate during the forecast period. This is more than 7.1%. The cloud-based deployment will see a faster growth rate due to its ease of usage.
It runs on a mobile or web app or in a local browser. Instead of traditional CAD software running on a local computer, it can be downloaded from a remote server. Designers love it because it offers more collaboration, and simplified workflows and allows them to design from anywhere. Additionally, its cost-effective software helps improve design quality and productivity.
Recent years have seen a rise in demand for quality automobile products. Customers are more focused on quality products than brand value. Designers will be looking into advanced 3D CAD software tools to help them design and develop products that are error-free.
3D CAD software plays an important role in ensuring precision and quality while manufacturing every component in the automotive industry.
Due to increased investment by product manufacturers in research and development (R&D), such designing solutions have been a hot topic among designers in order to produce more secure automotive products.
3D CAD software also lowers product recalls. It further empowers product designers with complex simulations that show how new products will perform in real-world environments.
This technology is expected to be beneficial for many industrial works, particularly in aerospace and automotive. It has proven cost-saving and error-reducing. To reduce the competition and offer the best products on the market, major companies have invested in Research & Development (R&D).
In 2021, the solid model was the most profitable, accounting for more than 65% of the revenue. The category is also expected to continue its dominance over the forecast period, with a significant CAGR.
This can be attributed to the growing demand for more simulation, manipulation, modification, and design optimization; and the increasing need for the most advanced modeling in three-dimensional space.
Market growth is also expected to be driven by the increasing use of 3D CAD software technology within the packaging industry. This software can be used for designing, wrapping, packing, and even bottling consumer goods.
This market will also be driven by growing demand for digitalization, precise designing, and complex structure prototyping, in the aerospace, automotive, and defense sectors. Many functions use 3D CAD outsourcing services, such as engineering. This allows them to concentrate on the design and production of core products.
The demand for 3D CAD software solutions is increasing due to the preference of end-users toward customized solutions.
This model is also useful for designers as it allows them to see the object after it has been manufactured. It also gives designers a way to make adjustments if necessary. In the next few years, surface modeling will see significant growth. The rise in the popularity of surface modeling can be attributed to its ability to create complex surfaces with ease.
---
---
Media Enquires
If you require any further information about a related market, please get in touch with us. we're happy to help you
+91 7008 614 496
+91 7008 614 496