Maritime Satellite Communication Market Now Improving Land-Sea Connectivity, says Market.us
The maritime satellite communication equipment is used by naval defense forces to provide aerial monitoring, distress calls sending and receiving, and navigational requirements. In addition, there will be an increase in investment in different regions to upgrade the legacy systems of the naval fleet over the forecast period.
According to Market.us, "The Global Maritime Satellite Communication Market size is expected to be worth around USD 99,846.48 million by 2032 from USD 43,635.00 million in 2022, growing at a CAGR of 8.63% during the forecast period from 2022 to 2032."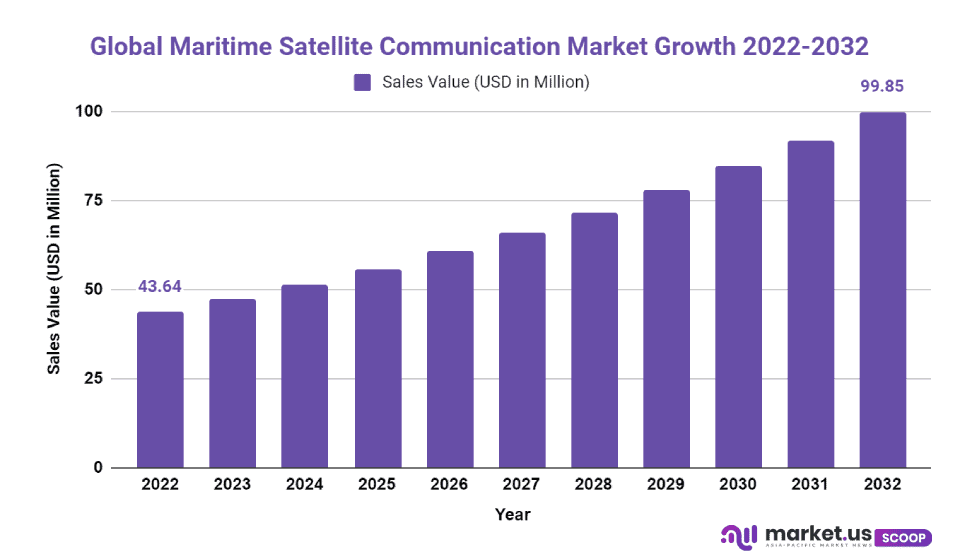 Gaurav Yadav, a senior research analyst at Market.us, said," The market is driven by the increasing demand for enhanced data communication in order to increase operation efficiency, security, and surveillance, as well as employee/passenger welfare. A major driver of the maritime satellite communications market is the need for better connectivity between land- and sea operations. This will allow for faster repair times, fuel-saving, real-time navigation, and preventive maintenance."
Maritime telecommunications equipment is now the standard for both short and long-term travel. Reliable communication is essential for maritime transport, regardless of whether they are recreational boats, megayachts, commercial fishing vessels, or any other type of naval transport.
Cellular service is only available in off-shore areas, and they have a limited range that works properly. Satellite networks can be used to address communication issues and offer services with a competitive edge over land-based communications.
Satellite networks were used in the past to connect ships with shores and other vessels. The role of satellite communications has changed from voice calls to data services for the user, such as entertainment and tracking. DTH broadcasting, voice calls, weather forecasting, and navigation, among other applications, have all made satellite communication ubiquitous.
Service providers will need to have more flexibility, capacity, performance, coverage, and flexibility in order to meet the changing needs of the maritime sector. End-users have very different communications requirements.
They must also be able to quickly scale networks to meet customer demand. Customers are having difficulty operating satellite solutions due to the increased use of technology in maritime satellites.
Sometimes maritime satellite vendors are unable to provide reliable communication solutions. This can lead to communication equipment and services not performing well in adverse weather conditions. Satellite communication service providers face a challenge in providing reliable communication services to customers, regardless of weather conditions.
To avoid challenges such as border infiltrations, pirate activities, inter-country conflict, and other threats, the defense and security sectors must maintain communication with zero time lag. Coastguards, naval forces, and other security agencies are increasingly paying attention to marine satellite communication.
The maritime industry is experiencing a boom in technology innovation. Market launches include high-throughput satellites (HTS) that use Ku-band. Technology advancements are rapid. These include ground terminals that are gyro-stabilized, high-speed broadband modems and multi-frequency dish antennas.
An all-plastic design that is more resistant to extreme environmental conditions offshore would also be included. While the oil and gas industry uses C-band services, the shipping and maritime industries prefer Ku-band to meet their specific needs.
Satellite communication technology has improved in recent years. Ships can communicate with each other via satellite links, from any location worldwide, without the assistance of a specialist radio operator.
This technological innovation helps merchants make higher profits by providing reliable communication services that maximize their operational efficiency. Satellite communication has seen recent advancements, including Ka-band and Ku-band in VSAT. This allows the marine industry to communicate at a lower price and provides access to weather information and position reports.
There is a growing demand for bandwidth and broadband connections due to satellite services offering Ku/Ka-band for VSAT. Crew welfare, seafarers, passengers onboard ships using their own devices, and increasing demand for operational data processing, analysis, and other factors drive this growth.
The adoption of broadband VSAT is possible because of the lower pricing for satellite capacity. As satellite operators increase their capacity for maritime markets, the demand for data continues to grow. As more bandwidth is available, end users are reacting by increasing their demand to connect via VSAT across all segments (e.g., merchant, passenger, and offshore oil and gas).
The satellite communication industry is expected to grow due to increased demand for applications such as voice communications in the maritime shipping, fishing, and passenger ship industries. These satellite communications systems are essential for the efficient operation of these industries. They also help to improve security and surveillance.
The market is driven by the rising adoption of advanced satellite systems and big-data computing applications as well as the growing awareness about the advantages of the cloud solution. Market opportunities will be created by the increased integration of satellite communications and mobile communication technologies.
Ketan Mahajan
Hey! I am Ketan, working as a DME/SEO having 5+ Years of experience in this field leads to building new strategies and creating better results. I am always ready to contribute knowledge and that sounds more interesting when it comes to positive/negative outcomes.